News & Case Studies
Details

Written by

Administrator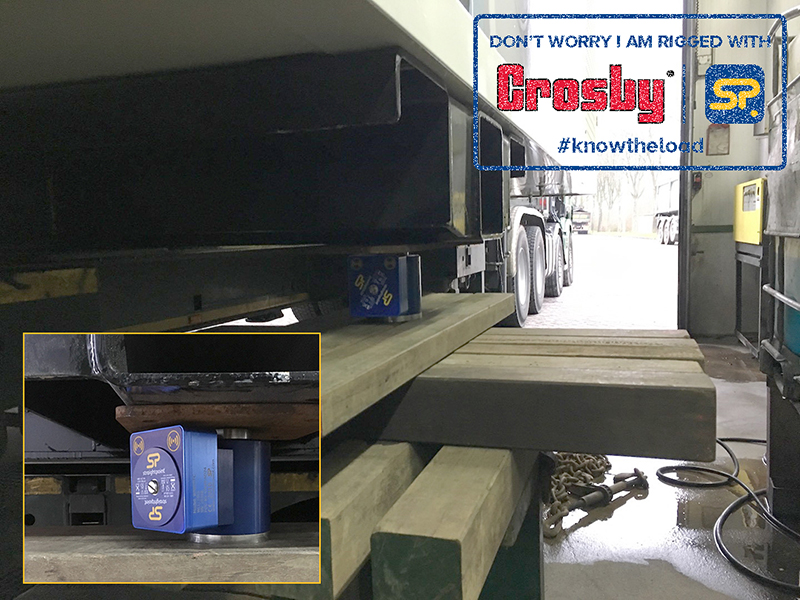 Ridderkerk, Netherlands-based lifting and rigging equipment rental company LGH Hijsmaterieel B.V. (LGH) employed four Straightpoint (SP) compression load cells to confirm the weight and centre of gravity of a magnetic resonance imaging (MRI) machine prior to transportation recently.
LGH, which offers a range of SP force measurement solutions, chose 10t capacity wireless compression load cells to record important data as the MRI unit was manipulated before it was placed on a trailer for relocation by Wesdijk Exceptioneel Transport, of Alphen aan den Rijn, an hour north of LGH's headquarters near Rotterdam.
SP's compression load cells boast a wireless range of 700m or 2,300 ft. to the manufacturer's SW-HHP handheld or wireless centre of gravity software, which in this case was installed on a laptop where data was read at a safe distance. The load cells and software commonly combine to verify the centre of gravity and weight of large and heavy objects that may not be evenly proportioned. The system captures the weight on each individual load cell, total weight, and centre of gravity, and displays it in a HTML report.
The MRI scanner measured 5.13m (approx. 17 ft.) by 2.01m (approx. 6.5 ft.) and weighed in at 21,175kg (21.17t). The value of the load test was emphasised by the difference in actual readings to paperwork supplied with the load, which suggested it should have been in the region of 26t. The load, complete with the latest scientific equipment and components, presented an exaggerated offset centre of gravity due to the angle at which is was loaded and secured for road transportation.
Matthijs Senff, sales engineer at LGH for Holland's western region, said: "The information was principally gathered for the crane team in Madrid [Spain] who had to prepare their lifting tackle for offload. Jacking timbers were used to raise the scanner so the load cells could be positioned. The load cells were positioned and then connection to the laptop was secured. Upon configuration, the trailer was lowered to let the [MRI] unit rest on the load cells. We conducted further stability tests before taking three data readings and displaying the average findings on the report, which we could export immediately from the laptop."
Senff added: "We frequently use our range of SP products in such applications. The equipment is cutting-edge technology and offers great user-friendliness onsite. Heavy lifting, onshore, and offshore industries, and the maintenance sector are among those utilising the technology for load tests and other applications."
A Bluetooth version of the compression load cell was recently added to the range that can be connected to any smart phone running SP's free HHP app on iOS or Android at ranges up to 100m or 328 ft. ATEX and IECEx versions are also available for use in hazardous area zones 0, 1, and 2. Units are machined from high-grade stainless steel and standard AA batteries offer 1,200 hours of life. Senff also pointed out the product's environmental protection to IP67 / NEMA6.
Senff has recently stepped into a new role at LGH B.V., having spent the previous two years as an inbound technical member of staff. He concluded: "I'm glad I made the transition. I had a strong understanding of the SP and other products in our portfolio, but to play a more hands-on role in their application on the front line adds a real-life dimension to my work. I look forward to many more compression and other load cell projects in future."
SP was acquired by lifting and rigging hardware giant The Crosby Group at the turn of the year.
---
Details

Written by

Administrator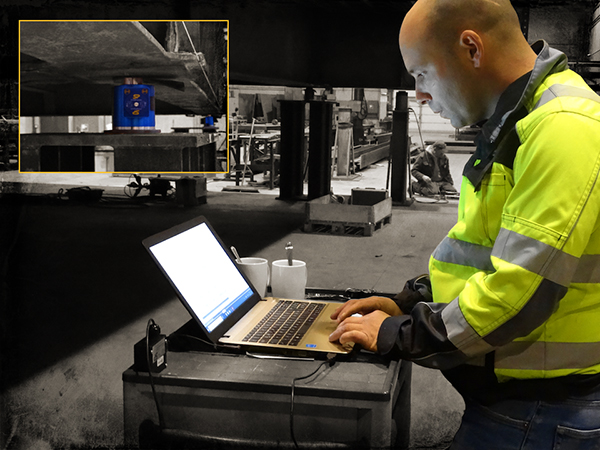 Four Straightpoint (SP) compression load cells were supplied from Lifting Gear Hire's (LGH) Belgium facility in Antwerp to weigh a bridge that had been removed for repair after a canal boat collision.
The 150t capacity load cells were utilised by marine engineering company Hye NV, which was tasked with fixing the structure that crosses the Brussels-Scheldt sea canal at Humbeek-Sas in Grimbergen, north of the country's capital city.
The Brussels Times reported that the bridge was struck as it was opening to allow the vessel to pass through. It added that the impact shifted the roadway section of the bascule (moveable) bridge five or six metres out of line on one side, while the mechanism that raises and lowers the two halves of the bridge was also damaged.
Hye, located on the banks of the Scheldt in Antwerp, near Kruibeke, called upon LGH to provide measurements before and after an important phase of the bridge's restoration. The wireless load cells were positioned under four supporting points of the structure and fed data, capturing individual and collective readings, back to SP's SW-HHP software on a laptop, where they were read at a safe distance.
The net weight of the bridge was 156.5t but the structure measured 162.5t including a number of components that will be required during re-installation. Davy Kraft, sales engineer at LGH Belgium, explained that there was no necessity to measure centre of gravity but the information was readily available and contained within a detailed report generated by the software and delivered to Hye's engineers.
He said: "The software is user-friendly and enabled us to give the report to the customer effectively in real time. The system recorded the weight on each individual load cell, total weight, and centre of gravity, and displayed it in a neat HTML report. Together with the hardware, the SP solution added safety and efficiency to a project where timely delivery is important to get the bridge returned to Grimbergen and reopened as soon as possible."
SP's compression load cells boast a wireless range of 700m or 2,300 ft. The load cells and software commonly combine to verify the centre of gravity and weight of large and heavy objects that may not be evenly proportioned. Kraft and his team also utilised 100t capacity Hi-Force hydraulic jacks to raise the bridge and lower it onto the load cells.
SP was acquired by lifting and rigging hardware giant The Crosby Group at the turn of the year.
Repair work on the bridge continues.
---
Details

Written by

Administrator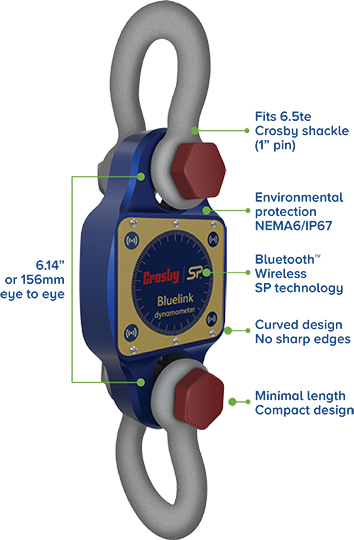 Straightpoint (SP) has unveiled its new single capacity Bluelink load cell that introduces Bluetooth technology to existing and prospective customers still utilising outdated mechanical force measurement products.
Bluelink is a 6.5t (14,300 lb.) capacity load cell, targeted at end users that remain loyal to traditional equipment but who might be receptive to enhanced technology and the inherent advantages of reading data on an iOS or Android smartphone installed with SP's free HHP app.
SP, recently acquired by Crosby, is a proven pioneer in technological advancement—its wireless load links, load shackles, and compression load cells are already Bluetooth 4.2 enabled—but Bluelink will sit further down the spectrum in applications for which a mechanical solution remains the instinctive choice but where the safety gains achieved by reading data at a distance of up to 328 ft. or 100m are of course acknowledged.
David Ayling, global business development director for load monitoring solutions at SP, said: "It's important that we market the Bluelink accordingly. The launch doesn't place a yardstick by which to measure the ongoing technological progression of our range, but more reflects our ability to continue to provide tools for the many different types of user looking to understand the forces being applied. This isn't an alternative to our state-of-the-art systems, but a step towards the latest wireless technology, perhaps for professionals only just beginning their migration from traditional solutions."
Rigged using industry standard shackles, such as the Crosby G2130, the Bluelink has been designed to minimise headroom; it measures only 6 inches or 156mm from eye to eye. Meanwhile, its compact, lightweight design does not sacrifice on strength with a safety factor of over 500%. Constructed from aerospace grade and hard-anodized aluminium, the product also boasts an advanced internal design structure.
Ayling added: "The design not only provides the product with an unrivalled strength-to-weight ratio, but it also allows the use of a separate internal sealed enclosure providing the load cell's electronic components with NEMA6 or IP67 environmental protection even with the battery cover plate missing. Despite the fact that Bluelink isn't a fully-specced, top of the range load cell, its qualities still suit it to the harshest industrial or leisure environments."
The aforementioned app, which is available for download and easy connection to any SP load cell that possesses the same technology, allows the operator to log data versus time or on events such as over- or under-load, while an adjustable alarm alerts the operator on a smartphone if any overload occurs. It features an analogue load indicator on the main screen and a number of languages, including English, Dutch, Spanish, Norwegian, Japanese, and Chinese.
Bluelink is powered by four standard AA alkaline batteries that provide in excess of 500 hours transmission time, and its internal antennae ensures loads to an accuracy of 0.1% FS are transmitted safely.
---
Details

Written by

Administrator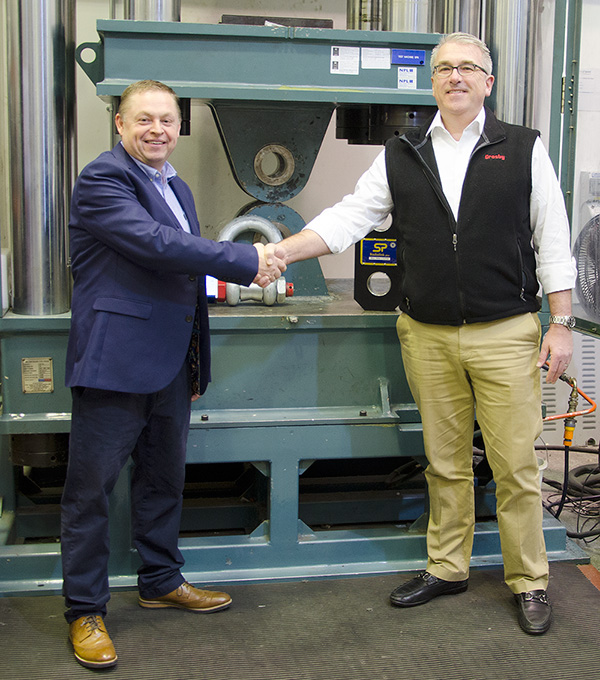 Dallas, Texas-based The Crosby Group LLC, the largest lifting, rigging, and material handling hardware company in the world, has completed the acquisition of Straightpoint UK (SP), a leading manufacturer of load cells and force measurement equipment. The value of the transaction is not disclosed.
The acquisition, effective 1 January 2019, includes the manufacturing facility and headquarters, co-located in Hampshire, UK that will become Crosby's center of excellence for load monitoring and measurement, in addition to key personnel based in the U.S.

David Ayling, formerly CEO at SP, will step into a new role overseeing sales, marketing, and product development functions for all load monitoring equipment. He will report to Robert Desel, Chief Commercial Officer at Crosby.

Ayling said: "SP has built a very strong team focused on innovation and high service levels and we wanted to ensure we could maintain and capitalize on these important features of the company. Crosby's brand, its channel strength, global reach, and management team will enable us to build on our strengths and take the business to a new level. Becoming part of Crosby represents an opportunity to deliver our solutions to more customers and increase the pace of our innovation. It is an exciting new chapter for SP, its team members, and customers."

Desel said: "We've had a close relationship with SP for quite a while—its load shackles are based on the industry standard Crosby G2130 shackle, and we use SP products on our Safe Rigging trucks. SP's position as a leader and innovator in load measurement and monitoring, and the opportunity to integrate its technology into our already strong portfolio, made this a compelling addition to Crosby. Safe lifting is in Crosby's DNA and load monitoring is a critical part of that equation. Monitored lifts are inherently safer and we can now increase adoption of this best practice on a global scale."

He continued: "The acquisition is focused on growth. SP already represented a force in the marketplace and as part of Crosby we can position its products and expertise closer to the point of use and increase the pace of innovation." Ayling confirmed that SP would maintain its commitment to non-rigging markets, such as the weighing sector.
Desel concluded: "We are very excited to add the SP brand, best-in-class products, manufacturing capabilities, and team members to the Crosby organization."

About Crosby
Crosby is a leading manufacturer of premium accessories used in lifting, rigging and securement applications. Based in the US, the company has the reputation around the world for providing a broad range of products suitable for the most demanding of operating conditions with uncompromising quality. Products include wire rope clips, hooks, shackles, lifting clamps, hoist rings, overhaul balls, snatch blocks, crane blocks and sheaves. Crosby also provides a "world class" training program, focusing on the proper application of Crosby Products.
---
Details

Written by

Administrator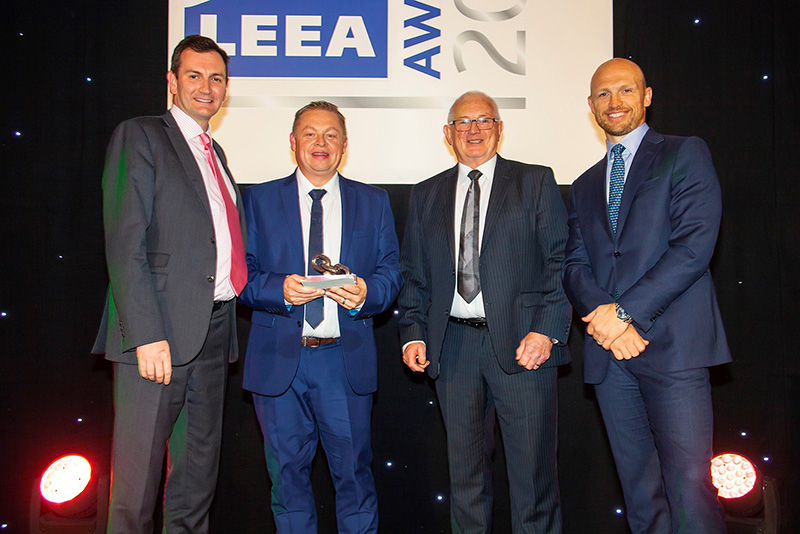 Load cell manufacturer Straightpoint (SP) won the inaugural Lifting Equipment Engineers Association (LEEA) Safety Award, presented in front of over 260 guests at a gala event staged on the first night of last week's LiftEx trade show in Milton Keynes, UK.
Sponsored by lifting and rigging equipment provider Rigging Services, it was one of eight trophies to be given out on the evening as LEEA, the leading authority in the industry, used its flagship event to make a definitive move to recognise member companies and individual representatives for their success against specific judging criteria.
SP was also shortlisted in the Apprentice of the Year, Innovative Product of the Year, Sustainable Solution of the Year, and Unsung Hero categories. Customer Service, Manager of the Year, and the Kevin Holmes Award (a memorial accolade developed to reward companies, teams, and individuals who display excellence in people development) completed the list of honours.
Doug Price, technical manager at Rigging Services, presented David Ayling, director at SP, with the hefty piece of silverware. Celebrity guest speaker Matt Dawson, a retired England rugby union player and now a familiar face on UK television, joined them on stage. The evening was also notable for raising over £2,000 for Great Ormond Street Hospital.
Ayling said: "The concept generally was well received and from a member's perspective the evening was a great success, befitting of an excellent LiftEx in totality. To emerge victorious in the safety category was overwhelming given LEEA's stature in the industry and the extent to which safety is in our company's DNA. We underscore our work with the mantra 'making the lifting industry a safer place' and what stronger endorsement could there be that we're meeting that objective?"
Safety as priority
Paul Fulcher, director at Rigging Services, said: "Safety has always been a number one priority at our company; for employees, that's inculcated in them from their first day. Sponsorship of this award was therefore natural in that it encapsulates our own ethos and we would likely find ourselves kindred spirits with the eventual winners. We're honoured to be associated with LEEA; the awards concept, which defines its work; and the safety-centricity of this particularly category."
Fulcher, who is also halfway through a two-year tenure as LEEA chairman, added: "I had two reasons for offering my congratulations to David and SP—one with my company hat on and the other as a representative of the association. The integrity of the awards must be absolute. Beyond that, with regards to the Safety Award, it can't be subjective; there are objective measurements. A single nominee wouldn't guarantee a winner, nor would the judges have bestowed the honour upon the best of a bad bunch. Thus, it must have been the opinion of the panel [comprising senior LEEA management and honorary life members] that SP were truly deserving—and that warrants sincere commendation."
In a statement prepared for media, Dr. Ross Moloney, CEO at LEEA, said: "The LEEA Awards is all about recognising the excellence of our members and showcasing it to the global lifting industry and to end user markets. The response has been overwhelmingly positive—from the high number and impressive standard of entries to an outstanding turnout for an incredible evening. I thank all those companies and individuals that took the time to enter. Congratulations to all the finalists and, of course, the winners and special thanks to our sponsors for their outstanding support."
Photo: Left to right Dr. Ross Moloney, CEO at LEEA; David Ayling, director at SP; Doug Price, technical manager at Rigging Services; and Matt Dawson
---