News & Case Studies
Details

Written by

Tanya
Straightpoint Load Cells Weigh Gas Facility Components at US Port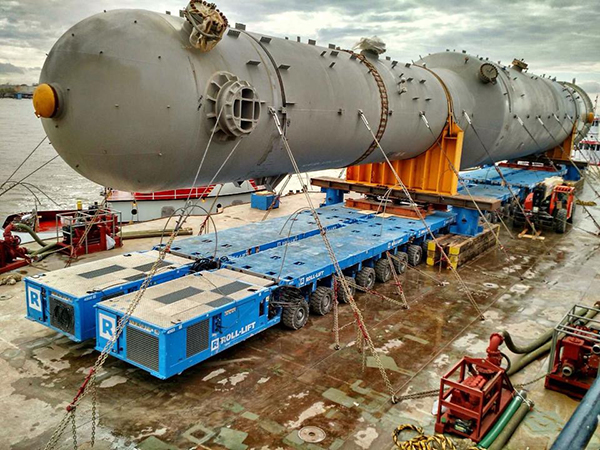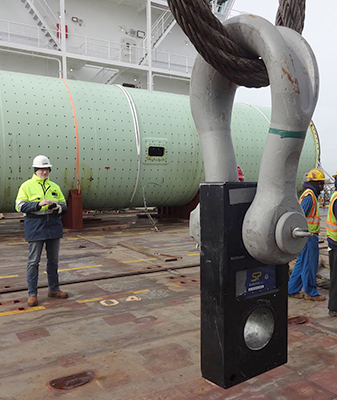 Straightpoint load cells were integral to the safe offload of a 718-ton absorption tower and a flash vessel from SAL Heavy Lift's Type 116 MV Amoenitas vessel at the Port of New Orleans, Louisiana.
The absorption unit is an industrial-size tower (it measures 170 feet long; 24 feet wide; and 23 feet, 7 inches high) used to separate out components of rising gas, while the flash vessel, although smaller, will be the main component of the flash recovery system at the major installation project.
The Amoenitas arrived at the port's Louisiana Avenue Terminal in mid-January after a 45-day trip from Shanghai, China. It boasts a top speed of 17 knots (nearly 20 mph); the ability to carry cargoes weighing upwards of 900 tons; and two cranes, each offering a capacity of 450 tons and two auxiliary hoists of 35 ton capacity apiece.
SAL specializes in the sea transportation of heavy lift and project cargo. Its offshore subsidiary focuses on developing and delivering installation solutions for the oil and gas and renewable energy sectors.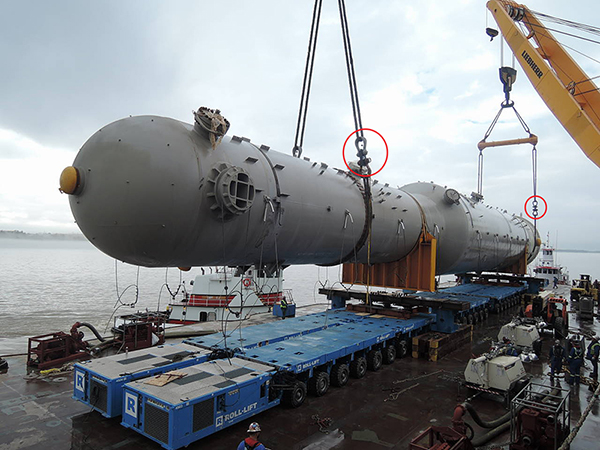 Straightpoint worked alongside Marine & Industrial Supply, the rigging and testing solutions business responsible for providing the load cells and shackles; and Fracht FWO Inc., of Houston, a North American subsidiary of the Swiss freight forwarding company that oversaw the offload to barges positioned alongside deck cargo pontoons.
Charles Duprey, projects manager at Fracht FWO, explained that the load cells played a key role in the transfer of the valuable units from sea to barges before continuing their journey on land as there was a discrepancy over the weights of the loads that were recorded in the transportation documents.
John Molidor, the general manager of Straightpoint's US operation, said: "
Within 10 minutes of my phone conversation with Charles Duprey from Fracht I had drafted an email detailing my conversation with Charles which included his contact information to Ricky Thompson, general manager at Marine & Industrial Supply. It was late in the day West Coast time but from what I understand Ricky was in touch with Charles first thing the next morning
."
Duprey said: "
The load cells were crucial given that when we loaded the absorption tower and flash vessel in China the lift weight in the barge was drastically inaccurate so for safety reasons we wanted to weigh them again in New Orleans. Importantly, when we used the load cells to weigh the items at the port, the weight matched the documents of the manufacturer which told us that the measurements recorded by the barge crane instruments were incorrect
."
Duprey and his team at Fracht FWO have been executing such offloads for the mammoth project for over 18 months and vessels have been arriving in New Orleans with equipment loaded from ports all over the world, adding to the complexity of the freight forwarding operation. Lifting and rigging technologies have been inherent to the safe progression of the project.
Straightpoint's force measurement, load monitoring and suspended weighing products are at the pinnacle of technological advancement, offering users the ability to monitor the pick points of dynamic loads while they are being moved and relay the information 100% wirelessly to a PC.
Duprey said: "This wireless capability was hugely beneficial to the project, as was the convenience of being able to change the capacity in which the information was displayed from tons to pounds, for example. The Marine & Industrial Supply team were fantastic as was the capability and performance of the Straightpoint load cells."
Thompson said: "The entire group was very professional and a pleasure to work with. Straightpoint load cells are well known to be the very highest quality, and our team at MIS works hard to provide impeccable service to our customers."
Molidor concluded: "It is Straightpoint's ever increasing involvement in these high profile engineering projects that is allowing us to transform the lifting industry in an accelerated fashion. The use of the Straightpoint product line by giants like Bechtel, Chicago Bridge & Iron Company, and Kiewit just to name a few is invaluable as these world leaders are known for setting industry trends."
Details

Written by

Tanya
Straightpoint Wins Business of the Year Award
Straightpoint was named Business of the Year 2014 by a leading business coaching company who selected the local cell manufacturer based on profit growth, sales growth, marketing excellence, team leadership and development.
Action Coach works with firms in 50 countries but the Business of the Year award was presented to one winner from its portfolio of companies in the UK's south central region, which covers Portsmouth, the Isle or Wight and Southampton.
Gary Mullins, of Action Coach, who works with Straightpoint's team at Havant-based headquarters, said: "We measure companies based on actual profit and loss figures, financial and percentage growth as well as steps taken by the business to build strong systems and most importantly a high performance team."
Mullins has worked with Straightpoint for over a year, initially with director David Ayling and then more extensively with senior management and other key team members. He revealed that the load monitoring and suspended weighing load cell specialist emerged top in every judging category.
He said: "I have seen David develop personally and show great leadership skills. His abilities to build the key elements of a strategic plan, develop and implement action plans, and focus on building his team have stood out in particular. He has built a tremendous platform from which to take the company to the next level."
Ayling said: "We are thrilled to win the award and hugely appreciative of the guidance and encouragement Gary has given the team and I to achieve our business goals. I have a great sense of satisfaction in that we can attribute part of our success in the categories in which we were judged to the partnership we have developed with Action Coach."
He added: "The business continues to enjoy aggressive growth and I am glad that Gary is available to provide support and a perspective from outside the company. While I dedicate the accolade to each and every member of staff that made it possible, Gary himself deserves a great deal of credit."
Mullins highlighted Ayling's commercial skills and development of the company's distribution network. He anticipates that, in just five years, Straightpoint will have an even stronger global presence with a robust US-based business and a distributor network that will be the envy of competitors.
He added: "The effort David has put in has been immense and he has achieved results that he is rightly proud of. To build a great business you need a great team and David is building this both internally and throughout his global network of partners."
Due to extensive global travel, Ayling was unable to accept the award in person and operations manager Alfie Lee represented Straightpoint at the recent Action Coach awards evening. He said: "I was very proud to accept the award. I have known David and his business partner Peter McGreal for in excess of 25 years and have watched with interest as the business they purchased back in 2002 has grown and flourished under their leadership. To now be part of that growth and to be recognised for it by Action Coach is very rewarding."
Lee joined the company in May 2014 and has attended Mullins' training events in addition to one-to-one sessions. He added: "Gary is now mentoring us on trying to help us adapt the business to focus on streamlining stock levels. As the newest member of the board of directors it was an honour to accept this prestigious award."
Details

Written by

Tanya
Already Trending on Facebook
Mr Loadlink Blog has been relaunched
Start as you mean to go on …
Welcome to the first Mr Loadlink blog of 2015! Unlike a lot of companies where communication with customers, partners and industry fades away as they become distracted by the day-to-day demands of the business, Straightpoint remains committed to keeping you informed, educated and entertained through content, tailored for our variety of audiences across the world.
Content and marketing messages are key components of our growth strategy and the busier we get (and we're busy!) and the faster we grow, the more communicative we will become.....
To read more please visit Mr Loadlink
Details

Written by

Tanya

AWRF Talks New Products and Radiolink Plus with Straightpoint
- -
AWRF Blogs


Straightpoint is a UK based company that sets the international standard for lifting projects, and are world leaders in load monitored technology. We recently spoke with Dave from Straightpoint at the 2014 AWRF PIE about some recent improvements in the Radiolink Plus, which is a wireless digital dynamometer load cell. Read more here >


Details

Written by

Tanya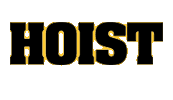 27 October 2014


Straightpoint has supplied its 12t Loadlink Plus to UK-based Larkin Eng Services for the load test of a weather station's lifting points that is being used in Europe's first commercial floating offshore wind measurement campaign.
According to the manufacturer, the weather station's lifting points were proof tested to ensure the greatest load that can be applied without straining them beyond the elastic limit.
Safe lifting
This guaranteed the weather station could be safely lifted and transported to the DONG Energy and FLiDAR offshore wind measurement campaign, which is located in the Irish Sea.
Larkin Eng Services was tasked with the need to proof load test the weather station that weighed a total of 6.5t. This ensuring that the station was balanced when deployed by sea, a goal acheived by calculating the safe working load, so it could be lifted safely by the lifting points.
Elsewhere, an additional 25% of the total weight was added to the buoy by adding heavy chains to ensure the working load was safe to lift.
Larkin built a structure to enable the lifting of the equipment from dockside onto a boat while the buoy was then lifted by crane off the boat and also before being lowered into the water.
Straightpoint's technology recorded all the individual test weights, from the individual components, to the overall finished product, as well as the total including the additional test weights.
Accurate readouts
Each individual weighed component was totalled and then compared against the total weight reading, which ensured the accuracy of the readouts from Straightpoint's Handheld Plus system, which links directly to the loadcell.
John Dodgson, senior rigging and inspection engineer at Larkin Engineering Services explains: "I have used Straightpoint's products for many years. With over 1 million GBP-worth of equipment being lifted in this project, we had to get it right first time.
"
That's why we chose Straightpoint, as we knew we could rely on the accuracy of their loadcell to safely monitor the load.
"
To see the full article
please click here >>