News & Case Studies
Details

Written by

Tanya
Media Release: February 12, 2016
Load Cells Monitor Weight as Cranes Operate on Temporary Shoring Columns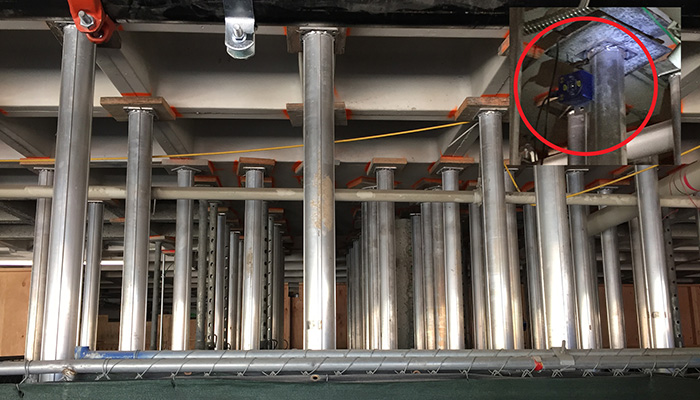 Forty 10-ton wireless compression load cells from Straightpoint monitor forces on temporary shoring columns used to support two tower cranes during the Century City Mall project on Santa Monica Blvd., Los Angeles, California.
Two cranes from rental company Mr. Crane, supplied by Morrow Equipment Co., are supported by the existing columns and shoring posts, as load cells calculated total mass and center of gravity of the cranes and subsequent lifted loads.
Both cranes are located on an existing, two-floor, underground parking garage. A Liebherr 630 EC-H 20 Litronic is stationary, while a Liebherr 542 HC-L18 Litronic operates on rails and traverses the length of the project in stages. The cranes used to erect them on the garage were a Liebherr LR1300 crawler crane and a Liebherr LTM1400-7.1 hydraulic truck crane. There is a third tower crane—another 630—on a standard foundation on the 'Macy's side' of the project.
Each crane is supported from the deck down to the final slab of the structure using jackscrew shoring posts on both floors of the car park, positioned at each of the four corners of the stationary crane, and along the pathway for the traveling crane.
Mark Sovocool, engineering manager, Mr. Crane, said: "The track system is a typical Liebherr bogie and track system, with electrically driven bogies. What is under the track is anything but typical. We came up with a block system, with blocks designed by Coreslab Structures (LA) Inc., to support the track and crane that can be easily removed once the project was complete."
Traversing the roof
The tracks sit on two rows of 20,000-lb. concrete blocks extending approximately 100 yards across the top of the parking garage. The temporary shoring columns and wireless load indicating compression load cells are moved across the parking garage below as the crane transversed the roof top overhead.
John Molidor, general manager, Straightpoint Inc., said: "A sampling of the shoring column loads is provided by 40 wireless 10 ton compression load cells. The wireless load data is transmitted to a Windows PC (or tablet) running our SW-MWLC software. The software's web server function transmits the real time load data via a local area network to the tower crane operators high above, allowing them to view the live loads on mobile technology such as an iPhone or Android device. Our SMS alert system is employed to monitor the loads associated with the cranes. Maximum load thresholds are established and if reached key engineers and project administrators will be automatically notified via email and text of the alarming conditions."
Sovocool added: "It is important to monitor loads so we can check there is a good distribution of force onto all of the shores in the immediate vicinity of the crane. The load cells allow our personnel to walk around the shoring posts and get wirelessly live readings of the force under a sampling of the shore posts, giving us some idea as to what the posts are actually seeing as the crane swings, and in some cases travels. The goal was to ensure that no single post was overloaded."
The whole project is a remodel and expansion of the mall. It involved clearing existing structures on the top floor (shops), reinforcing structural components, and erecting steel for the new sections of the mall. Typical loads are below 20,000 lbs., with some critical lifts up to 42,000 lbs.
The mobile cranes have been removed from the project, but all three tower cranes remain. The load cells on the two garage supported tower cranes are still in place.
Details

Written by

Tanya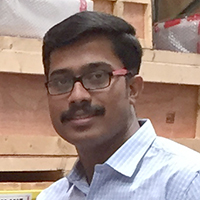 Press Release: 26 January 2016
Straightpoint Names New Project Engineer
Straightpoint has named Sarath Chandran project engineer as the force measurement, load monitoring and suspended weighing load cell manufacturer continues to invest in electronics and telecommunications expertise.
Chandran joins a team led by Roshan Divakaran, design engineer, who recently oversaw development of an ATEX and IECEx version of Straightpoint's most popular product, the Radiolink Plus wireless load cell, which was launched at the turn of the year. The pair worked together in their native India and the reunion further equips the Hampshire, UK-based firm to pioneer technological advancement in its sector.
Divakaran said: "Bringing a wealth of experience from the electronics field, Sarath can assist us in all new, non-standard projects and play a key role in effectively troubleshooting our range of equipment when the need arises. I also expect him to assist the sales team in preparation of quotations and proposals. Additionally, Sarath will apply his knowledge to special projects."
Chandran, who has three years of experience in the load cell market, said: "I am delighted to join up with Roshan again having combined to successfully implement many electronic and telecommunication solutions in weighing and measurement products in the past."
He added: "Straightpoint is a global company and I have witnessed the application of its technologies in a myriad of industries and end user markets. The diversity of the range and the company's ability to react to market demand in particular appealed to me. I am excited about applying my knowledge to our standard range and the varied, challenging requirements of special projects and bespoke systems."
Chandran explained that his role will involve prototyping, testing and documenting new product ranges as well as writing user manuals and detailed technical information. He will also share knowledge with the sales departments prior to putting equipment to market through the manufacturer's global distribution network.
He said: "A thorough understanding of electronics will be fundamental to success in my new role as most load cells and related display devices are electronics-based. On development of a new product or application of a bespoke system, for example, modification of electronics will be key to successful integration in a real life application."
Chandran concluded: "I believe that in the future, Straightpoint will provide a system without a requirement for display devices. Instead, we will implement a fully web-based system that facilitates remote troubleshooting and allows the user to check the system's performance. I am very excited about where we can take force measurement, load monitoring and suspended weighing load cell technology."
Details

Written by

Tanya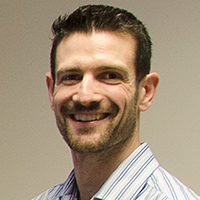 Press Release: 21 January 2016
Lifting Industry Expert Joins Load Cell Manufacturer Straightpoint
Straightpoint has named Dave Mullard business development manager, as one of the industry's leading force measurement, load monitoring and suspended weighing load cell professionals completed his move from a fellow lifting equipment manufacturer this week.
Mullard, who joined Hampshire, UK-based Straightpoint on 18 January, is keen to further advance a blossoming career in the below-the-hook sector, while spearheading his new company's continued growth in Europe, Africa and Russia.
He said: "I have enjoyed the challenges presented by the lifting industry in relation to weighing technologies and have spent the last three years in particular developing a thorough understanding of the marketplace. Straightpoint continued to emerge as the market leader and I am grateful for the opportunity to align my goals with such an innovative, dynamic business."
Straightpoint director David Ayling said: "We spent the second half of 2015 dedicating much of our time and resources to product development, but we adapted our focus at the turn of the year to once again prepare the business for growth. I am delighted that we've added an industry recognised professional to the company as we set out to achieve our targets."
Ayling referred to recent landmark product launches, including the extension in range of wireless products to 700m; ATEX and IECEx versions of the Radiolink Plus wireless load cell; a new Running Line Dynamometer (or TIMH), part of the manufacturer's tension in motion range; and the unveiling of Towcell. Mullard highlighted the diversity of the ever-evolving Straightpoint product range as one of the main factors in joining.
He said: "Straightpoint is a very dynamic business; it has demonstrated time and again its ability to react to market situations or customer demand and deliver a solution. The Radiolink Plus is a prime example; it is the company's most popular product, known for its quality and reliability, yet the latest model represents the fourth generation of the constantly improving load cell."
Mullard has clearly defined his short and long term goals. Initially, he will drive sales through existing distributor channels, while introducing himself in his new role to industry representatives. As the year unfolds, Mullard will narrow down his search for new distribution partners, particularly in Russia, which is a hotbed of potential on his watch.
"The immediate and longer term challenges excite me equally," said Mullard. "I have been successful in the past at growing distributor networks and I feel even better equipped to do so, backed by such a diverse product range and a business that can provide standard, bespoke and specialist force measurement solutions, all to short lead times."
He added: "I am convinced Straightpoint will pioneer progression of the lifting industry. Prior to working in my previous employer's lifting division, I spent nine additional years within their business. I felt well respected and was loyal in return. However, my knowledge of Straightpoint and its technologies meant I knew this was the right move for me and gives me a better opportunity to help make the lifting industry a safer place."
Mullard spent his first week at the company at Havant headquarters. He said: "I was already familiar with David Ayling having attended many of the same trade shows and events over the years. I have always been impressed by his openness and clarity of vision for his company, but it has been a pleasure to meet the whole UK team and hugely reassuring that they share David's ambition, vision and focus. Everyone is pulling in the same direction and clear about what they can expect from each other. I am very excited about what the future holds for us all." Contact Dave
This email address is being protected from spambots. You need JavaScript enabled to view it.
Details

Written by

Tanya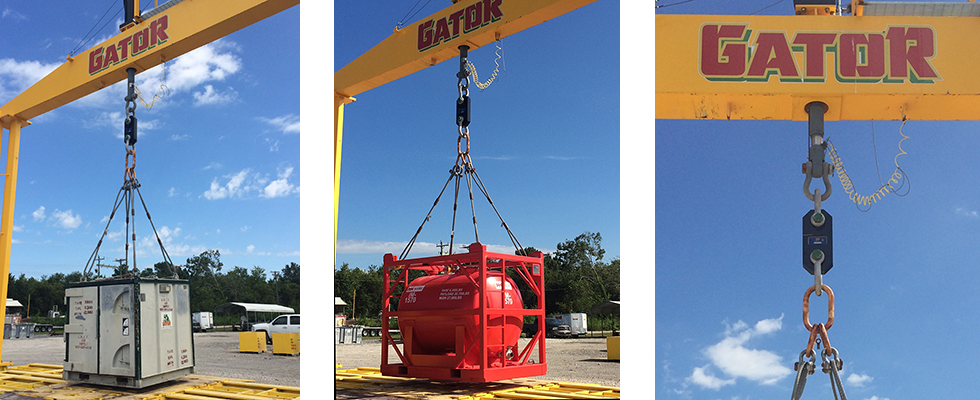 Gator Test Rig Utilizes Straightpoint Load Cells
Straightpoint force measurement, load monitoring and suspended weighing load cell equipment is integral to fabrication and periodic testing of equipment at two Southern Louisiana facilities that serve the U.S. marine, oil and gas industries.
Gator Rigging, Inspection, Testing & Supply LLC offers a myriad of rigging services, including inspection, load testing and critical lift consulting for Industry leaders across the state.
The company utilizes Straightpoint load cells at its Morgan City and Cut Off, Louisiana sites. Both locations employ horizontal test beds with the Morgan City branch also having vertical testing capabilities to 100 tons. Plans are in the works to add vertical test capabilities at the Cut Off location in the months to come.
In one recent application at the Morgan City site, Gator used load cells in conjunction with its vertical test bed to complete an annual inspection of marine equipment. A Straightpoint load cell was rigged in the vertical test bed using two 25-ton shackles. With a four-leg sling, the equipment was then lifted and weighed with both load cells providing almost precisely the same result.
Jeremy Houghton, marine consultant and inside sales at Gator Rigging, said: "The inspection was a success and we contemplate utilizing Straightpoint equipment again for similar applications in the future."
John Molidor, general manager at Straightpoint Inc., said: "We were contacted by Gator Rigging about this time last year. It was a pleasure to help them improve their ability to provide top quality services to high profile marine, oil and gas customers in the region."
Straightpoint load shackles are manufactured from Crosby's industry-leading 2130 Carbon and 2140 Alloy Bolt Type Anchor Shackles to 120 tons and the GN H10 Alloy Bolt Type Anchor Shackle or equivalent in greater capacities. The wireless data logging software allows for simultaneous control, display and real time data logging of up to 100 Straightpoint telemetry load cells. Load shackles are also available in a cabled version, particularly suited to subsea environments.
Gator Rigging's marine industry customers require use of the test rigs for a variety of reasons, including the certification of weights required to complete lift plans and load outs of equipment. Houghton, who is responsible for consultancy and inspection at the Cut Off facility, added: "As a marine consultant, when assisting customers with the fabrication stage of jobs, the equipment must have a certified weight so the engineers can complete the lift plans and drawings for upcoming load outs of equipment. The load cells provide accurate weights so our engineers can produce these lift plans and drawings."
Plans are already in place to build a fourth custom-built rig at Cut Off, expected to pull 100 tons or even more.
Details

Written by

Tanya
Straightpoint launch ATEX Load Cell
Straightpoint will launch an
ATEX and IECEx
version of its most popular product—the Radiolink Plus wireless
load cell
—next month (November).
The explosion proof product will be assembled on a brand new production line ensuring that the force measurement, load monitoring and suspended weighing load cell manufacturer can continue to provide quick delivery to job sites around the world.
Meeting Zone 0 classification (an area in which an explosive gas atmosphere is present continuously or for long periods) is unprecedented in below-the-hook force measurement technology with other suppliers providing products for use in areas categorised only as hazardous as Zone 2 (an area in which an explosive gas atmosphere is not likely to occur in normal operation and, if it occurs, will only exist for a short time).
Roshan Divakaran, design engineer at Straightpoint, who has overseen the product's development, said: "We don't believe there is another wireless load cell on the market that is Zone 0 certified, which makes this a tremendously significant product launch for the sectors that require such technologies. The requirements of the oil and gas industry were a primary focus throughout the design and certification process."
The criteria of
ATEX and IECEx
are broadly similar, although the former is widely accepted throughout Europe, while the latter is required in many other global markets.
The
ATEX version of the load cell
and wireless handheld unit contains several safety components that permit its use in Zone 0 environments. A separate storage area has been created at Straightpoint's Havant, UK headquarters and all production personnel have been specially trained in the assembly of the explosion proof units.
Straightpoint director David Ayling said: "We made a decision in early 2014 to introduce the benefits of our best selling product—the Radiolink Plus—to industries and applications where products that meet the requirements of ATEX are required to work in extremely hazardous environments. I am delighted for Roshan and the team that we have executed our ambitious plan to launch the product by the end of 2015. It has been one of the biggest development projects in the history of the company and the interest we've already received suggests that our new production line will be kept extremely busy."
Divakaran, working in close collaboration with the Sira Certification Service, an independent certification body, has been working on the ATEX and IECEx project since he joined the company last year.
He said: "Developing a Zone 0 product has been very challenging given the extent of the standards and safety regulations that we have had to meet as we produced documents, prototypes and the final product. Our goal was to meet this criteria whilst making minimal changes to an already excellent, well-renowned product; we feel we have been successful in achieving that."
Ayling concluded: "A significant amount of our business comes from the oil and gas sector. The explosion proof certification will vastly increase the scope of application we can serve and provides our distributors with unique selling points both in terms of the classification level and our ability to deliver the product within a few days."