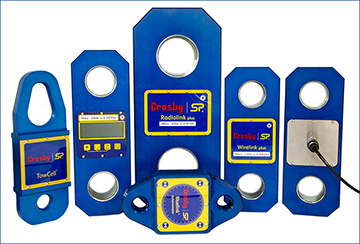 The Crosby Straightpoint Mission:
Make the Lifting Industry a Safer Place -
know the load
Facts:
- Capacities supplied: 1t – 2,000t +Custom made load cells
- Years business established: 42
- Number of worldwide partners: 80
- Worldwide SP products are sold in USA, CANADA, LATAM, EMEA & APAC
- Unrivalled lead times
- Excellent customer service and aftercare
Crosby/Straightpoint (SP) is an award-winning, UK & USA load cell manufacturing company specialising in the production and calibration of load monitoring equipment for the following applications:
Force measurement
Load monitoring
Suspended load weighing
Compression force sensing
Wire Rope Tension Metering
In these Industries: construction; container weighing; extreme sports; heavy lift; line tensioning; logistics; marine; oil and gas; stage and event rigging; shipping; testing; towage and salvage; utilities; defence; and more.
The products that SP produces are developed using the latest cutting-edge technology and materials. By pushing the boundaries, we can continue the endeavour to further decrease risk and increase safety in heavy-load lift situations.
With over $1,000,000 of stock available, SP products give distributors a distinct advantage over competitors' lead times
Range of products from 100kg beam load cells to 1,500t load shackles and beyond
Cutting-edge technology including unsurpassed wireless products
Huge range of accessories and data logging software packages available with most load cells
World-class after-sales and marketing support
Competitive Pricing
Provision of complementary smart cell device apps (Android/IOS) to wirelessly monitor loads via a Bluetooth connection from up to 50m away (HHP and COLT apps)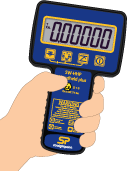 SP continues to lead in innovation by launching the first worldwide off-the-shelf wireless centre of gravity system and is the first load cell manufacturer to incorporate RFID tags in all its 'link' load cells as standard.

Innovative releases include ATEX & IECEx zones 0, 1 and 2 approved wireless dynamometers and running line dynamometers.
SP is the only manufacturer in the world with load monitoring / measuring products that are certificated to be used within hazardous gas environments found mainly within the gas, oil, and manufacturing industries.
Flagship products include:
Radiolink plus tension dynamometer
Wireless Compression Load Cell
Clamp On Line Tension meter (COLT)
Wireless Running Line Dynamometer (TIMH) including the newly released CableSafe
Wireless Loadshackles
Wireless Loadpins
Exclusive range of supporting software


LOADLINK DIGITAL DYNAMOMETER TENSION LOAD CELLS
The original digital dynamometer tension load cell has been serving the load testing and force or weight measurement industries since 1979. Decades of development into this product include many standout features, such as the unique strain gauging method that helps compensate for wire rope torque when our load cell is loaded.
These load-monitoring systems are available in telemetry wireless (RLP), self-indicating (on product electronic display, LLP) and cabled non-indicating (WLP) versions. Ruggedly built and highly accurate load link style load cell dynamometers allow for force and load monitoring across a broad range of industries and applications.

Pictured: The original Straightpoint load monitor
Prime usage example: Load monitoring of the water test bags for dockside lifts that involve cranes, derricks, davits, winches, and virtually any other lifting equipment or load-bearing applications.