Manufacturers and Suppliers of Load Monitoring
Crosby Straightpoint has a full catalogue of load monitoring and tension meter products, manufactured in the UK with distribution from Europe and USA, as well as a global network of distributors, they can offer unrivalled quality and lead times.
Download Catalogue for full range and specifications
Quick Guide for fast ordering or request for quote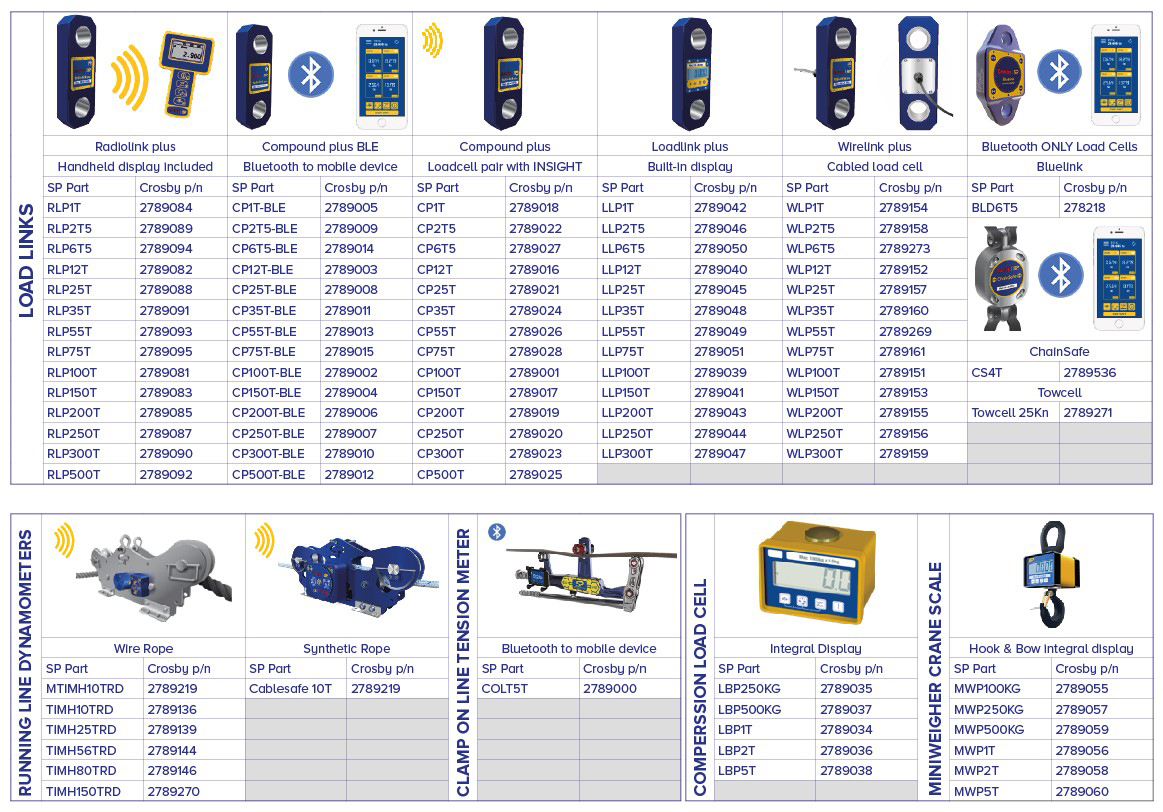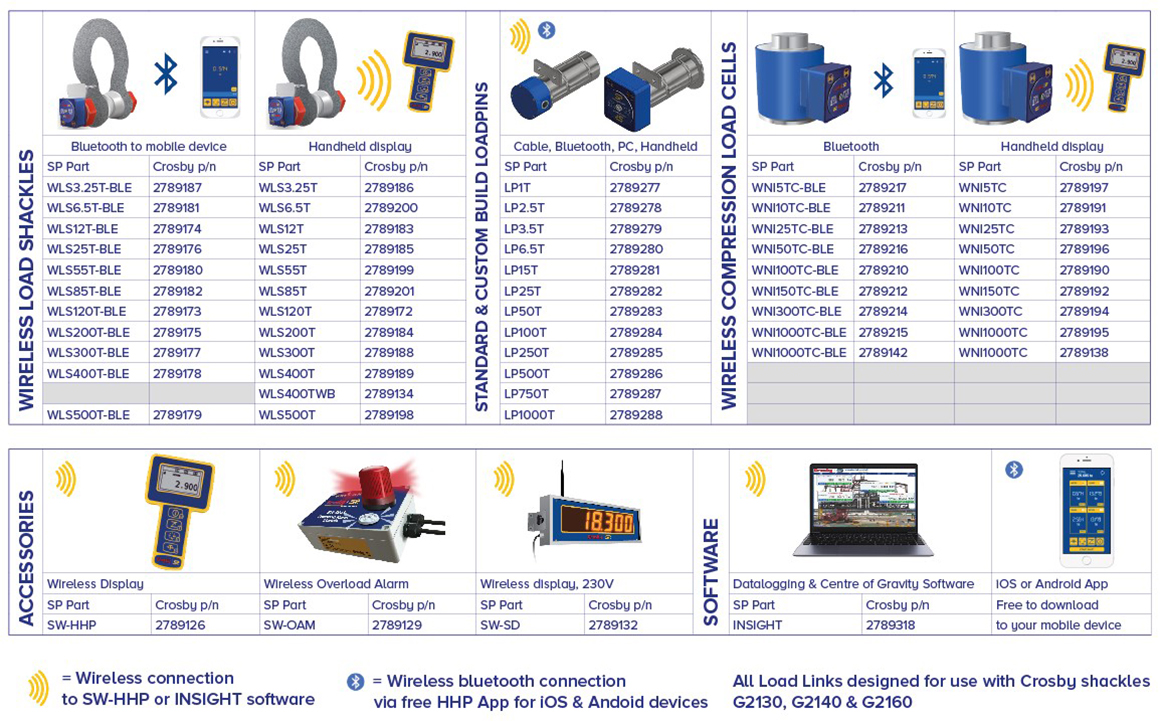 ---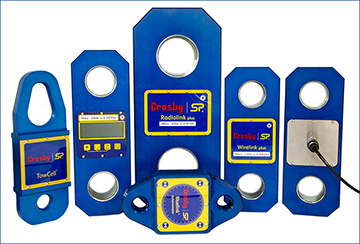 Tension Load Cells
The original tension load cell has been serving the load testing and force or weight measurement industries since 1979.
DNV Type approval, ATEX/IECEx available as well as Bluetooth options!
These Load monitoring systems are available in telemetry/wireless (RLP), self-indicating (LLP) and cabled non-indicating (WLP) versions. Towcell is a 25kN, wireless tension load cell specifically engineered for the emergency services, salvage and 4 x 4 industries.
Ruggedly built and highly accurate load link style load cell dynamometers allow for force and load monitoring across a broad range of industries and applications.
Radiolink Plus | Radiolink - ATEX IECeX | Wirelink Plus | Loadlink Plus | Towcell
Need a price for loadlinks? Contact Us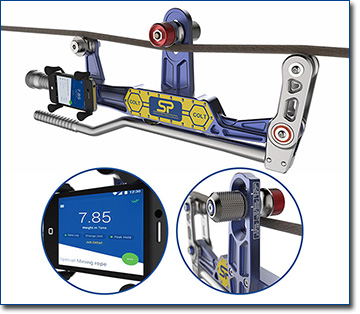 Clamp on line tensiometer
Crosby Straightpoint's latest innovation the Clamp on line tensiometer, come complete with a Bluetooth COLT App for iOS and Android mobile devices.
Easy to use and lightweight with an unlimited database of wire ropes this is a favourite for companies such as Crown Castle.
It is particularly useful for guy wire maintenance on cell towers, bridges, stacks, antennas & masts and the erection of gin poles as well as measuring tension on elevators.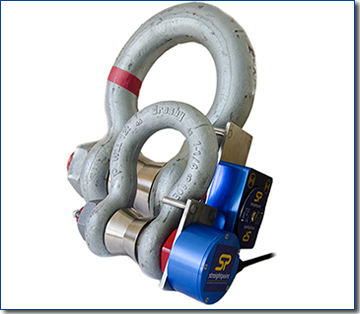 Shackle Load Cells
Crosby Straightpoint's shackle load cell or '
Loadshackle
' product line has been providing the lifting community with a low headroom load monitoring solution for over a decade. By integrating the load cell into the shackle pin the product provides for a compact and lightweight load monitoring solution while still meeting industry SWL and accuracy requirements.
These popular LMI Systems are available as cabled or telemetry wireless loadcells.
Wireless Loadshackles
|
Cabled Loadshackles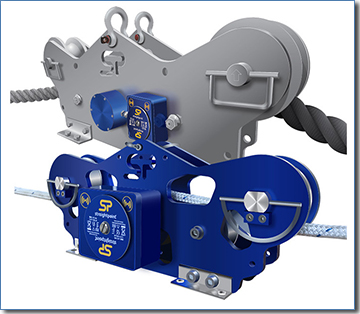 Running Line Dynamometers
The TIMH - running line tension meter range are built with dockside, marine, offshore, towage and salvage applications in mind. It is particularly useful where there is no anchor or dead end on the line to rig a Straightpoint Radiolink or Loadlink digital dynamometer to measure tension force.
The CableSafe is for electrical and communication cable pulling and connects via Crosby Straightpoint's free HHP-App Bluetooth.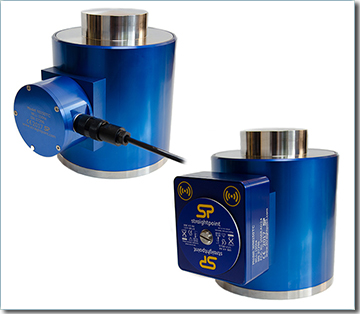 Compression Load Cells
The Crosby Straightpoint range of wired and wireless compression load cell product lines combine heavy-duty construction, industry-leading accuracy and high capacity into a cost-effective weighing and load monitoring product.
Crosby Straightpoint compression load cells are utilized every day in compression force testing, structural weighing and for the confirmation of mass and centre of gravity.
Available as cabled or wireless to suit your application.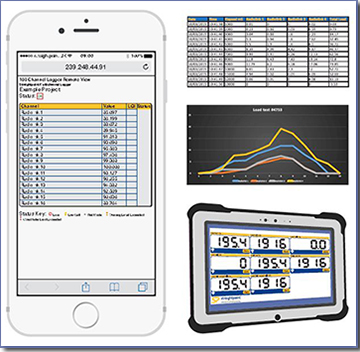 Software and Systems
Our
load monitoring software
packages provide user-friendly, cost-effective load monitoring solutions for a broad range of industries faced with increasingly complex load monitoring applications. Available as wireless telemetry or cabled solutions these creative solutions allow for report printing, confirmation of mass and centre of gravity, simultaneous display/monitoring, totalising and data logging of up to 126 Crosby Straightpoint Wireless Load cells.
Software & Systems

Custom made load monitoring