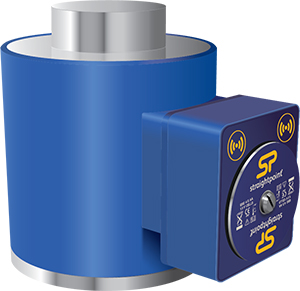 Need a price? Contact our team
LoadSafe - Wireless Compression Load Cell is available ATEX and IECEx approved to Ex ia II T4 Ga for use in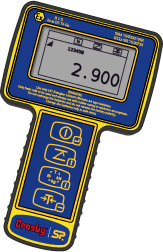 zones 0, 1 and 2 hazardous environments (gas and is designed for the on and offshore oil and gas, chemical and other industries with challenging hazardous areas.
No longer hindered by troublesome and hard to maintain cables, large scale projects can be completed in a fraction of time previously required. Maintenance costs are all but eliminated due to the absence of cables and connectors, and the product's flexibility opens the door to a large number of applications in hazardous areas such as drilling platforms, silos and heavy lifting projects replacing unwieldy and inaccurate hydraulic loadcells previously used in similar applications.
SP's Wireless Compression Load Cells are machined from high-grade stainless steel, providing excellent strength and corrosion resistance. The heavy-duty, compact load cell utilises Straightpoint's advanced microprocessor based electronics and benefits from unrivalled resolution and accuracy. Data transmission is handled by the Straightpoint wireless systems proprietary transport protocol, is unmatched in performance and capable of a licence free transmission range of up to 500 metres or 1640 feet.
Load data is transmitted wirelessly utilising the latest in IEEE 802.15.4 (2.4 GHz) technology providing safe, high integrity, error-free transmission of both static weight and dynamic load to our SW-HHP-ATEX handheld controller for use in hazardous areas.
This latest range of compression loadcells utilise easily sourced Energizer® Ultimate Lithium AA Batteries and features advanced circuitry designed to protect the unit from damage associated with incorrectly installed batteries. This advanced circuitry extends battery life eliminates issues associated with rechargeable battery pack charging, failure and replacement.
FEATURES
Approved for use in hazardous zones
Proprietary 2.4 GHz Wireless
Error-free data transmission
No cable assemblies required
Unrivalled resolution
Unmatched battery life of 1200hrs
Reduced maintenance cost
Compact size
Remote on-off
BENEFITS
Leading wireless range of 500m/1640ft
Error-Free Data Transmission
Internal antennae
APPLICATIONS
Hazardous areas
Offshore oil and gas
Chemical industries
WARRANTY & ASSURANCE
2 year warranty
Complies with ASME B30.26
Design validated by F.E.A.
Independently approved by CSA
SUPPLIED WITH THE FOLLOWING AS STANDARD
Batteries
Proof test certificate
Operator Manual
Carry/Storage Case
Specifications/Technical Data
Ex battery type:
Ex Handheld 2 x Energizer® Ultimate Lithium AA Batteries
Loadcell 4 x Energizer® Ultimate Lithium AA Batteries

SAFETY REMINDER
To all users of Crosby Straightpoint ATEX/UKEX/IECeX products:
Please ensure that only intrinsically safe batteries, certified for use in hazardous areas, are fitted.
(It is suggested that this is verified as part of pre-use equipment checks.)
We recommend using Energizer L91 Ultimate Lithium AA batteries, rated for use in Zone 0,1,2, and Class 1, Division 1.

Compression load cell additional technical data

Material of construction: 17-4PH H900 stainless steel. Aluminium jacket 6000 series
Finish: Stainless steel – polished. Jacket blue anodized to BS EN 12373-1:2001 Class 10.
MTBF to WLL: Typically, >50 million cycles
Elongation: Typically, <0.175mm / at WLL

N.B. Clearance of box may vary from the images displayed depending on the capacity required.

Wireless Approvals




Federal Communications Commission
FCC: VHARA24
Industry Canada
IC: 7224A-RA24
Japan Certification
ID: 205-170296
Korea Certification
ID: R-CRM-1ME-RA24



Part Number

WNI5TC-ATEX

WNI10TC-ATEX

WNI25TC-ATEX

WNI50TC-ATEX

WNI100TC-ATEX

WNI150TC-ATEX

WNI300TC-ATEX

WNI500TC-ATEX

WNI1000TC-ATEX

Crosby Part number

2789434

2789435

2789436

2789437

2789438

2789439

2789440

2789441

Capacity MET
5te
10te
25te
50te
100te
150te
300te
500te
1000te
Capacity IMP
11,000lb
22,000lb
55,000lb
110,000lb
220,000lb
330,000lb
660,000lb
110,0000lb
2200000lb
Resolution MET
0.001te
0.002te
0.005te
0.01te
0.05te
0.05te
0.1te
0.2te
0.5te
Resolution IMP
2lb
5lb
10lb
20lb
100lb
100lb
200lb
500lb
1000lb
Units MET
tonne
tonne
tonne
tonne
tonne
tonne
tonne
tonne
tonne
Units IMP
lb
lb
lb
lb
lb
lb
lb
lb
lb
Weight MET
7.2kg
7.2kg
7.2kg
7.2kg
16.5kg
16.5kg
66kg
66kg
173kg
Weight IMP
15.9lb
15.9lb
15.9lb
15.9lb
36.4lb
36.4lb
145.5lb
145.5lb
381.4lb
Safety Factor
3:1
Approval Spec
Ex ia II C T4 Ga for use in zone 2, 1, and 0 - certificate number IECEx SIR 16.0041X & SIRA 16ATEX2108X
Battery Type
4 x Energizer® Ultimate Lithium AA batteries
Battery Life
Loadcell 1200 hrs continuous
Operating Temp MET
-10 to +50 °C
Operating Temp IMP
14 to 122˚F
Accuracy
+/- 0.1% FS
Frequency
2.4GHz
Range
500 metres
Range
1640 feet
Data Rate
3Hz (configurable to 200 Hz)
Protection
IP67 / NEMA6
Dimension ØA MET
100
100
100
100
152
152
185
185
362
Dimension ØA IMP
3.94
3.94
3.94
5.98
5.98
7.28
7.28
14.25
Dimension B MET
127
127
127
127
184
184
300
300
310
Dimension B IMP
5.00
5.00
5.00
5.00
7.24
7.24
11.81
11.81
12.20
Dimension ØD MET
59
59
59
59
80
80
155
155
270
Dimension ØD IMP
2.32
2.32
2.32
2.32
3.15
3.15
6.10
6.10
10.63
Dimension E MET
16
16
16
16
26
26
27.5
27.5
40
Dimension E IMP
0.63
0.63
0.63
0.63
1.02
1.02
1.08
1.08
1.57
Dimension F MET
M18 x 2.5
M18 x 2.5
M18 x 2.5
M20 x 2.5
M20 x 2.5
M20 x 2.5
M20 x 2.5
M20 x 2.5
M30x3.5
Dimension F IMP
M18 x 2.5
M18 x 2.5
M18 x 2.5
M20 x 2.5
M20 x 2.5
M20 x 2.5
M20 x 2.5
M20 x 2.5
M30x3.5
Dimension G MET
152
152
152
152
432
432
432
432
950
Dimension G IMP
5.98
5.98
5.98
5.98
17.01
17.01
17.01
17.01
37.40
Dimension H MET
158
158
158
158
208
208
241
241
422
Dimension H IMP
6.22
6.22
6.22
6.22
8.19
8.19
9.49
9.49
16.61
Dimension I MET
6
6
6
6
7
7
21.5
21.5
102
Dimension I IMP
0.23
0.23
0.23
0.23
0.27
0.27
0.27
0.54
4.02