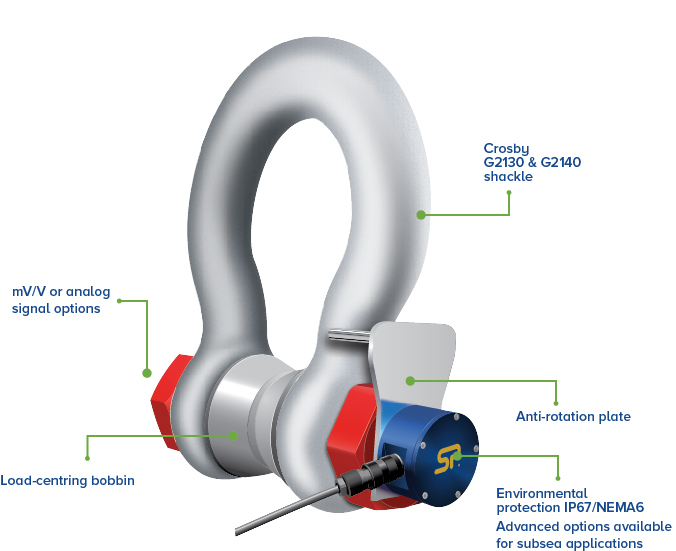 Available from stock in capacities 3.25t to 400t, and available up to 3000t, Straightpoint's Loadshackle is manufactured from Crosby's industry-leading 2130 Carbon, 2140 Alloy Bolt Type Anchor Shackles and S2135. The Loadshackle offers reduced overall weight and headroom providing a great fit for low headroom applications.
Utilising the same advanced microprocessor-based electronics as all Straightpoint products, Straightpoint's cabled Loadshackle benefits from high sampling rates, extreme resistance to industrial level noise and unprecedented stability. A huge range of tooling allows Straightpoint to calibrate in shackle for extra accuracy, unlike many other load cell manufacturers.
Straightpoint cabled Loadshackles are also environmentally sealed to IP67 and, as an option, sealed for permanent submersion for sub-sea use. The cabled Loadshackle range can be used with digital displays including the Straightpoint Handheld plus, PLCs, data acquisition systems (DAQ), etc. and configured with a vast array of output formats to include mV/V, RS-422, RS-485, utilising the ASCII, MODBUS RTU and CAN-BUS protocols or supplied with integral amplifier allowing analogue outputs such as 4-20mA, 0-10v, 0-5v etc.
Whether used in heavy lifting, mooring anchor placement or sub-sea applications, Straightpoint's cabled Loadshackle offers robust construction, advanced electronics, industry-leading resolution and accuracy all at a cost-effective, affordable price.
Requires connection to Straightpoint's Handheld plus (HHP) or External Amplifier range (SA-3420) that can be configured to provide outputs such as 4-20mA, 0-10v, 0-5v for PLC or data logger integration.
About
FEATURES
Robust construction
Compact size and low headroom
Every Loadshackle proof tested
Lightweight
Unrivalled resolution
Push button tare
Environmentally sealed to IP67/NEMA6
Peak hold
Advanced options available for subsea applications
Manufactured using industry-leading brand shackles
mv/v or analog signal options
Advanced Options Available
APPLICATIONS
Permanent installations such as cable tension monitoring
Underwater or subsea load monitoring applications
Under Hook Crane Weighing
Aircraft Manufacturing and Repair
Water Weight Testing and Calibration
Structural Load Testing and Certification
Shipping & receiving weighing
Off Shore Mooring Anchor Setting
Heavy lift and Rigging Load Monitoring
Crane and Hoist Calibration and Proof Load Testing
Manufacturing and Heavy Construction
Bollard pull testing and Certification
Catenary Anchor Leg Mooring (CALM) monitoring
Hawser Tension Monitoring
WARRANTY & ASSURANCE
2 year warranty
Complies with ASME B30.26
Design validated by F.E.A.
SUPPLIED WITH THE FOLLOWING AS STANDARD
Centralising Bobbin
10 metres / 30 feet Cable
Proof test certificate
Operator Manual
Carry/Storage Crate