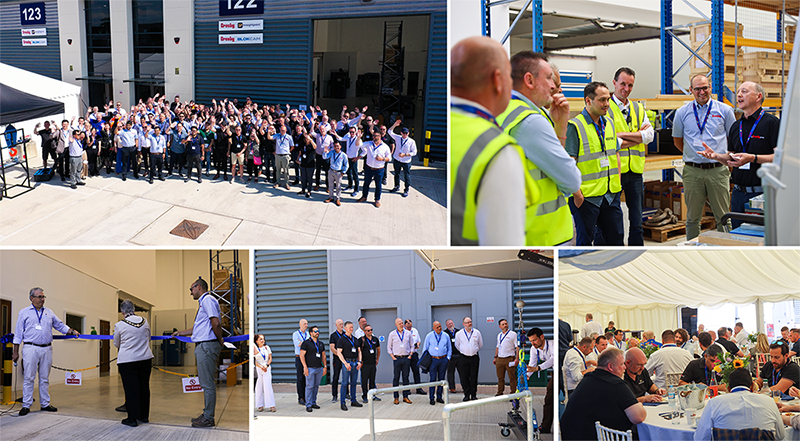 The Crosby Group's new state-of-the-art facility in Hampshire, UK has been opened by Havant's mayor, Councillor Rosy Raines.
Cllr Raines cut the ribbon as Crosby, a global leader in lifting, rigging, and material handling hardware, welcomed over 50 channel partners and additional guests from around the world to the 16,500 square-foot site in Waterlooville.
The facility manufactures Crosby's Straightpoint and BlokCam brands, which are leaders in load monitoring and crane camera technologies respectively. The factory is already fully operational, having completed a successful move from the original location, retaining 100% of existing staff.
Thomas Dietvorst, Sr. Global Product Director, Wire Rope Hardware & Tech Solutions at The Crosby Group, said: "The new facility provides more than just additional square-footage. We can now manufacture significantly more product through layout improvements and subsequent efficiency gains. Beyond that, we are in an even better position to attract staff with a better environment for existing and new employees."
In addition to Cllr Raines, who cited the importance of manufacturing in the area, Crosby hosts included Robert Desel, CEO of Kito Crosby; Wim Fabricius, Managing Director EMEA; and Travis Buck, Commercial Director EMEA.
All attendees enjoyed an on-site lunch, group tours, and sessions at a Crosby BlokCam demo station and the Rig Safe Rig Smart European Trailer. The event also featured tours of the nearby Portsmouth Dockyard.
Dietvorst added: "Overall, the event was a fantastic success with many commenting on the operational improvements they have seen with the move to the new facility – most notably a reduction in lead times due to the additional capacity and leaner manufacturing flow.
"We are growing fast. Not only have we invested in a new facility, but we will next invest in additional machining capacity."
---