Straightpoint's expanded range of ATEX products conforms with a new directive—2014/34/EU—that becomes effective today (20 April 2016), updating 94/9/EC.
At the turn of the year, the force measurement, load monitoring and suspended weighing load cell equipment manufacturer launched an ATEX and IECEx version of its most popular product, the Radiolink Plus wireless load cell, which met Zone 0, 1 and 2 hazardous area classification.
An ATEX version of the wireless Handheld Plus followed, while other wireless products including compression cells, shackle cells, load pins and the Running Line Dynamometer (or TIMH), part of the manufacturer's tension in motion range, are also in accordance with the 2014/34/EU directive and boast classification in the three-zone, including 0 (an area in which an explosive gas atmosphere is present continuously or for long periods)—unprecedented in wireless below-the-hook force measurement technology.
Need a price? Contact our team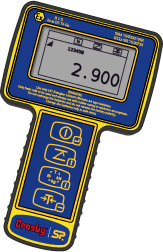 The criteria of ATEX and IECEx are broadly similar, although the former is widely accepted throughout Europe, while the latter is required in many other global markets.
The ATEX version of the load cell and the wireless handheld unit contains several safety components that permit its use in Zone 0 environments. A separate storage area has been created at Straightpoint's Havant, UK headquarters and all production personnel have been specially trained in the assembly of the explosion-proof units.


EX load cell products available
Radiolink plus | Wireless Loadpin | Wireless Compression | Wireless Shackle | Running Line Tensiometer



Applications
On and offshore oil and gas, chemical and other industries with challenging hazardous areas.