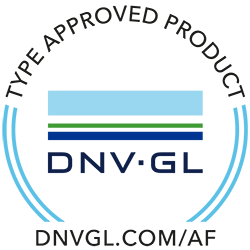 SP's DNV-GL Type Approved products can utilised highly effectively within all manner of sectors within the marine industry, including:
Offshore Wind farms
Subsea
Ship and boat building
At sea construction
Ship and boat breaking
Mass scale fishing
Submersible cable laying
Marine monitoring
One essential practise within major ports servicing large transport vessels is to perform Bollard pull tests. This is a practise that conveniently performs two jobs at once. One tests the bollard's load force capabilities to see if it is still capable of its original specified load holding ability, and the other tests the pulling power (measured in either tons or kiloNewtons kN) of the water-vessel's thrusters (usually a tug boat). A Radiolink plus (RLP) can be used as the best solution to measure both of these force measuring jobs as it can be integrated as part of the mooring line. SW-PTP can be used when Villar's pulling for real time test certificate generation.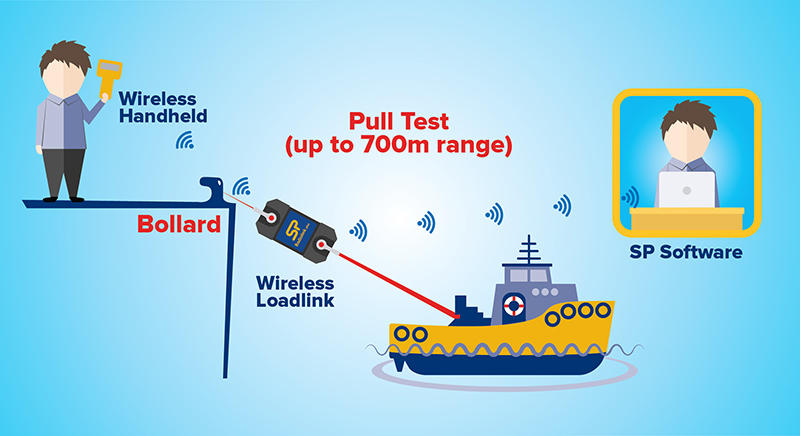 Need a price? Contact our team
The wireless monitoring ability of the RLP ensures that the user does not need to be within a dangerous distance of the pulling line as there is always a chance that it could snap violently. The IP67/NEMA 6 environmental protection from the advanced internal design structure and high grade sealing allows for it to be used in wet conditions without danger of failure.
With our in-house manufacturing capabilities we can produce bespoke load pins to be used to monitor tension on a marine mooring. Our load pins are designed to be integrated within a mooring hawser, using shackles, whilst connected to floating platforms such as CALMs (Catenary Anchor Leg Mooring) and CASALM (Catenary And Single Anchor Leg Mooring). These platforms are usually out at sea and cater for large ocean faring vessels such as oil tankers. These can apply huge forces to the line and mooring especially if the conditions are far from calm. Whatever the weather or specifications, our pins will be able to provide accurate data and help to prevent lines snapping and vessels going adrift.
Fishing vessels, large or small, can integrate one of our Running Line Dynamometers (from our TIMH range) out at sea, to test the tension forces of the fishing net line as it is reeled out to find a catch. Even when lines are holding large catches of up to 150 tons our Dynamometers can make sure you do not lose the catch as well as an expensive fishing line/net.
*Our Load shackles and Loadpin products can be manufactured for subsea use if required and output options such as 4-20mA or Modbus.
Straightpoint have a combination of software, instrumentation and wireless load cells (bluetooth option and with DNV Type approval) to suit these applications.
Product Recommendations: