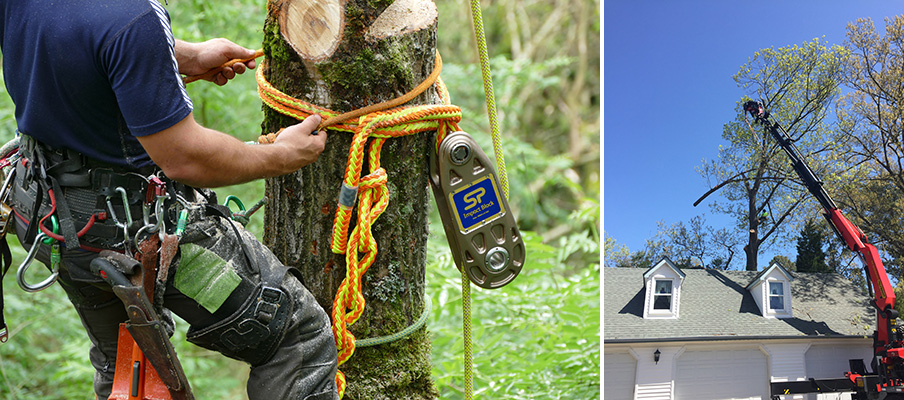 The nature of an Arborist's line of work is lined with a high number of risks. Where if anything goes wrong it can lead to damaged equipment and assets, injury, or even fatalities.
When you work at height you want to be assured the rigging lines will be able to take the weights and forces inflicted upon them. Because if a line's tolerance is exceeded (leading to it failing and snapping), then it can instigate a catastrophic series of events. Beyond the initial accidental damage - further harm can be inflicted upon business reputation.
Every tree and its location is unique, so when one needs maintaining or felling, it needs to be thoroughly assessed before being tackled.
A tree's location near to property or other types of valuable hard to move assets can throw up extra challenges. It may mean that it cannot be felled as a whole because of the risk of it damaging these structures or assets.
The alternative method is to take it down branch by branch, trunk segment by segment. Our loadcells are ideal to be utilised within this situation in order to maximise safety and providing a higher guarantee of successfully completing the job.
We understand the dangers and provide rugged and reliable product solutions so our load monitoring products provide the following relevant features:
Bluetooth connectivity – monitor line loads using our free HHP app (iOS & Android) from up to 100m (328feet) safe distance away
Monitor to up to 700m (2400feet) away using our HHP hand held device with radio telemetry
IP67/NEMA6 environmental protection – protected from any outdoor heavy weather conditions involving wind and rain
Rugged hard wearing design that can be used in a variety of heavy use applications out in the field.
2 Year Warranty
Massive battery life of 1200 hours operational time
Need a price? Contact our team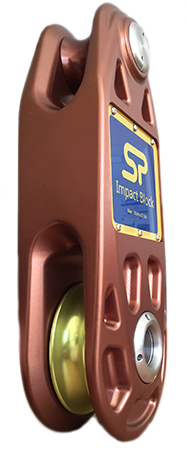 IMPACT BLOCK
The safest choice for the working Arborist. Manufactured in partnership with DMM (dmmclimbing.com), the Impact Block has been designed to deliver the best performance in terms of alignment, resistance and appeal. The aesthetic curves of the Impact Block combines beauty, strength and durability to ensure a rope friendly surface. It is designed to be used as a dynamic tension measuring tool that can replace a general rigging pully block. Lightweight attachment sling facilitates hauling of block, sling and rope to the climber and helps with handling, in tree stowage and workshop storage.
Features
Rounded edges to cheek plates maintain low rope abrasion when rope is fed 'unfair'
Upper sheave opens via a threaded locking axle for added security
Thrust surfaces increase tolerance to external loading of spindle and anchor pin
Direct connection to cordage, the anchor slings helps ensure correct neighbour component compatibility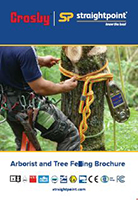 Ideal for use with the following applications:
Arborist
Tree Felling
Tree removal
Tree trimming
Tree pruning
Download our Arborist/Tree Felling brochure for information on how our products can help you stay safe.
Tree stability testing
TREE STABILITY TESTING
This diagram is showing how an arborist can test the stability of a tree using an SP Radiolink Plus loadcell to measure the trunk's resistance. As the line is pulled tighter using the pulley the loadcell will allow the arborist to monitor/measure the force applied to the subject tree. This is to prevent the tree from falling over if resistance is found to be low. The tree's stability depends on the condition of the soil the tree sits in.