Includes wireless handheld - SW-HHP as standard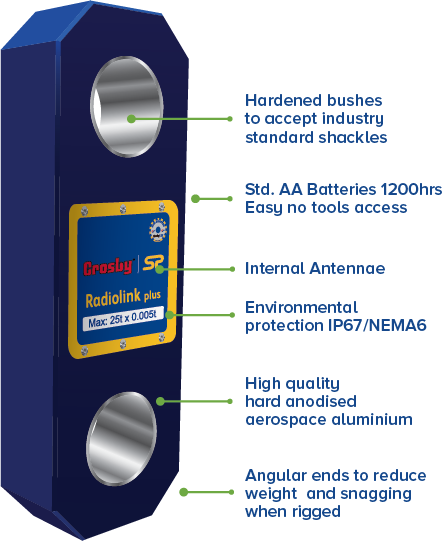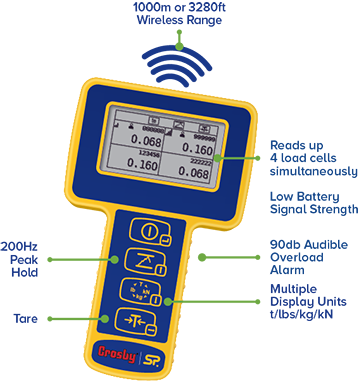 About
Radiolink plus is designed to be rigged with Crosby standard shackles
- DNV-GL type approved wireless tension load cell capable of weighing and dynamic load monitoring in capacities from 1t to 500t – from stock with an
ATEX and IECEx version
available for hazardous areas, zones 0,1&2.
Two versions of the RLP are available:
- Long-range 2.4GHz version providing an industry-leading wireless range of 1000m or 3280ft to SP's SW-HHP handheld or software options.
- Bluetooth output and can be connected to any smartphone running our free HHP app on iOS or Android at ranges up to 100m or 328ft.
Constructed from high-quality aerospace-grade aluminium it features an advanced internal design structure. This design not only provides the product with an unrivalled strength to weight ratio but it also allows the use of a separate internal sealed enclosure providing the load cell's electronic components with IP67 or NEMA6 environmental protection even with the battery cover plate missing, making this industry-leading dynamometer even more suitable for use in the harshest environments.
The versatile RLP is supplied with an update rate of 3Hz and can be easily configured to run at industry-leading speeds of up to 200Hz making it ideal for dynamic force measurement.
Decades of development into this product include many stand out features such as SP's unique strain gauging method that helps compensate for wire rope torque when the Radiolink is loaded. The Radiolink plus tension load cell can also be used in combination with SP INSIGHT software high-speed wireless data logging software allowing for simultaneous control, display and real-time data logging of up to 126 Straightpoint wireless load cells.
A full array of wireless accessories are also available including signal boosters, LED wireless scoreboards and base stations with analogue (4-20mA, 0-10v, 0-5v) or digital (RS232/485, Modbus RTU, and ASCII) outputs.
FEATURES
Proprietary 2.4 GHz Wireless
Leading Wireless Range of 1000m/3280ft
Unrivalled Battery Life of 1200hrs
Environmentally Sealed to IP67/NEMA6
90db Audible Overload Alarm & Overload Counter
Internal Antennae
Remote On-Off from handheld display or software
100 Hz Peak Hold
Push-button Tare
APPLICATIONS
Tandem Lifting and Lowering
Water Bag Load Testing
Overhead Weighing
Loadcell Rental or Hire
Bollard Pull Testing
Tug Testing
Breakbulk Applications
Heavylift Projects
Offshore Cranes
Research & Development Projects
Spreader Beam Load Monitoring
Measurement of vehicle towing loads
Ship to ship transfers (STS)
Single Point Mooring
WARRANTY & ASSURANCE
2-year warranty
Design validated by F.E.A.
DNV-GL Type Approval
Complies with ASME B30.26
SUPPLIED WITH THE FOLLOWING AS STANDARD
SW-HHP handheld display
6 x AA Batteries
Calibration & proof test certificate
Multi-lingual user manual
Carry / transit case
RFID Tagged