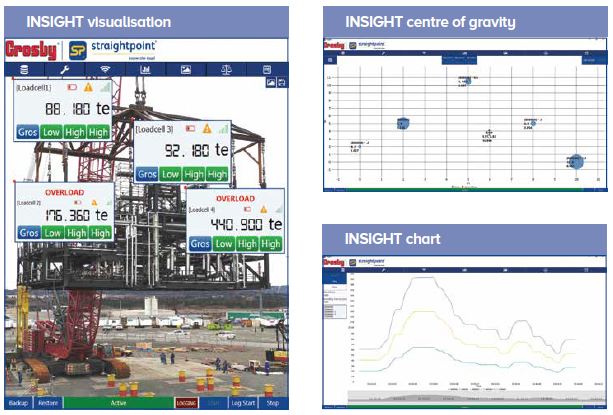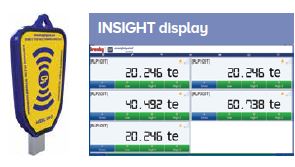 INSIGHT software, supplied with an SW-D USB wireless dongle, allows connection of up to 126 Straightpoint wireless load cells simultaneously onto any Windows tablet or laptop.


Need a price? Contact our team
INSIGHT has four main features:
1. Multi-channel display and data logging mode – view and log load data from connected load cells plus totals loads live on screen and directly into a .csv file for later analysis at speeds of up to 200Hz.
2. Visualisation mode – For complicated lifts import a photo of the lift and drag and drop load cell displays – make the screen look like the lift.
3. Centre of gravity mode – Connect to SP's range of wireless compression load cells and use this feature to weigh and calculate the centre of gravity of large items and structures.
4. Proof Load Testing - Real time graphing of load test and auto generated test certificates.
FEATURES

• Logging at timed intervals, manual or on
overload/underload
• Visual and audible alarms indicate overload,
underload, low battery and communications
error
• Zoom in to individual load cell to see data
trends and history
• 100% wireless, no easily damaged cables
• 700m or 2300ft range
BENEFITS
Displays and logs data up to 126 Straightpoint wireless load cells simultaneously
Three weighing's per C of G report with
averages and statistical analysis to ISO19901
• Plot load cell positioning using measurements or GPS co-ordinates
• Extra fields for the operator, client, wind speed and temperature available for reporting
APPLICATIONS
Tandem Lifting and Lowering
Water weight Testing
Overhead Weighing
Bollard Pulling
Tug Testing
Stevedoring
Entertainment rigging
Dynamic load monitoring
Weighing large industrial items - absorbers,
jackets, transformers, generators and modules
Specifications/Technical Data
| | |
| --- | --- |
| INSIGHT specifications | |
Global Specifications - Insight Software

Part number
INSIGHT
Crosby Part number
2789318
USB Dongle Operating temperature
-20°C to 70°C or -4°F to 158°F
Licence
Licence free
Wireless Frequency
2.4GHz
Wireless Range
700 metres or 2300 feet
Loadcell inputs
Up to 126
PC requirements
Intel i3 processor with 2 gb RAM.
Operating system
Windows 7 , Windows 8, windows10