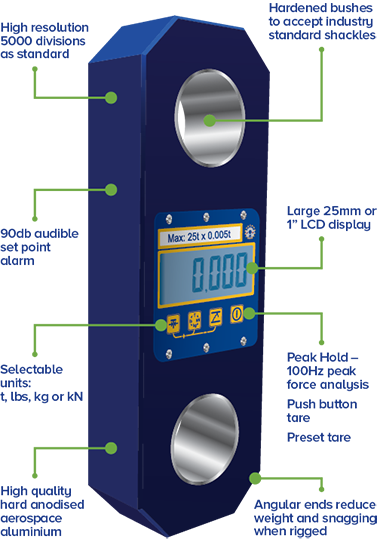 Loadlink plus is designed to be rigged with Crosby standard shackles - digital dynamometer tension load cell known worldwide as the original electronic force measurement device to feature an integral display, the Loadlink plus has been in production since 1979. Over the years the line has been expanded and the Loadlink plus is now used on a daily basis for load monitoring and heavy lifts ranging in capacity from 1t to 300t, by a variety of industrial and commercial industries including manufacturing, transportation, agriculture, oil and gas, utilities, aerospace and clean energy.
Decades of development into this product include many stand out features such as our unique strain gauging method that helps compensate for wire rope torque when the Loadlink is loaded.
This latest version of the digital dynamometer has advanced features and benefits providing solutions for today's complicated load test and force monitoring needs. The Loadlink plus features full function push button controls for tare, choice of units (lbs, kg, kN, and tonnes), peak hold, preset tare, audible set-point alarm and an overload counter.
The advanced microprocessor based electronics provide the Loadlink plus with high speed read rates, extreme resistance to industrial level noise and unprecedented stability. This high stability gives the Loadlink plus over 5,000 divisions and the highest standard resolution of any digital dynamometer on the market today. Constructed of high-grade aircraft quality aluminium, Straightpoint's advanced internal design structure allows the product to once again top the charts with an unmatched weight to strength ratio.
Straightpoint's link style dynamometers are on average 30% lighter than our closest competitor with the same safety rating.
About
FEATURES
Large 25mm/1" LCD display
High Accuracy of +/-0.1% full scale
Selectable Units - t, lbs, kg or kN
High Resolution, 5000 divisions as standard
Peak Hold – 100Hz peak force analysis
Push button tare
Preset tare
Compact Size
Lightweight
90db Audible set point alarm
Design validated by F.E.A.
APPLICATIONS
Tandem Lifting and Lowering
Testing
Overhead Weighing
Loadcell Rental
Bollard Pulling
Tug Testing
Cable Tensioning
Heavy Lift
Single Point Mooring
WARRANTY & ASSURANCE
2 year warranty
DNV-GL Type Approval
Complies with ASME B30.26
SUPPLIED WITH THE FOLLOWING AS STANDARD
Proof test certificate
Operator Manual
Carry/Storage Case
RFID Tagged