Straightpoint making the Oil and Gas Industry a safer place
Straightpoint products with ATEX / IECEx hazardous zones 0, 1, and 2 approval are the industry standard for weighing, dynamic load monitoring and centre of gravity applications. They are the go-to load monitoring systems within the oil and gas centres of Aberdeen, Houston, Bergen, the Persian Gulf, Singapore and many other global locations.
Lifting and hoisting operations are among the major causes of fatalities and serious incidents
Using SP wireless products will provide the highest safety assurance and minimise the risks associated with load monitoring within an explosive gas/combustible dust environment. Accidents caused by an explosion can lead, not just to asset damage/destruction or profit cutting downtime, but also to the worst case scenarios of personnel being injured and/or being killed.
Our products can be used in logistical activities at port, offshore and on land construction of oil fields, and general lifting practices on-site.
Our wireless range of products that are ideal for use within oil and gas industry:
Capacities available:1-500te in stock (bespoke up to 2000te)
Ideal for: below the hook applications involving lifting at height and for a variety of heavy lifting
Key Feature(s): The world's bestselling wireless tension load cell. Constructed from high grade aircraft aluminium to reduce weight and increase durability.
Capacities available:1-150te in stock
Ideal for: Monitoring steel cable tension during dockside, marine, offshore towage and salvage applications (prevents cable damage and breakage)
Key Feature(s): 5 wheel design to improve accuracy and at cable pull speeds of up to 20m per min (65ft per min).
Capacities available:1-1000te in stock
Ideal for: Wide range of free weighing
Key Feature(s): highly resilient by using machined high grade steel, which provides excellent strength and corrosion resistance
Capacities available: 1-1500te in stock
Ideal for: applications where an end of line load cell cannot be used or an integrated solution is required in applications such as pulley or sheave axles, moorings, supports, winches or support blocks.
Key Feature(s): Multiple bespoke designs available for whatever application or for any shackle type. Manufactured from high tensile steel for durability. We can create any Loadpin to suit your requirements. Either choose from the standard sizing and spec or have something completely bespoke from a range of options.
Capacities available: 1-500te in stock (up to 4000te bespoke)
Ideal for: Lifting jobs in locations with limited headroom. Service trucks and riggers in the oilfields
Key Feature(s): Provided with an industry leading Crosby 2130 Carbon and 2140 Alloy Bolt Type Anchor Shackle.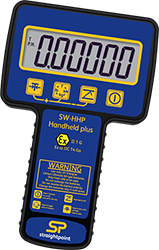 Need a price - Contact our team
Our rugged handheld display, for use with all of the above, has easy to change AA batteries, no external antennae, and industry leading wireless range allow the operator to stand at a safe distance of up to 700m (2300 feet) within the most hazardous areas up to zone 0.
The products in our wireless range are the first choice for Gin Pole Service trucks and maintenance riggers in the oilfields.
Oil rig modules or jackets need to be weighed during the transportation and construction stages (where up-righting is usually involved). These huge fabrications need to be lifted in order to ascertain whether or not their weight and also their centre of gravity are within safety limits before being moved or transported. Usually a Self-Propelled Modular Transporter (SPMT) or a barge is used to transport them to the installation locations. Prevention of damage to these movers is paramount, as usually repair costs can be exceedingly high.
Offshore or LNG plants engineers amend the lifting process by regularly using air hoists that utilise the SP range of ATEX / IECEx wireless Radiolinks for topside lifting applications.
Subsea load monitoring applications such as mooring, tie downs and anchors, and ROV pin applications also use our range of 17-4PH stainless steel subsea loadpins. These are pressure tested and supplied with hardwired or SubConn wet mating connectors to connect with our range of instrumentation. They also come with integral 4-20mA or 0-10v analogue outputs for chart recorder or PLC integration.