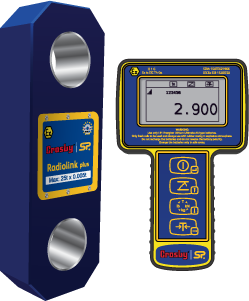 Need a price? Contact our team
Dynamometer load cell approved to Ex ia II C T4 Ga for use in zone 0,1 & 2 hazardous areas. This intrinsically safe version of the bestselling Radiolink plus is capable of both weighing and dynamic load monitoring in hazardous environments such as on and offshore oil, gas and chemical industries. Available from stock in capacities from 1t to 300t, constructed from high-quality aircraft-grade aluminium and featuring an advanced internal design structure.
Paired with the SP Ex Handheld you can read up to four SP Ex load cells simultaneously allowing the operator to monitor a multi pick point lift from a single handheld at safe distances of up to 500m/1640ft with the added benefits of on-screen overload and calibration due warnings.
This internal design structure not only provides the product with an unrivalled strength to weight ratio but also allows the use of a separate internal sealed enclosure providing the load cell's electronic components with IP67/NEMA6 environmental protection even with the battery cover plate missing, making this industry-leading dynamometer even more suitable for use in the harshest environments. Featuring industry-leading wireless technology and range, the versatile Radiolink plus - ATEX is supplied with an update rate of 3Hz and can be easily configured to run at industry-leading speeds of up to 200Hz.
Data is transmitted wirelessly utilising the latest in IEEE 802.15.4 (2.4 GHz) technology providing safe, high integrity, error-free transmission of both static weight and dynamic load to an approved wireless handheld controller, the SW-HHP- ATEX includes an option to monitor four loadcells, simultaneously, allowing the operator to monitor a multi pick point lift from a single handheld.
The Radiolink plus- ATEX utilises easily sourced Energizer® Ultimate Lithium AA Batteries and features advanced circuitry designed to protect the load cell from damage if the batteries are incorrectly installed. This advanced circuitry extends battery life and the use of easily sourced batteries eliminates issues associated with rechargeable battery pack charging, failure and replacement.
It is easy to see why globally the Radiolink plus - is the number one choice for weighing and dynamic load monitoring in hazardous applications.
FEATURES
Proprietary 2.4 GHz Wireless
Industry-Leading Wireless Range
Environmentally Sealed
Unmatched Battery Life
Internal Antennae
Compact Size
Remote On-Off
LightweightPeak Hold
Advanced Options Available
Tare
BENEFITS
Zones 0,1&2 hazardous areas
Error-free Data Transmission
Unrivalled Resolution
APPLICATIONS
Hazardous areas
Offshore oil & gas
Chemical industries
WARRANTY & ASSURANCE
2 year warranty
Design validated by F.E.A.
DNV-GL Type Approval
Independently approved by CSA
SUPPLIED WITH THE FOLLOWING AS STANDARD
Proof test certificate
Operator Manual
Carry/Storage Case
RFID Tagged
Lithium AA Batteries
Specifications/Technical Data
Ex battery type:
Ex Handheld 2 x Energizer® Ultimate Lithium AA Batteries
Loadcell 4 x Energizer® Ultimate Lithium AA Batteries

SAFETY REMINDER
To all users of Crosby Straightpoint ATEX/UKEX/IECeX products:
Please ensure that only intrinsically safe batteries, certified for use in hazardous areas, are fitted.
(It is suggested that this is verified as part of pre-use equipment checks.)
We recommend using Energizer L91 Ultimate Lithium AA batteries, rated for use in Zone 0,1,2, and Class 1, Division 1.

Ex Radiolink plus additional technical data

Material of construction: Aluminium 2014-T6, load bearing bushes EN24T
Finish: Black anodized to BS EN 12373-1:2001 Class 10. Bushes clear passivated.
MTBF to WLL: Typically 50 million cycles
Elongation: Typically <0.4mm / at WLL


Wireless Approvals




Federal Communications Commission
FCC: W70MRF24J40MDME
Industry Canada
IC: 7693A-24J40MDME
Japan Certification
ID: 204-52-1



Part Number

RLP1T-ATEX

RLP2T5-ATEX

RLP6T5-ATEX

RLP12T-ATEX

RLP25T-ATEX

RLP35T-ATEX

RLP55T-ATEX

RLP75T-ATEX

RLP100T-ATEX

RLP150T-ATEX

RLP200T-ATEX

RLP250T-ATEX

RLP300T-ATEX

Crosby Part


2789411

2789412

2789413

2789414

2789415

2789416

2789417

2789418

2789419

2789420

2789421

2789422

2789423

Capacity
1,000 kg
2.5 te
6.5 te
12 te
25 te
35 te
55 te
75 te
100 te
150 te
200 te
250 te
300 te
2,200 lb
5,500 lb
14,300 lb
26,000 lb
55,000 lb
77,000 lb
120,000 lb
165,000 lb
220,000 lb
330,000 lb
440,000 lb
550,000 lb
660,000 lb
Resolution
0.5 kg
0.001 te
0.001te
0.002 te
0.005 te
0.005 te
0.01 te
0.01 te
0.05 te
0.05 te
0.1 te
0.1 te
0.1 te
1 lb
2 lb
2 lb
5 lb
10 lb
10 lb
20 lb
20 lb
100 lb
100 lb
200 lb
200 lb
200 lb
Units
kg
te
te
te
te
te
te
te
te
te
te
te
te
lb
lb
lb
lb
lb
lb
lb
lb
lb
lb
lb
lb
lb
Weight
2.5 kg
2.5 kg
3.4 kg
4.7 kg
6 kg
9.6 kg
14 kg
17 kg
35 kg
47 kg
83 kg
83 kg
119 kg
5.5 lb
5.5 lb
7.5 lb
10.4 lb
13.2 lb
21.2 lb
30.9 lb
37.5 lb
77.2 lb
103.6 lb
183 lb
183 lb
262.4 lb
Safety Factor
12.1
07:01
07:01
07:01
05:01
05:01
05:01
05:01
05:01
04:01
05:01
4:1
5:1
Approval Spec
Ex ia II C T4 Ga for use in zone 2, 1, and 0 - certificate number IECEx SIR 15.0071X & SIRA 15ATEX2195X
Battery Type
Handheld - 2 x Energizer® Ultimate Lithium AA / Loadcell 4 x Energizer® Ultimate Lithium AA
Battery Life
Handheld - 40 hrs / Loadcell 1200 hrs continuous
Display Type
240x128 graphic LCD
Op Temp
-10 to +50 °C
Accuracy
+/- 0.1% FS
Frequency
2.4GHz
Range
500 metres
1640 ft
Data Rate
3Hz - up to 200Hz can be ordered for dynamic load monitoring applications
Protection
IP67
Dimension A
204
204
249
305
340
393
424
470
608
670
700
700
806
8.03
8.03
12.01
13.39
15.47
16.69
18.5
23.94
26.38
27.56
27.56
31.73
Dimension B
43
43
43
47
60
75
75
75
99
99
144
144
150
1.69
1.69
1.69
1.85
2.36
2.95
2.95
2.95
3.9
3.9
5.67
5.67
5.91
Dimension C
104
104
113
113
115
126
180
202
255
303
350
350
426
4.09
4.09
4.45
4.45
4.53
4.96
7.09
7.95
10.04
11.93
13.78
13.78
16.77
Dimension D
146
146
165
193
215
225
230
260
320
360
350
350
350
5.75
5.75
6.5
7.6
8.46
8.86
9.06
10.24
12.6
14.17
13.78
13.78
13.78
Dimension ØE
24.5
24.5
38
47.5
55
60
76
76
109
109
145
145
160
0.96
0.96
1.5
1.87
2.17
2.36
2.99
2.99
4.29
4.29
5.71
5.71
6.3
Dimension F
48
48
66
Not relevant in this capacity
1.89
1.89
2.6
Dimension G
19
19
32
0.75
0.75
1.26
Crosby Shackle
G2130
G2140
Loading Pin Ø
19
19
25
35
51
57
57
70
83
95
121
127
152
3/4 in
3/4 in
1 in
1 3/8 in
2 in
2 1/4 in
2 1/4 in
2 3/4 in
3 1/4 in
3 3/4 in
4 3/4 in
5 in
6 in