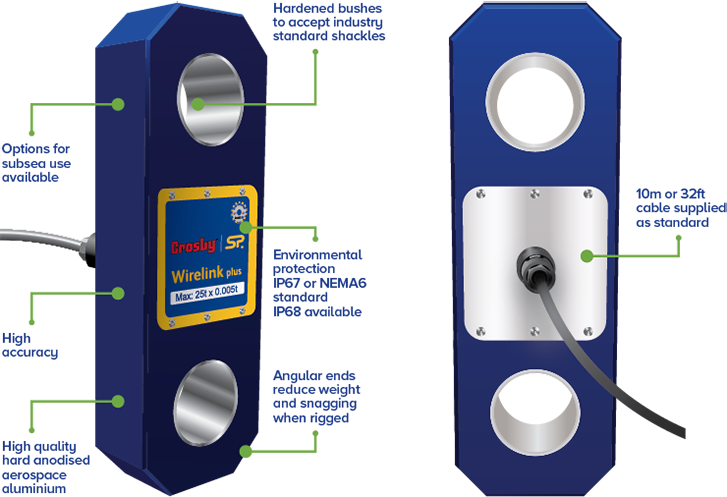 About
Wirelink plus is designed to be rigged with Crosby standard shackles -
manufactured from aerospace grade aluminium and utilising an advanced internal design structure this range of non-indicating Load cells are extremely lightweight, easy to handle and are used worldwide in an array of industries for lifting, pulling, proof and structural load testing.
Decades of development into this product include many stand out features such as our unique strain gauging method that helps compensate for wire rope torque when the Wirelink is loaded.
The extremely versatile platform can be used with digital displays including the Straightpoint handheld plus, PLCs, Data Acquisition systems (DAQ) etc. and configured with a vast array of output formats to include mV/V, RS-422, RS-485, utilizing the ASCII, MODBUS RTU and CAN-BUS protocols.
The Wirelink plus is supplied with a 10 metre cable as standard however usable cable length varies greatly with lengths available to 1500 metres depending on the output format.
FEATURES
Constructed of lightweight aluminium
Available in capacities ranging from 1 to 300 tonnes
High accuracy
Multiple output options to include mV/V, analogue out, ASCII, MODBUS RTU and CAN-BUS
Available with IP68 environmental protection
Options for subsea use available
APPLICATIONS
Testing
Overhead Weighing
Loadcell Rental
Bollard Pulling
Tug Testing
Cable Tensioning
Heavy Lift
WARRANTY & ASSURANCE
2 year warranty
DNV -GL Type Approval
Complies with ASME B30.26
Design validated by F.E.A.
SUPPLIED WITH THE FOLLOWING AS STANDARD
Proof test certificate
Operator Manual
Carry/Storage Case
RFID Tagged
10M Cable