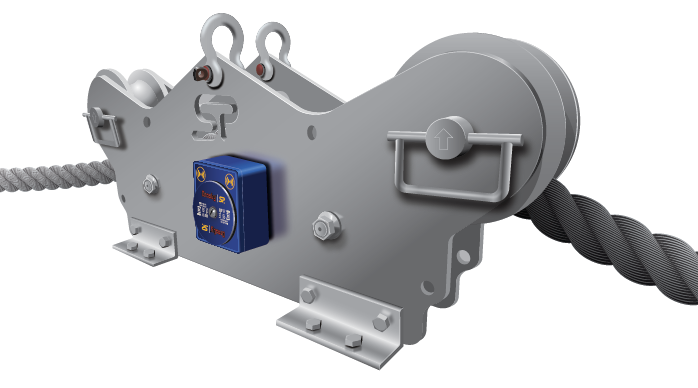 Need a price? Contact our team
The TIMH range is a Running Line Tensiometer or RLTM built with dockside, marine, offshore, towage and salvage applications in mind. Available with ATEX and IECEx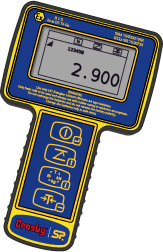 approved to Ex ia II T4 Ga for use in zones 0, 1 and 2 hazardous environments (gas) and is designed for wire rope tension monitoring in applications with challenging hazardous areas.
All capacities in stock. It is particularly useful where there is no anchor or dead end on the line to rig a Straightpoint Radiolink-ATEX digital dynamometer to measure tension force. The TIMH is constructed from marine grade stainless steel and is suitable for many wire rope configurations up to 80t and will, as an option, calculate lineout in metres or feet along with line speed. The TIMH has several mounting points featured in its unique design but if other mounting options are required Straightpoint can provide a custom-engineered solution specific to your application.
Load data is transmitted wirelessly utilising the latest in IEEE 802.15.4 (2.4 GHz) technology providing safe, high integrity, error-free transmission of both static weight and dynamic load to our SW-HHP-ATEX handheld controller for use in hazardous areas with a range of 500m or 1640ft.
The TIMH utilises easily sourced Energizer® Ultimate Lithium AA Batteries and features advanced circuitry designed to protect the unit from damage associated with incorrectly installed batteries. This advanced circuitry extends battery life and eliminates issues associated with rechargeable battery pack charging, failure and replacement.
FEATURES
Approved for use in hazardous zones
Fully constructed from corrosion-resistant stainless steel
IP67/NEMA6 Loadpin
Gravity catches fitted to top sheave pins make wire rope installation quick and simple
Maintenance free heavy duty bearings
Options for line out available
Software available to data log and monitor analogue outputs
BENEFITS
Large range of capacities to 80t and wire rope diameters up to 52mm/2"
Line in/out, distance and speed
Maintenance free heavy duty needle bearings
Five-wheel design improving accuracy
APPLICATIONS
Hazardous areas
Offshore oil and gas
Chemical industries
WARRANTY & ASSURANCE
2-year warranty
Design validated by F.E.A.
Independently approved by CSA
SUPPLIED WITH THE FOLLOWING AS STANDARD
Proof test certificate
Operator Manual
Carry/Storage Crate
Specifications/Technical Data
Wireless Approvals
Part Number

TIMH10TR-ATEX

TIMH25TR-ATEX

TIMH56TR-ATEX

TIMH80TR-ATEX

TIMH150TR-ATEX

Crosby Part number

2789135

2789140

2789143

2789147

2789297

Capacity MET
10 te
25 te
56 te
80 te
150 te
Capacity IMP
22,000 lb
55,000 lb
123,200 lb
176,000 lb
330,000 lb
Resolution MET
0.01 te
0.02 te
0.05 te
0.1 te
0.2 te
Resolution IMP
20 lb
50 lb
100 lb
200 lb
500 lb
Wire rope Ø mm MET
13-19 mm
16-26 mm
28-38 mm
40-52 mm
52-89 mm
Wire rope Ø mm IMP
1/2 in - 3/4 in
5/8 in - 1 in
1 1/8 in - 1 1/2 in
1 5/8 in - 2 in
2 in - 3 1/2 in
Weight MET
91 kg
87 kg
82 kg
77 kg
231 kg
Weight IMP
200.6 lb
191.8 lb
180.8 lb
169.8 lb
509.3 lb
Approval Spec
Ex ia II C T4 Ga for use in zone 2, 1, and 0 - certificate number IECEx SIR 16.0041X & SIRA 16ATEX2108X
Battery Type
4 x Energizer® Ultimate Lithium AA
Battery Life
1200 hrs
Operating Temp MET
-10 to +50 °C
Operating Temp IMP
14 to 122 °F
Accuracy
2% FS
Range MET
Wireless version 500 m
Range IMP
Wireless version 1640 ft
Protection MET
IP67/NEMA6
Max Speed MET
20 m per minute
Max Speed IMP
65 ft per minute
Line out and speed
Not available for ATEX
Dimension A MET
865 mm
865 mm
865 mm
865 mm
1250 mm
Dimension A IMP
34.05 in
34.65 in
34.65 in
49.21 in
Dimension B MET
674 mm
674 mm
674 mm
674 mm
1050 mm
Dimension B IMP
26.53 in
26.53 in
26.53 in
26.53 in
41.33 in
Dimension C MET
324 mm
324 mm
324 mm
324 mm
416 mm
Dimension C IMP
12.75 in
12.75 in
12.75 in
12.75 in
16.37 in
Dimension D MET
111 mm
111 mm
111 mm
111 mm
153 mm
Dimension D IMP
4.37 in
4.37 in
4.37 in
4.37 in
6.02 in