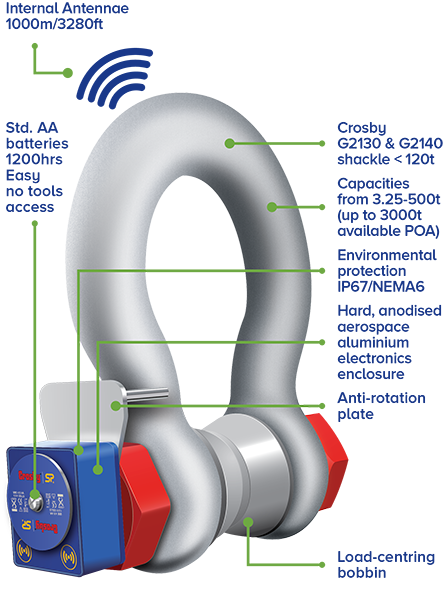 | | |
| --- | --- |
| | |
| | |
About
Straightpoint's Wireless Loadshackle (WLS) provides the perfect solution to limited headroom or super heavy lift projects. Available from stock in capacities from 3.25t to 400t (up to 3000t available POA) the WLS is constructed using industry-leading shackles from Crosby.
Two versions of the WLS are available:
- Long range 2.4Ghz version providing industry-leading wireless range of 1000m or 3280ft to SP's SW-HHP handheld or software options.
- Bluetooth output and can be connected to any smartphone running our free HHP app on iOS or Android at ranges up to 100m/328ft.
Each WLS is proof tested, then equipped with a hard-anodised aluminium electronics enclosure. Contained within this aluminium enclosure is an internal chassis providing IP67 or NEMA6 environmental protection even with the battery cover plate missing.
Featuring industry-leading wireless technology the WLS is supplied with an update rate of 3Hz and can be easily configured to run at industry-leading speeds of up to 200Hz if required for dynamic load measurement projects.
Utilising easily sourced AA alkaline batteries the WLS features advanced circuitry designed to protect the unit from damage associated with incorrectly installed batteries. This advanced circuitry extends battery life and the use of easily sourced alkaline batteries eliminates issues associated with rechargeable battery pack charging, failure and replacement.
The WLS may also be used with Straightpoint's SW-PTP software package allowing the operator to perform load tests at a safe distance and generate real-time test certificates on-site.
A full array of wireless accessories is also available including signal boosters, LED wireless scoreboards and base stations with analogue (4-20mA, 0-10v, 0-5v) or digital (RS232/485, Modbus RTU, and ASCII) outputs.
FEATURES
Wireless Range of 1000m or 3280ft
Electronics housed in a hard anodised enclosure
Environmentally sealed to IP67 or NEMA6
Battery Life of 1200hrs from 4 x AA batteries
Internal Antennae
Remote On-Off from handheld display or software
ATEXZones 0,1&2 available
APPLICATIONS
Under Hook Crane Weighing
Water weight bag testing
Entertainment & theatre rigging
Aircraft Manufacturing and Repair
Tandem Lifting and Lowering
Structural Load Testing and Certification
Shipping & receiving weighing
Off Shore Mooring Anchor Setting
Crane and Hoist Calibration and Proof Load Testing
Manufacturing and Heavy Construction
Bollard pull testing and certification
Swing Stage
Catenary Anchor Leg Mooring (CALM) monitoring
Hawser Tension Monitoring
Single Point Mooring
WARRANTY & ASSURANCE
2 year warranty
Complies with ASME B30.26
Design validated by F.E.A.
SUPPLIED WITH THE FOLLOWING AS STANDARD
Load Centralising bobbin
4 x AA Batteries
Proof test & calibration certificate
Operator Manual
Carry/Storage Crate