Need a price? Contact our team
Available from stock in capacities 3.25t to 120t and available up to 1,550t, the Straightpoint Wireless Loadshackle is now available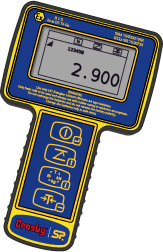 ATEX and IECEx approved to Ex ia II T4 Ga for use in zones 0, 1 and 2 hazardous environments (gas and is designed for the on and offshore oil and gas, chemical and other industries with challenging hazardous areas. It is manufactured from Crosby's industry-leading 2130 Carbon and 2140 Alloy Bolt Type Anchor Shackles (3.25te – 120te).
SP's Wireless Loadshackle provides the perfect solution to limited headroom applications. Each Wireless Loadshackle is proof tested, then equipped with a hard anodised aluminium electronics enclosure. Contained within this aluminium enclosure is a new internal chassis providing IP67/NEMA6 environmental protection even with the battery cover plate missing. Featuring industry-leading wireless technology and range, the Wireless Loadshackle is supplied with an update rate of 3Hz and can be easily configured to run at industry-leading speeds of up to 200Hz.
Load data is transmitted wirelessly utilising the latest in IEEE 802.15.4 (2.4 GHz) technology providing safe, high integrity, error-free transmission of both static weight and dynamic load to our SW-HHP-ATEX handheld controller for use in hazardous areas with a range of 500m or 1640ft.
Our huge range of tooling allows us to calibrate in shackle for extra accuracy, unlike many other load cell manufacturers.
FEATURES
Approved for use in hazardous zones
Proprietary 2.4 GHz Wireless
Error-free data transmission
Wireless range of 500m/1640ft
Unrivalled Resolution
Environmentally sealed to IP67/NEMA6
Unrivalled resolution
Unmatched Battery Life of 1200hrs
Low headroom solution
APPLICATIONS
Hazardous areas
Offshore oil and gas
Chemical plants
WARRANTY & ASSURANCE
2 year warranty
Complies with ASME B30.26
Design validated by F.E.A.
Independently approved by CSA
SUPPLIED WITH THE FOLLOWING AS STANDARD
Centralising bobbin
Proof test certificate
Operator Manual
Carry/Storage Crate
Specifications/Technical Data
Ex battery type:
Ex Handheld 2 x Energizer® Ultimate Lithium AA Batteries
Loadcell 4 x Energizer® Ultimate Lithium AA Batteries

SAFETY REMINDER
To all users of Crosby Straightpoint ATEX/UKEX/IECeX products:
Please ensure that only intrinsically safe batteries, certified for use in hazardous areas, are fitted.
(It is suggested that this is verified as part of pre-use equipment checks.)
We recommend using Energizer L91 Ultimate Lithium AA batteries, rated for use in Zone 0,1,2, and Class 1, Division 1.

Wireless Approvals




Federal Communications Commission
FCC: VHARA24
Industry Canada
IC: 7224A-RA24
Japan Certification
ID: 205-170296
Korea Certification
ID: R-CRM-1ME-RA24



Global Specifications
Part Number

WLS3.25T-ATEX

WLS6.5T-ATEX

WLS12T-ATEX

WLS25T-ATEX

WLS55T-ATEX

WLS85T-ATEX

WLS120T-ATEX

WLS200T-ATEX

WLS300T-ATEX

WLS400T-ATEX

Crosby Part number

2789424

2789425

2789426

2789427

2789428

2789429

2789430

2789431

2789432

2789433

Capacity MET
3.25te
6.5te
12te
25te
55te
85te
120te
200te
300te
400te
Capacity IMP
7150lb
14300lb
26400lb
55000lb
120000lb
185000lb
260000lb
440000lb
660000lb
880000lb
Resolution MET
0.005te
0.005te
0.01te
0.02te
0.05te
0.05te
0.1te
0.2te
0.5te
0.5te
Resolution IMP
10lb
10lb
20lb
50lb
100lb
100lb
200lb
200lb
1000lb
1000lb
Units MET
tonne
tonne
tonne
tonne
tonne
tonne
tonne
tonne
tonne
tonne
Units IMP
lb
lb
lb
lb
lb
lb
lb
lb
lb
lb
Weight MET
3.8kg
4.2kg
9kg
19kg
26kg
86kg
126kg
260kg
405kg
662kg
Weight IMP
8.4lb
9.3lb
19.84lb
42lb
57.3lb
189.6lb
277.8lb
573lb
893lb
1459lb
Safety Factor
5:1 when used with bobbin
Approval Spec
Ex ia II C T4 Ga for use in zone 2, 1, and 0 - certificate number IECEx SIR 16.0041X & SIRA 16ATEX2108X
Battery Type
4 x Energizer® Ultimate Lithium AA Batteries
Battery Life
Loadcell 1200 hrs continuous
Operating Temp
-10 to +50 °C / 14 to 122˚F
Accuracy
+/- 1% FS
Frequency
2.4GHz
Range MET
500 m
Range IMP
1,640 ft
Data Rate
3 updates per second
Protection
IP67 / NEMA6
Dimension A MET
26.9
36.6
51.5
73
82.5
127
144
180
205
230
Dimension A IMP
1.06
1.44
2.03
2.87
3.25
5.00
5.66
7.09
8.07
9.06
Dimension ØB MET
19.1
25.4
35.1
51
57
83
95
125
150
175
Dimension ØB IMP
0.75
1.00
1.38
2.01
2.24
3.26
3.74
4.92
5.91
6.89
Dimension C MET
56.9
79.7
113
170
189.5
317
364
432.2
505
547.7
Dimension C IMP
2.24
3.14
4.45
6.69
7.46
12.48
14.33
17.02
19.88
21.56
Dimension D MET
14.46
20.6
29.5
44.5
51
80
89
110
120
160
Dimension D IMP
0.57
0.81
1.16
1.75
2.01
3.14
3.50
4.33
4.72
6.30
Dimension E MET
42.9
58
82.5
127
146
190
238
280
305
325
Dimension E IMP
1.69
2.28
3.25
5.00
5.75
7.48
9.37
11.02
12.01
12.80
Dimension H MET
106
148
210
313
348
539
624
769
904
1006.5
Dimension H IMP
4.17
5.83
8.27
12.32
13.70
21.22
24.56
30.28
35.59
39.63
Dimension L MET
135
156.5
201
275
306
393
445
529.7
586.7
667.2
Dimension L IMP
5.31
6.16
7.91
10.83
12.05
15.47
17.51
20.85
23.10
26.27
Dimension N MET
17.5
24.6
35.1
57
61
85
95
120
140
160
Dimension N IMP
0.69
0.97
1.38
2.24
2.40
3.34
3.74
4.72
5.51
6.30
Dimension P MET
150
173
222
290
317
448
488
600
657
765
Dimension P IMP
5.91
6.81
8.74
11.42
12.48
17.63
19.21
23.62
25.87
30.12
Crosby Shackle
G2130
G2140
S2135