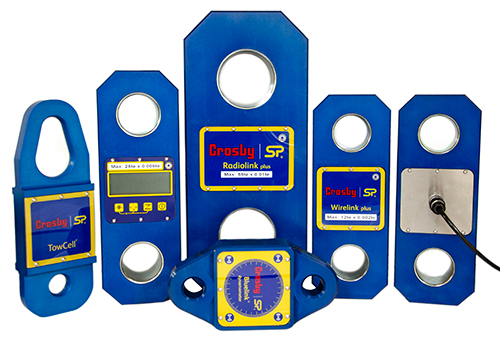 Tension Load Cells for all force measurement - IN STOCK | DNV-GL Type Approval | Bluetooth Option | ATEX / IECEx available.
Tension Load Cells, wireless and cabled from Crosby Straightpoint. Manufacturer and supplier of a wide range of tension digital dynamometers, load cells available 0.5t to 500t with larger capacities available on unrivalled lead times. Systems and connected instrumentation and a full range of accessories.
Number one choice for the global rigging industry. Hoists to heavy lift.
Tension load cells and force sensor measurement systems manufactured by Crosby Straightpoint are renowned for measurement that achieves high accuracy and is safe, reliable and stable.
Recognised by industries across the world for the design and quality of their products, Crosby Straightpoint also enjoys an unrivalled reputation for setting industry-standard service, fast delivery, free technical advice and flexibility. A dedicated team of staff at the ready for your needs and technical support.
Need A Price? Contact our team
SP Tension Dynamometer Load Cell Range - There is a solution for you!
> Radiolink Plus Wireless Tension load cell includes wireless handheld plus.
> Loadlink Plus Tension load cell with digital display.
> Wirelink Plus Tension load cell for use with a Straightpoint handheld plus
> Towcell® Wireless Tension load cell for use on Towbars
> BlueLink Bluetooth 6.5T loadlink, use with HHP App for iOS and Android
Load cells systems solutions and services
Products and solutions for international industry are available for many industrial sectors including on & offshore oil and gas, military, entertainment, marine, aerospace, construction, energy and utilities, environmental, metals and mining, packaging and processing, shipping, salvage and transport.
Engineers, technicians and rigging professionals at companies such as Airbus, Rolls Royce, Sarens, Technip, BAE Systems, Highways Agency, GE and many other global multinationals utilise the SP range of load cells in capacities up to and over 1500t for both static and dynamic load measurement projects with confidence and trust in a world-class product with many years of history and credibility.
All SP load cell dynamometers, tension, compression and shackles are in stock and available for purchase from our offices UK and USA as well as from our partners worldwide.