News & Case Studies
Details

Written by

Tanya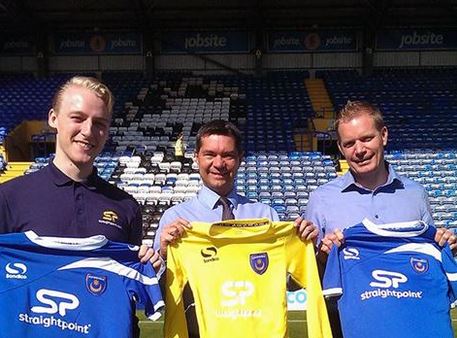 A HAVANT load monitoring specialist has been confirmed as the main sponsor for Portsmouth FC's under-11 team for its 2014-2015 season.
The team consists of players who have been scouted from the local area and selected to play for the academy's elite programme.
All of the sponsorship money goes towards the academy, helping to buy the team's equipment and kits.
Click here to see the full article
Pictured, Calibrations Technician Josh Young left and Operations Director Alfie Lee right.
Details

Written by

Tanya
Straightpoint Launches New Radiolink Plus Load Cell
Post date:
09/12/2014 - 4:56am

Straightpoint
, a leader in the design and manufacture of force measurement, load monitoring and suspended weighing load cells, has launched a new version of its best-selling wireless tension load cell, the Radiolink Plus, which it showcased at LiftEx 2014.
The new version includes a new chassis and circuitry, together with a more streamlined shape, making it even more robust and practical than before. For example, the new design achieves IP67 protection even with the battery cover missing, ideal for use in marine and offshore conditions.
The battery section now boasts reverse polarity protection, shielding the product from damage if the batteries are inserted the wrong way around. The square corners of the load cell have also been replaced by a new design, which gives it more ability to move in a clevis, widely used within marine, rigging, automotive, aircraft, offshore and construction industries.
The new design, together with its new internal antenna mount, has also resulted in an enhancement to the product's span, giving the user a 360 degree range to read loads.
David Ayling,
Straightpoint
director, said: "We believe that our new Radiolink Plus load cell is one of the safest and most robust load measurement products available on the market globally. With its enhanced weather resistance, new electronics and streamlined design, it's ideal for use in the most hardcore of applications, whether on long-term projects or one-off applications through our hire division."
To see the entire Lift and Hoist article
please click here
Details

Written by

Tanya
STRAIGHTPOINT FRONT PAGE NEWS IN LIFT & HOIST
Straightpoint supplied load cells to help weigh two historic boats at the Portsmouth Naval Base Property Trust, a charitable property company responsible for the conservation and re-use of buildings at Portsmouth Historic Dockyard.
Straightpoint's Radiolink Plus load cells
were used to weigh two boats: the Green Parrot, a 45-ft picket boat that had been used by Her Majesty Queen Elizabeth II as her Royal Barge during state visits to Portsmouth, as well as an ST-1502, a 41 1/2 ft Seaplane Tender, that was armed and fitted out for Air Sea Rescue duties in the English Channel during WWII, including an onboard hospital.
Richard Hellyer, a volunteer from the Portsmouth Naval Base Property Trust, said: "Primarily we needed to know exactly how much these two boats weighed so they could be safely lifted or transported by road. In addition, we put new engines and new propellers into the Green Parrot, so we needed all the correct measurements and weights to fit the right propeller."
Hellyer added: "We chose Straightpoint as they had been recommended to us, plus we wanted to use a company who could help carry out the procedure for us. Their product worked very well."
For more on this story and to see the whole publication please
click here
or the front cover image (left)
Details

Written by

Tanya
Radiolink Plus helps with testing phase of new product US company Bardex Corporation, producers of heavy load handling and position systems for the offshore oil & gas/shipyard industries, recently used Straightpoint's Radiolink Plus loadcell during the test and development phase of a product to protect wire rope as it is being pulled through the ocean during the towing of semi-submersible platforms.
The Radiolink Plus was used to measure both the clamping force as well as the load required to release the clamp and cover assembly. Here is a brief video overview of the testing:
Christian Van Den Heuvel, Mechanical Design Engineer at Bardex Corporation said "This unit has been priceless for me. It's much lighter than I thought it would be and I couldn't have accomplished what I needed without this unit. It worked flawlessly."
Details

Written by

Tanya
International Cranes & Specialised Transport
Straightpoint expands on record sales
From left to right: Recent Straightpoint recruit Wayne Chant, calibration manager with director David Ayling UK force measurement, load monitoring and suspended weighing load cell manufacturer Straightpoint, reported a year of record sales in 2012.
The company, which has seen a turnover increase of 60 per cent, will increase staff numbers and expand its office size at its UK headquarters. It has already taken on new business administration and calibration engineer apprentices.
The company has also recruited UK sales manager Steve Woodhead, technical sales engineer for the US office John Molidor and Wayne Chant as calibration manager.
Straightpoint director, David Ayling, said, "Steve Woodhead, our new UK sales manager, has been appointed to liaise with lifting equipment distributors throughout the UK and Ireland. He has many years experience in the lifting equipment industry. US technical sales engineer John Molidor brings to the table his wealth of experience in technical sales, customer support and engineering roles – he is proving invaluable as the US office increases their North American market presence.
"In addition, we welcome newest recruit to our UK team, Wayne Chant as calibration manager. He'll play a pivotal role within the company; with his UKAS laboratory and signatory experience, he's superbly placed to help us work towards achieving the 17025 UKAS accreditation in 2013, hot on the heels of our recent BSI accreditation."
Additional distributors, the launch of a new hire and offshore services, the introduction of a new world-exclusive wireless centre of gravity system, and company's continued customer service have contributed to the 60% increase, the company said.