News & Case Studies
Details

Written by

Administrator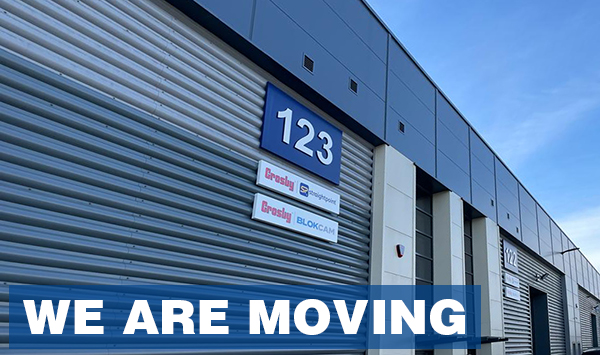 The Crosby Group will relocate to a larger facility for the production of its Crosby Straightpoint and Crosby BlokCam products in Hampshire, UK on February 22, 2023.
The Crosby Group's production facility for its load monitoring equipment and crane camera systems will make a short trip inland to Waterlooville from the current location in Havant on England's south coast.
With the new facility, the company will double its floor space and this will facilitate improved workflow; the site suits current production requirements but can be extended in line with future demand.
Thomas Dietvorst, Director of Technology Solutions at The Crosby Group, said: "We knew upon acquisition of Crosby Straightpoint and Crosby BlokCam that we would need to eventually invest in a larger facility to facilitate growth plans. The new site meets our requirements and immediately gives us a larger factory, improved capacity, and enhanced stock levels—and will pass reduced lead times onto channel partners and the point of use. Staffing levels have doubled over the past four years, and this move also reflects that."
He added: "Overall, we will be able to react faster to market and customer demand. We are likely the only load cell manufacturer that has all production processes in-house. Our ambition is to grow further and bring even more technology and innovation to the lifting industry."
Address:
123 Proxima Park, Houghton Avenue,
Waterlooville,
Hants,
PO7 3DU


Telephone number:
+44(0)2392 484 491, remains unchanged
---
Details

Written by

Administrator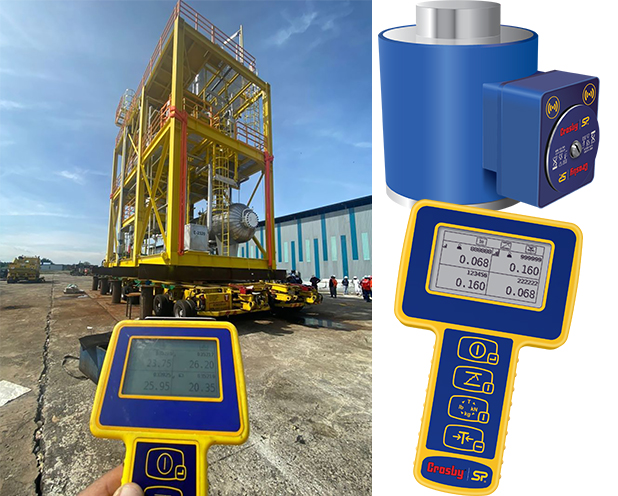 Malaysia-based Goforth Corporation Sdn Bhd, a specialist in fabrication and assembly of heavy rigging and lifting equipment, used four 100t capacity compression load cells from Crosby Straightpoint to weigh a triethylene glycol (TEG) regeneration unit skid at Port Klang.
The 17.5m (57 ft.)-high, 12m (39 ft.)-long, 6m (20 ft.)-wide structure, integral to a process that removes water from natural gas, was four-point weighed to ascertain the final load out weight for installation and to locate the centre of gravity so that the correct lifting sling lengths were made to enable a horizontal lift. A final weight of 96.25t was recorded against an initial target of 100t, atop a self-propelled modular transporter.
The load cells were sourced from Goforth's stock—the company is a Crosby Straightpoint distributor and keeps an entire fleet of load monitoring equipment calibrated for accurate force measurement across Malaysia. They were used to record real-time data from all four load cells, which was recorded at a safe distance on a laptop with INSIGHT datalogging and centre of gravity software, and Handheld plus, a rugged and versatile digital display with a broad range of features, suitable for all Crosby Straightpoint load cells.
Adrian Ng, executive director at Goforth Corporation, said: "Calculating the load was important because only with the right sling lengths will the hook position directly over the centre of gravity, making sure that the structure is level during all subsequent lifting and installation activities. The method allowed us to constantly maintain a safe distancing during the project, keeping the team out of the required safe distance radius of the structure."
As Adrian explained, multiple load cells can connect wirelessly to Crosby Straightpoint's PC software, in addition to a handheld display, which improves safety and efficiency. INSIGHT allows users to weigh and verify the centre of gravity of large and heavy objects that may not be evenly proportioned, utilising a wireless range of 700m (2,300 ft.). Up to four load cells can connect to the Handheld plus and four Bluetooth enabled load cells to the iOS and Android HHP app. INSIGHT software connects to up to 126 load cells.
Using these wireless load cells, maintenance and repair costs are all but eliminated due to the absence of cables and connectors. They are machined from high-grade 17-4PH stainless steel, providing excellent strength and corrosion resistance, making them suitable for the most arduous industrial conditions. At the heart of the ergonomically-designed Handheld plus, meanwhile, is a powerful printed circuit board (PCB), providing selectable units of measurement (tonnes, lbs., kg and kN), programmable audible overload alarm, peak hold, pre-set tare, and a resettable overload counter.
Adrian said: "Business is fluctuating and demanding, with short lead times. It is imperative that during the down turns we train and up-skill, so we are ready to take on the jobs at short notice; we are generally engaged towards the end of the supply chain before loading out."
He added: "We deal with all sectors of the economy that require lifting, rigging, weighing, testing, and inspection services. We provide load cells for high-rise construction, infrastructure, shipbuilding, and turnkey projects, such as mass rapid transit systems and process skids. Additionally, our after-sales services include refurbishment work, change out of wire ropes, inspection and certification of mooring systems, and load tests that can cater for 1,000t of weight. We also have a non-destructive testing team."
---
Details

Written by

Administrator


The Crosby Group announces the launch of the Crosby Straightpoint ChainSafe – for the protection of cargo during transport.
The ChainSafe, with a 4t capacity, is a smart dynamic solution for measuring the load on lashing, load securement, tie-downs and chain sling legs, and is designed in particular for the transportation and construction industries to secure loads and cargo. Connected to Crosby Straightpoint's free Android or iOS HHP App, which has real-time overload alerts and reporting for later analysis, and with a range of 100m (328ft), the ChainSafe ensures the safety of cargo during transit.
The ChainSafe improves safety and efficiency by measuring the tension on your chains avoiding costly breakages and maintenance and protecting your cargo. It is the perfect combination with a Speedbinder or Lebus Loadbinder to accurately monitor the tension on tie-downs.
Because ChainSafe is equipped with a comprehensive range of optional chain fittings offered by The Crosby Group—such as hooks, lashing and chain shorteners from Gunnebo Industries and Crosby, the device is totally adaptable. The design has an unrivalled strength to weight ratio, with a completely sealed stainless steel enclosure providing IP67 or NEMA6 environmental protection, making this industry-leading dynamometer even more suitable for use in the harshest environments.
The Crosby Straightpoint ChainSafe is the latest release in The Crosby Group's growing platform of technology-centric products and solutions.
Thomas Dietvorst, Director of the Technology Solutions division, said: "We are uniquely positioned to deliver productivity and safety advantages to the point of use, given the lifting and lashing applications that already utilize Crosby and Gunnebo Industries-branded products, in addition to other products and technologies in the portfolio. Transportation professionals, and those responsible for small to medium crane lifts, have already noted the benefits of adding ChainSafe to their lifting and lashing applications and how precious cargo is protected."
Additional features include an unrivalled battery life of five years, based on four hours of use per day; and an internal antenna.
---
Details

Written by

Administrator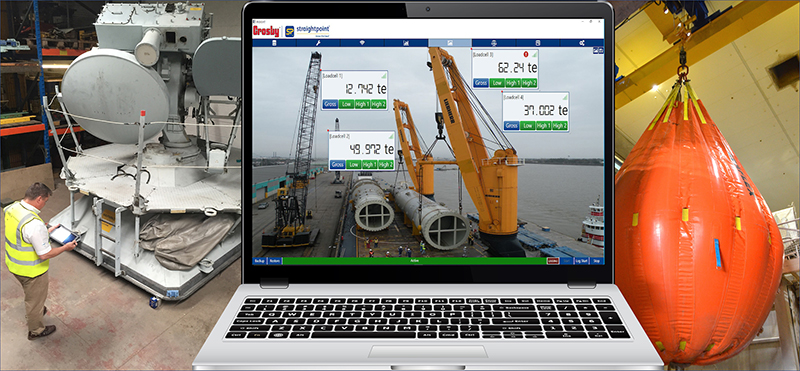 Crosby|Straightpoint has launched its multifaceted INSIGHT software that allows users to monitor up to 126 load cells from up to 700m (2,300 ft.) away, before and during a lift.
Using the multi-channel display and data logging mode, users can view and log load data from connected individual and multiple load cells, live on-screen and directly into a .csv file for later analysis at speeds of up to 200Hz. The visualisation mode is designed for more complicated lifts and allows import of a photo of the lift, in addition, to drag and drop load cell displays. In other words, it makes the screen look like the lift. Proof load testing capability allows real-time graphing of load tests and auto-generates test certificates. Finally, INSIGHT can be used to weigh and calculate the centre of gravity of large items and structures.
David Mullard, business development manager at Crosby|Straightpoint, said: "Each of INSIGHT's main features represents cutting-edge load monitoring technology in their own right, but what really distinguishes the system is its ability to perform all of those tasks—from multi-channel data logging to centre of gravity—with one single software purchase and wireless dongle. Compared to alternative solutions on the market, INSIGHT offers superior functionality and user-friendliness. What we're delivering is therefore unprecedented."
Mullard explained that INSIGHT is used to scan for wireless load cells within a 700m (2,300 ft.) area, which allows an entire site to be monitored, or a select number of load monitoring products on a planned critical lift. Users can select load cells within the system based on their serial numbers. "You can remotely wake-up load cells that are already rigged in the application, get the signal, and start monitoring to keep equipment, loads, and people safe."
INSIGHT utilises Crosby|Straightpoint's Proof Test plus software to record data gathered by a Radiolink plus load cell, load shackle or compression load cell, for example. It can create a pass or fail certificate that includes test data and graphs charting data from the load versus time throughout a test.
Another INSIGHT feature is a visual and audible alarm that indicates overload, underload, low battery and communications errors. "The user might want to know when a 1t capacity hoist is at or approaching capacity, and / or a 5t capacity crane is nearing its working load limit. All data can be captured and presented in a report or verified on a certificate, giving users and their customers' complete insight and traceability," added Mullard.
INSIGHT is separate from Crosby|Straightpoint's Handheld plus device and Bluetooth app. Mullard said that the transition to INSIGHT will typically happen when more than four load cells are being employed and monitored.
---
Details

Written by

Administrator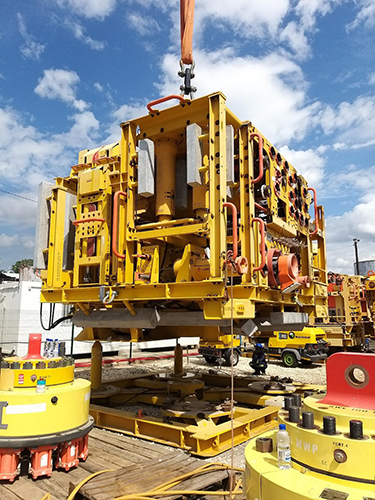 Heavy lifting specialist Sarens is using a 100t capacity Radiolink plus load cell from Straightpoint (Crosby|SP), a Crosby Group brand, to complete delivery of seven 85t Christmas trees for a major oil and gas company. It also utilised Crosby|SP's 1,000m (3,280 ft.) range SW-HHP handheld reading device.
The trees (an assembly of valves, spools and fittings) are being stored in Nacala-Porto, a city on the northern coast of Mozambique, from where they will be sold on by an oilfield services company.
Sarens, a provider of crane rental services, heavy lifting and engineered transport, is responsible for offloading the trees from a vessel, transporting them to the site, and offloading them prior to temporary storage. Sarens, which boasts an extensive crane fleet in the region, selected a 250t capacity Demag CC1100 crawler crane to complete lifting operations.
Julio Paco, lifting operations supervisor at Sarens, said: "Generally my role includes preparing the daily lift plan, supervising each lifting operation, leading talks with the personnel involved in each operation, and sending weekly and monthly reports to the office." He explained that the company's scope of work also includes testing and inspection to ensure that the trees are working properly before they are moved onto a jobsite.
The trees are identical and measure approx. 17.8 ft. (5,438mm) by approx. 16.6 ft. (5,068mm). For each, Paco and his team utilised various items of rigging gear including chains, slings and shackles, which were sourced from Sarens' local stock, where products range from low capacity up to 250t items.
Paco said: "We had to supply two crane operators and two banksmen to cover two shifts. As is always the case in this sector, speed and efficiency of service is paramount to delivery of our services. Knowing the weight of items as they follow their supply chain to the point of use is a necessary component of that work. With the Radiolink plus we can take readings at a safe distance using a [handheld] device."
Crosby|SP also offers an extensive range of ATEX / IECEx products; it recently enhanced the ATEX Handheld plus with a number of standout additions: overload and calibration warnings are now displayed on an improved, larger screen. Also, it is now possible to read up to four SP load cells simultaneously, allowing the operator to monitor a multi pick-point lift from a single handheld system. This capability suits the product even further to the diverse applications that end users deliver at the coalface. Existing features remain including the product's suitability to hazardous zones 0, 1 and 2, commonplace on oil rigs and in petrochemical plants.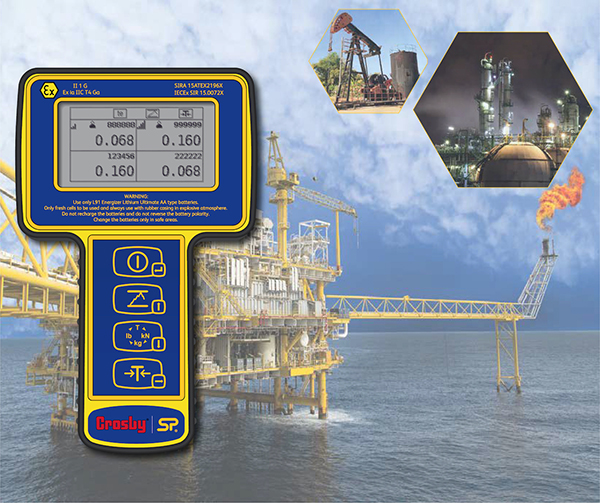 ---