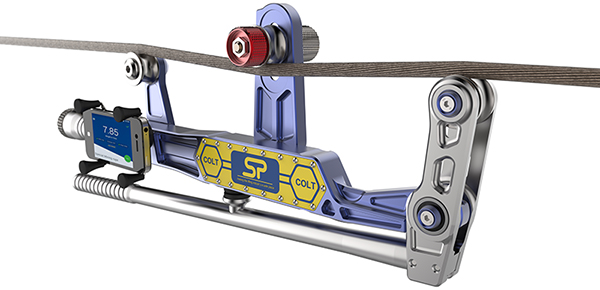 Straightpoint to Take Centre Stage at Speedy Expo
Straightpoint (SP) will showcase its range of force measurement equipment and enter its latest innovation for the Star Products award at the Speedy Expo, which takes place 1-2 November at Exhibition Centre Liverpool's ACC complex in the UK.
Equipment hire firm Speedy staged the event last year on the iconic waterfront and will again combine seminars, an exhibition and networking for suppliers and users of tools, specialist hire equipment, plant and support services. SP will exhibit at Stand F40 in close proximity to the networking zone and Star Products area.
SP will show a full range of equipment, but has chosen one for the award: a new product for measuring tension on static lines—the Clamp On Line Tensionmeter (or COLT)—with a state-of-the-art Bluetooth load monitoring app among a myriad of standout features. Already in Speedy's hire fleet is SP's most popular product, the Radiolink plus digital load indicator, but the COLT will be unfamiliar to many visitors.
David Mullard, business development manager at Straightpoint, said: "This is the first time we've exhibited at the event. In addition to the [aforementioned] products, we'll show a 50t Loadlink plus and smaller 5t links to allow visitors to get hands-on with the equipment. Wireless compression load cells will also be part of the product centric exhibit."
He added: "Speedy is one of our largest UK customers; we have a long-standing relationship over several years. They have for a long time trusted SP Loadlink plus and Radiolink plus dynamometers for safe lifting, LOLER testing, overload prevention and force measurement."
The Radiolink plus—a 50t version will be on show—is primarily used in weighing, load monitoring and load testing applications. Mullard pointed to key features such as the wireless readout, allowing the user to be a safe distance from the load (up to 700m), and IP67 ingress protection against dust and water. Units take standard AA batteries, facilitating a simple change between hires, and are suited to dynamic testing and monitoring multiple lifting points on one display.
The COLT, meanwhile, is a manual, lightweight tool for measuring wire rope tension on guy wires, cable barriers, overhead lines, fall arrest systems and zip lines. Mullard said users benefit from a lack of cables and lauded its Bluetooth capability. "It's the most efficient way to measure wire rope tension in the field, store results and send them back to the office, eliminating the need for paperwork," he added.
The COLT measures tension on wire rope up to 11,000 lbf (lb. force) / 5,000 kgf (kg force) and up to 1 in. / 25mm diameter. It clamps onto pre-tensioned wire ropes, eliminating the need for additional sheaves or tooling, as is the case with alternative solutions.
Mullard said of the state of the UK hire market: "It's buoyant and dynamic, but always in flux. Speedy has great geographic coverage, a young fleet of rental equipment as well as regional lifting centres of excellence. For the largest customers and projects, Speedy manages on-site facilities to provide the best possible levels of support and service. I expect the expo to provide widespread opportunity to refresh knowledge, make connections, meet contacts and learn."
Visit SP at Stand F40.
---