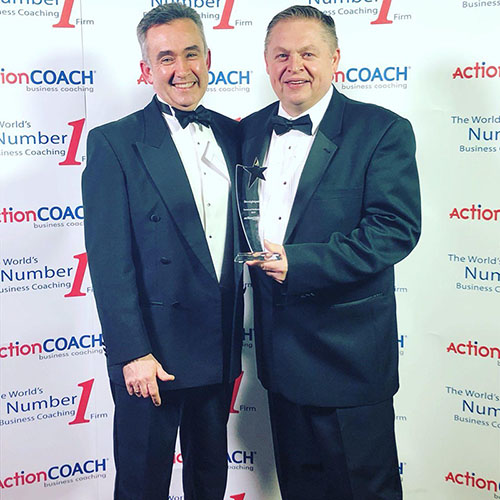 Straightpoint (SP) received the Sustained Business Performance 2017 award at Action Coach's regional annual awards ceremony, which took place at the Royal Maritime Club in Portsmouth, UK earlier this month (February).
Action Coach, which helps entrepreneurs and owners overcome the challenges in maintaining a company, works with the load cell manufacturer on matters related to business strategy. This is the second time SP has claimed such an award, having won Business of the Year in 2014. David Ayling, managing director, was on hand to collect the prize.
Gary Mullins, master coach at Action Coach, who works with SP's team at its Havant, Hampshire-based headquarters, said: "Importantly, this accolade is recognition not just for a successful 2017 but for sustained growth. Against the criteria by which we judge businesses for this award, they were ahead of our other clients."
Mullins pointed to highlights that stood out SP in a competitive category, including delivery of consistent growth in sales and profit; successful performance over a number of years; the establishment of an organisation in the U.S.; investment in business assets, space, and personnel; and a commitment to the coaching processes and strategy."
Ayling said: "Gary and his team have helped us put together and implement a strategic council, which is essentially a rolling five-year plan for the business. Whilst the award was attributed to our performance in the previous calendar year, it is actually recognition for our achievements over a period of time and commitment to that plan moving forward. Gary and I share a belief in the importance of a business plan and this award is testament to our tendency to deliver against one."
Action Coach gathered approximately 60 representatives of businesses of varying sizes from Southampton to Bognor Regis, up to the Surrey border. Awards for Business of the Year (won by 2MV Logistics, a local freight transport company), Business Growth (£), Business Growth (%), and positive results against the Engage and Grow programme, were also given out on the night.
Mullins said: "Both within our community and the general business environment in the area, [SP] are a standout example. Moreover, they are constantly strengthening their position in the load cell marketplace. It's exciting to have a perspective as new product launches drive growth and build more value for their clients. Recent successes demonstrate how hard work and commitment pay off."
He added: "David [Ayling] has personally developed as a true leader, building his team to really look after his customers. He should be recognised for his own personal development and dedication to learning."
Ayling concluded: "I was in attendance to claim the award but I did so on behalf of the whole SP team, both here in the UK and in North America. Without their commitment to the cause and the plans we work with Gary to implement, we wouldn't receive such recognition, nor would the company be enjoying such an aggressive phase of growth."
---