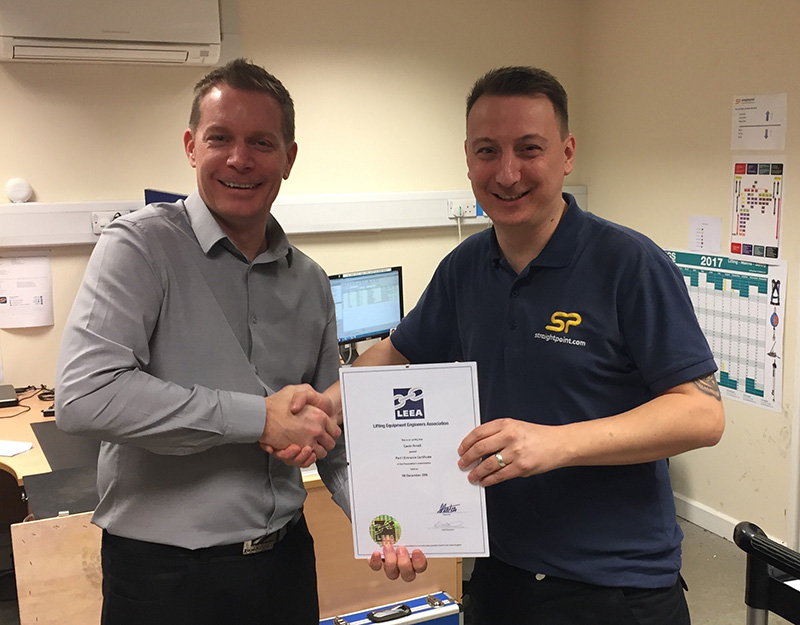 Straightpoint (SP) has been granted full membership in LEEA, reaffirming its status as a lifting equipment business versus a load cell manufacturer that has diversified into the sector.
The Lifting Equipment Engineers Association is the world's leading representative body for all those involved in the industry. To become a full member, a company must be engaged for profit in the verification of lifting equipment and, in the opinion of the directors, is competent and can give an adequate service.
David Ayling, director at SP, said: "We see ourselves as a lifting equipment company first, not just a load cell business, thus, it was natural for us to covet full LEEA membership. Its tagline is 'lifting standards worldwide', while we define our purpose as 'making the lifting industry a safer place', so without placing undue emphasis on the synergy, we are kindred spirits."
SP was previously a development member, which is a precursor to full membership but one that is not transcended as a formality. Companies must pass a rigorous audit and meet the highest standards of the association, the respected and authoritative representative body for members who work in every aspect of the industry, from design, manufacture, refurbishment and repair, through to the hire, maintenance and use of lifting equipment.
Further, full members must have a company-approved examiner, which at SP is Gavin Arnell, product technician, who has taken both the association's P1E Foundation Course and Lifting Equipment General (LEG) Advanced Programme. The former includes 28 modules covering a range of subjects from standards and codes of practice to wire rope and types of cranes; it is a prerequisite for studying at advanced level. The advanced course offers hands-on practical training to complement essential theory sessions. Content is based on lifting accessories and includes thorough examination procedures and criteria for continued periods of service.
Alfie Lee, operations director at SP, said: "We are grateful for the guidance, support, and thoroughness of our contact at LEEA, Bernie Winter [technical officer], who took us through the process. We look forward to hosting Bernie and other representatives of the association as they conduct subsequent audits and hold us to their industry benchmark standards."
Ayling concluded: "Alfie and Gavin have played key roles in achieving this widely sought after status within LEEA, but it is recognition that the entire SP operation adheres to its protocols and we look forward to leveraging the commercial and other opportunities full membership creates in the myriad of marketplaces that apply lifting equipment."
---