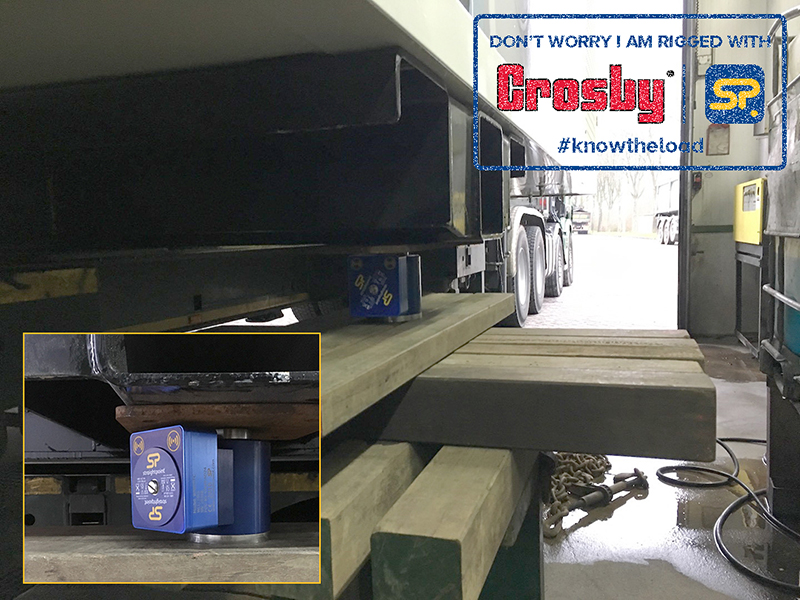 Ridderkerk, Netherlands-based lifting and rigging equipment rental company LGH Hijsmaterieel B.V. (LGH) employed four Straightpoint (SP) compression load cells to confirm the weight and centre of gravity of a magnetic resonance imaging (MRI) machine prior to transportation recently.
LGH, which offers a range of SP force measurement solutions, chose 10t capacity wireless compression load cells to record important data as the MRI unit was manipulated before it was placed on a trailer for relocation by Wesdijk Exceptioneel Transport, of Alphen aan den Rijn, an hour north of LGH's headquarters near Rotterdam.
SP's compression load cells boast a wireless range of 700m or 2,300 ft. to the manufacturer's SW-HHP handheld or wireless centre of gravity software, which in this case was installed on a laptop where data was read at a safe distance. The load cells and software commonly combine to verify the centre of gravity and weight of large and heavy objects that may not be evenly proportioned. The system captures the weight on each individual load cell, total weight, and centre of gravity, and displays it in a HTML report.
The MRI scanner measured 5.13m (approx. 17 ft.) by 2.01m (approx. 6.5 ft.) and weighed in at 21,175kg (21.17t). The value of the load test was emphasised by the difference in actual readings to paperwork supplied with the load, which suggested it should have been in the region of 26t. The load, complete with the latest scientific equipment and components, presented an exaggerated offset centre of gravity due to the angle at which is was loaded and secured for road transportation.
Matthijs Senff, sales engineer at LGH for Holland's western region, said: "The information was principally gathered for the crane team in Madrid [Spain] who had to prepare their lifting tackle for offload. Jacking timbers were used to raise the scanner so the load cells could be positioned. The load cells were positioned and then connection to the laptop was secured. Upon configuration, the trailer was lowered to let the [MRI] unit rest on the load cells. We conducted further stability tests before taking three data readings and displaying the average findings on the report, which we could export immediately from the laptop."
Senff added: "We frequently use our range of SP products in such applications. The equipment is cutting-edge technology and offers great user-friendliness onsite. Heavy lifting, onshore, and offshore industries, and the maintenance sector are among those utilising the technology for load tests and other applications."
A Bluetooth version of the compression load cell was recently added to the range that can be connected to any smart phone running SP's free HHP app on iOS or Android at ranges up to 100m or 328 ft. ATEX and IECEx versions are also available for use in hazardous area zones 0, 1, and 2. Units are machined from high-grade stainless steel and standard AA batteries offer 1,200 hours of life. Senff also pointed out the product's environmental protection to IP67 / NEMA6.
Senff has recently stepped into a new role at LGH B.V., having spent the previous two years as an inbound technical member of staff. He concluded: "I'm glad I made the transition. I had a strong understanding of the SP and other products in our portfolio, but to play a more hands-on role in their application on the front line adds a real-life dimension to my work. I look forward to many more compression and other load cell projects in future."
SP was acquired by lifting and rigging hardware giant The Crosby Group at the turn of the year.
---