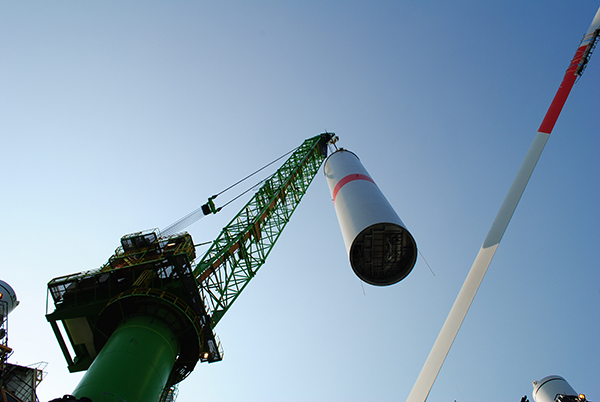 Straightpoint (SP) manufactures a number of force measurement products, ranging in capacity up to 1,000t+, which are used in a variety of ways by the wind energy sector. The equipment is typically supplied to end users through SP's extensive distributor network that delivers state-of-the-art load cells to offshore, wind power, and other job sites across the world.
SP, recently acquired by lifting and rigging equipment giant Crosby, has modified its equipment for use in the most demanding environments. Its best-selling Radiolink plus wireless load cell, like many products in the portfolio, boasts IP67 or NEMA6 environmental protection and DNV GL Type Approval Certification, while an ATEX and IECEx version is available in hazardous zones 0, 1, and 2. Further, the range is constructed from high quality aerospace grade aluminium and works with standard AA batteries.
SP, a technological pioneer in its field, recently updated its Bluetooth capability and launched an enhanced version of its popular app to enable its load cells to communicate with up to eight devices, up to 100m (328 ft.) away. Collected data can be sent onto other recipients in the form of an Excel spreadsheet or PDF report. The app takes its name from SP's Handheld plus display unit, which uses an alternative technology allowing a range of up to 700m (2,300ft.), while the Multiple Wireless Load Cell Controller (SW-MWLC) software package displays and logs data from up to 100 SP wireless load cells simultaneously.
Wind energy lifting applications that implement load cells are varied but David Mullard, business development manager at SP, picks four examples of particular interest to professionals in the industry looking to increase their use of the technology. In each instance, it is evident how monitoring the weight of the load and / or its centre of gravity enhances safety, particularly when lifting and other equipment is being operated close to its working load limit (WLL).
"First," begins Mullard, "Let's look at the more familiar application of loading out a windmill tower. Here, end users [of SP equipment] lift structures in their entirety onto custom-built vessels or other transportation. They can weigh over 400t so it's vitally important that lift supervisors monitor the forces being applied and use the load cells as an overload prevention tool. It's common to utilise a pair of, say, 250t capacity Radiolink pluses, which can provide a total sum of the load."
His next selection is the lesser-known use of load cells in relation to the service hoists that are frequently found in the nacelle at the top of towers. They are used during routine or other maintenance works. Such hoists, which might range in capacity up to 500kg, are used for lifting and lowering tools and parts.
Mullard says, "It's important that service hoists are regularly tested and inspected in line with LOLER [Lifting Operations and Lifting Equipment Regulations 1998]. Users might opt for a Radiolink or a Loadlink plus to execute a test, verify that the hoist is performing as it should be, and capture the data. A 1t to 2.5t capacity load cell would commonly be utilised for such work."
The Loadlink plus is designed to be rigged with Crosby standard shackles. It is known worldwide as the original electronic force measurement device to feature an integral display. Over the years the line has been expanded and it is now used for lifts ranging in capacity from 1t to 300t in a variety of industries including wind energy, manufacturing, transportation, agriculture, oil and gas, utilities, and aerospace.
Thirdly, Mullard introduces wind energy professionals to the compression load cell, which might be used for centre of gravity or weight calculations on any large fabricated item prior to load out, for wind energy that typically relates to a jacket or foundation that sits below the water surface. Mullard points out that multiple compression load cells can all connect wirelessly to SP's range of PC software via a USB dongle to verify centre of gravity of large and heavy objects that may not be evenly proportioned.
The final mention goes to SP's range of subsea load cells that can be used to monitor the tension on cables and moorings. Mullard says, "It's surprising to some the extent of tethering and moorings at offshore wind farms, beneath the surface of the water. It's important to know the forces being applied to those lines during all sea states and weather conditions. Environmental protection from the advanced internal design structure and high grade sealing allows for [SP] products to be used in wet conditions without danger of failure."
SP will exhibit at Global Offshore Wind 2019, which takes place 25-26 June at London's Excel.

---