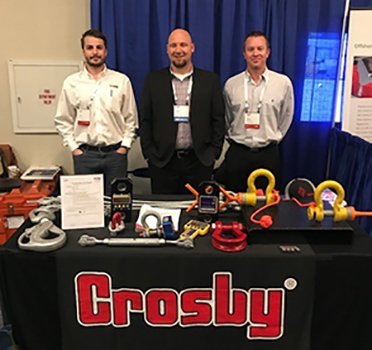 Force measurement equipment manufacturer Straightpoint (SP), part of The Crosby Group, was among presenters at the API Offshore Safe Lifting Conference & Expo, which took place last month (September) in Houston, Texas.
The event, held at the Westin Houston Memorial City, welcomed decision makers from the U.S. offshore oil and natural gas industry, in addition to representatives of regulatory agencies and thought leaders from the energy marketplace. Aaron Orsak, business development manager at SP, delivered a multifaceted paper titled, "Advancements in Load Monitoring", which explored the progression away from mechanical dial scales and shone a spotlight on ATEX / IECEx products. He explained that ATEX and IECEx cover the use of equipment in explosive or potentially explosive atmospheres; the former is a European directive while IECEx is applicable in the Americas and globally.
Orsak said: "My intent was to walk the audience through a journey from the early days of analog pressure load indicating systems to cutting-edge, wireless technology and, importantly, explain how its application can benefit their use of lifting equipment in today's market. We looked at our products—the Loadlink plus and Radiolink plus, for example—but it wasn't a commercial presentation and we wanted to represent the technology beyond our own brand."
The conference—endorsed by leading organizations such as the Center for Offshore Safety, International Association of Drilling Contractors, National Ocean Industries Association, and Offshore Operators Committee—attracted a high-level, authoritative delegation that was concerned specifically with lifting as it relates to offshore activity.
Orsak said: "Other offshore conferences offer a scattered approach to operations, but this event is hyper-focused on making offshore lifting operations safer. That makes it an important concept with which to associate our products and thought leadership content. We want to engage upper management, engineers, project managers, and site lifting coordinators—all of whom were in attendance."
SP also displayed its wares at Crosby's product exhibit, where Orsak was on hand to take questions and showcase the equipment alluded to in his presentation, which he believes was listened to by up to 150 delegates. The two-pronged approach gave SP unprecedented exposure at an event where it had only previously been represented by regional distributors and dealers.
Orsak added: "It is a small product fair consisting of 20-25 exhibitors but attendance is focused and strong. I had several [visitors] stop by after my presentation to ask about different applications or to clarify the specifications and features of the products we offer. Some were surprised by the capabilities of the wireless range, battery life, and ATEX / IECEx-approved load cells. We'll certain return to the event; maybe next time we'll use a greater volume of case studies to demonstrate more lifting-related applications in this demanding sector."
API, a national trade association representing all facets of the natural gas and oil industry, powered the conference and expo.
---