News & Case Studies
Details

Written by

Administrator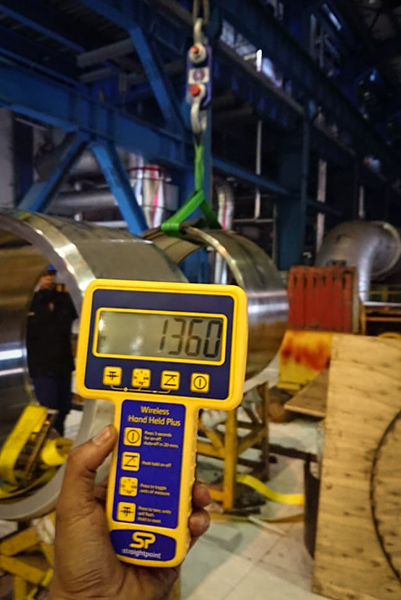 Siaptek Indonesia provided a Straightpoint (SP) load cell, a Crosby shackle, and other rigging equipment to weigh a 1.35t fabrication cylinder at a power plant in Tangerang in the province of Banten recently.
A 25t capacity Radiolink plus load cell was rigged with a Crosby shackle of the same capacity, while 2t capacity webbing slings were double choked around the load to complete the below-the-hook equipment. The load, actually recorded at 1,360kg, was recorded on a Wireless Hand Held Plus, also manufactured by SP. An on-site overhead crane and hoist was utilised to provide the required lifting power.
Siaptek Indonesia received the scope of work from PT. Sinergi Adhi Pratama Abadi, a crane maintenance and structural fabrication company, which was delivering a contract at the Pusat Listrik Tenaga Uap (PLTU) Banten 3 Lontar Operation and Maintenance Services Unit (OMU) 3 x 315-Megawatt power plant. Limited access inside the facility was just one obstacle that the rigging team had to overcome.
Dovi Suprayetno, country manager at Siaptek Indonesia, said: "You need to source the most reliable lifting and rigging equipment when delivering projects to Indonesia Power, indeed anyone in this challenging sector. The [SP and Crosby] combination always proves reliable when delivering accurate information about the load to our varied customer base."
Suprayetno explained that a choker hitch was used to secure the load and provide greater control during the lift. Using two slings in a double configuration, each wrapped around the load and passed back through itself, provided an even greater contact area with the fabrication cylinder prior to its installation.
He added: "It's important to note that because of the force applied to the point of choke, the lifting capacity of the slings is less than it would be if used in vertical. This was just one of the considerations noted in the extensive lift plan that we completed before arriving on the jobsite. Remaining at a safe distance from the load to take readings was another."
SP's (a Crosby Group company) Radiolink plus is the load cell manufacturer's best-selling product. It features a separate internal sealed enclosure providing the load cell's electronic components with IP67 environmental protection even with the battery cover plate missing, making the dynamometer suitable for use in the harshest environments.
The long range 2.4GHz version of the Wireless Hand Held Plus, meanwhile, provides a range of 1,000m (3,280 ft.). Suprayetno pointed out that Bluetooth output can also be utilised, connected to any smart phone running the HHP app (named after the Hand Held Plus) on iOS or Android at ranges up to 100m (328 ft.).
He said: "It is important for end users to know as much as possible about the loads they are lifting and installing. Without accurate, state-of-the-art technology and reliable rigging gear, that is impossible to achieve."
---
Details

Written by

Administrator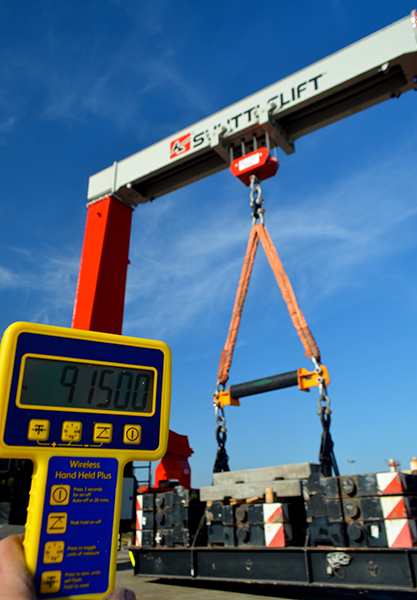 Australia's Dynamic Rigging Hire used a 100t capacity Straightpoint (SP) Radiolink plus load cell to complete tests on two 90.7t capacity Shuttlelift mobile gantry cranes in Melbourne recently.
Dynamic, a lifting and rigging equipment rental company, sourced the load cell from Elevate Lifting and Rigging Pty Ltd., which is its go-to partner for force measurement solutions. Elevate, formerly Hoisting Equipment Specialists (HES), also provides specialist lifting equipment to the Australian market.
The new Shuttlelift cranes, tested to 91.5t, will be utilised by the end user to lift pre-cast super T-beams at a manufacturing facility in the city's western suburbs. They had to be load tested prior to being put into service to comply with Australian Standards; they will also be subjected to periodic testing to maintain that compliance.
The Radiolink plus combined with a pair of 120t capacity shackles, 100t capacity roundslings and a 145t capacity Maxirig spreader beam. The owner of the cranes engaged the services of its mobile crane provider to assist with the counterweights, which in turn requested Dynamic to provide the rigging gear to lift the counterweight tray and the calibrated load cell to record the tests.
Dean Nelson, CEO at Elevate, said: "It's a valued partnership we have with Ross Johnson [general manager] and his team at Dynamic. The mobile crane provider used one of its Franna pick and carry cranes to place the counterweights in the superlift tray and the set up of the load cell and rigging gear was also uncomplicated."
He added: "The readings were monitored by the crane technicians who used the load cell to make adjustments to the scale system on the cranes. Both cranes were load tested and had their operating systems set within an afternoon. The following day saw operator training and the cranes finally placed into service in a very busy pre-cast yard."
The Radiolink plus, SP's best-selling product, was used with the Handheld plus reading device, which enabled the rigging team to monitor the cranes at a safe distance. They utilised the long range 2.4GHz version providing a wireless range of 1,000m (3,280 ft.). However, Bluetooth output can also be utilised, connected to any smart phone running the manufacturer's free HHP app (named after the Handheld plus) on iOS or Android at ranges up to 100m (328 ft.).
Nelson said: "The Radiolink plus has been widely covered in earlier case studies, but in every application its various features are showcased at the coalface of our industry. We strive to provide more for our customers and have made a name for ourselves and built a reputation in the lifting and rigging industry by providing a standard of quality in our products unlike any other. SP's technology aligns with that ongoing strategy."
---
Details

Written by

Administrator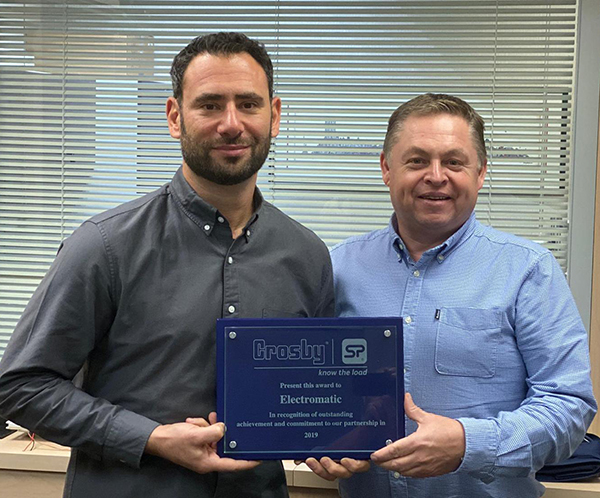 Straightpoint (SP), a Crosby Group company, has recognised the outstanding achievement of 12 regional distributors. The awards, given annually, reflect the performance and merit of global partners during 2019.
In each case, SP named a company and stated how it had pioneered success in a particular region. David Ayling, global business development director for load monitoring solutions at SP, stressed that financial performance is only a secondary judging criteria, which is largely overlooked in favour of a wider commitment to SP values.
Ayling said: "We have been distributing the awards for a number of years. Importantly, this isn't a revenue competition; they might be 20th on the list in financial terms but in our 'top five' based on the criteria we deem of greater significance as they pertain to this concept. We reward distributors and partners that have dedicated themselves to the partnership and adopted the ethos that we live by here at SP. Winners must have excelled in representing our product range in their marketplace, while sharing the DNA that we look for in our own staff at UK headquarters."
This (last) year's winners are spread across the globe with a plaque customised for each winner being sent to recipients in the Americas; Asia-Pacific (APAC); and Europe, the Middle East and Africa (EMEA).
Ayling said: "We try to ensure that there is a spread of geographies represented but, again, we don't want to detract from the essence of the award. If more people win it in APAC one year versus the Americas, so be it. We look for the efficiency with which companies deal with enquiries, the ideas they've shared, the extent to which they've supported our promotional campaigns by sharing photos and case studies, and so on."
Ayling recalled notable case studies throughout the year, including Ontario-based Equipment Corps Inc.'s use of a dozen wireless load cells to raise a pair of non-identical refinery modules; and load tests recently completed by Australia's Elevate Lifting and Rigging Pty Ltd. on two 90.7t capacity Shuttlelift mobile gantry cranes in Melbourne. Dutest, meanwhile, earned praise having only secured distributorship of the entire range of SP products throughout the United Arab Emirates (UAE) earlier this year.
"All of our winners deserve a huge amount of credit and we're already looking forward to seeing who wins the awards in 12 months time," Ayling added. Of the latest companies to receive the accolade, some are repeat winners while others will display the award for the first time, he confirmed.
---
Details

Written by

Administrator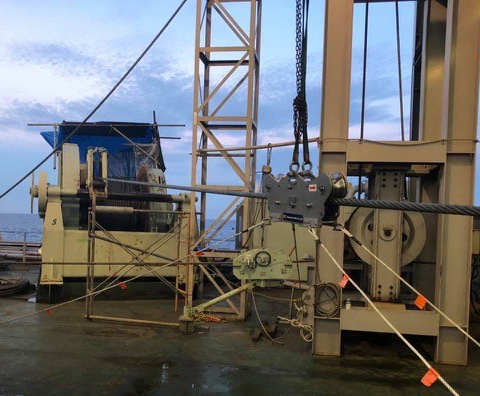 Singapore-based Gas Oil Services (GasOil), a specialist provider to the offshore oil and gas industry, has delivered a wireless 80t capacity Straightpoint (SP) Running Line Dynamometer to a pipe laying project offshore Taiwan.
The dynamometer, part of SP's tension in motion range, was purchased by a Japanese company that employed it on wire rope as the cable was deployed from a vessel. The end user sought a wireless versus a cabled solution. Sometimes called a TIMH, the product is built with dockside, marine, offshore, towage and salvage applications in mind. It is typically used when there is no anchor or dead end on the line, for example, when there is a requirement to measure a force at a specific point of a longer line.
Stephen Vanicek, marketing manager at GasOil, said: "As is often the case, an offshore project was presented with a requirement to find out the weight of a load or the force on a wire rope or line. We supplied the TIMH and accompanying software, which allowed the end user to constantly monitor the forces being applied on a rugged tablet that was mounted on the vessel. The client could accurately measure tension, speed, and pay in / pay out in real time."
The TIMH is available in capacities up to 150t, as standard. In this case, the line pull was only 25t but due to the diameter of the wire rope, a larger unit (80t) was required. Constructed from marine grade stainless steel, it is suitable for many wire rope configurations. As an option, it can calculate lineout in metres or feet along with line speed.
GasOil supplied the long range 2.4GHz version of the product, providing a wireless range of 700m (2,300 ft.) to SP's SW-MWLC software (handheld HHP devices are also available), but Bluetooth output is another option, which can be connected to any smart phone running a free HHP app on iOS or Android at ranges up to 100m or 328 ft. Either way, the product is available to ship from stock, to anywhere in the world within days, which Vanicek acknowledged is a prerequisite in this demanding sector.
He said: "Often, we get such a request for a measuring device when the project is underway, so the speed at which force measurement technology can be delivered to a site is of paramount importance. We get a lot of enquiries from the oil and gas market for force measurement equipment and the technology, including the TIMH, is becoming increasingly popular—as is momentum towards wireless solutions."
David Ayling, global business development director for load monitoring solutions at SP, said: "The focal point of the design process was to create a product that was modular in construction with consistency of components so we can assemble units and ship them very quickly."
Vanicek added: "Business in the [oil and gas] market in Southeast Asia is continuing to pick up. We note that it's somewhat slower than certain other regions but there's an uptick in demand to encourage us as we head into 2020. This was the first product we'd sold to this customer but it has already led to repeat business and we anticipate that further orders will follow. SP's equipment performs in line with stringent requirements."
---
Details

Written by

Administrator
Central Environmental Inc. (CEI) used a 10t capacity CableSafe running line dynamometer from Straightpoint (SP) to honor a contract for Alaska Water and Wastewater Utility (AWWU), which is currently delivering a major project in Anchorage, Alaska, U.S.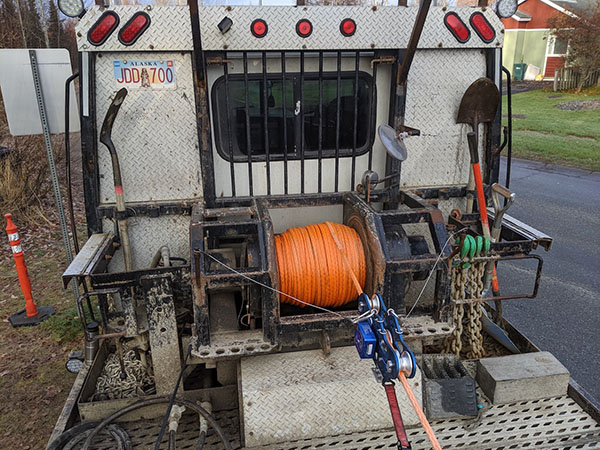 Utility contractor CEI applied the CableSafe, designed for measuring synthetic rope tension, and accompanying Bluetooth technology during installation of a water main pipe. CableSafe is more commonly seen in the broadcast and telecommunications tower erection, service, and maintenance industry.
CEI used the product with a hydraulic winch to monitor the slip lined 8-in. fusible High-Density Polyethylene (HDPE) Standard Dimension Ratio (SDR)-11 pipe, where the tensile strength could not exceed 25,000 lbs. Bluetooth prevented the need for personnel to stand next to the line under tension during the slip line operation; readings were taken on SP's accompanying app and documented for the customer.
Jay Stepetin, project manager at CEI, said: "The load cell was the only device that was practical for our situation; we measured the tension frequency at the default two-second intervals. The slip line operation was conducted using a hydraulic winch on the receiving pit and an excavator to aid in guiding the pipe into the 10-in. cast iron carrier pipe. The CableSafe allowed me to record the tension exerted on the slip line HDPE SDR-11 pipe, while also providing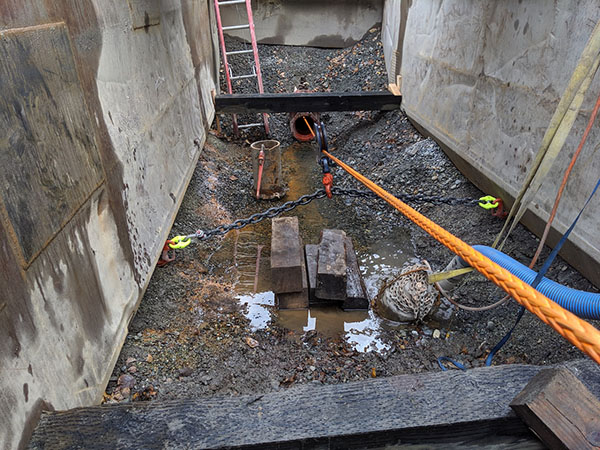 radio direction to employees at each end of the job during the slip line operation."
"The standout challenges were presented by dewatering the insertion pits and limited workspace," he added.
Stepetin explained that CEI's full scope of work centered on providing a redundant water supply to the approx. 110 customers East of the Muldoon Curve on Regal Mountain Drive and Chaimi Loop. It involved excavating, shoring, dewatering and exposing the existing 10-in. water main cast iron pipe (CIP) at Regal Mountain Drive and Tikishla Street to create safe insertion pits for installation of the new 8-in. fusible HDPE SDR-11 water main pipe. CEI replaced the existing, corroded 36-in storm drain corrugated metal pipe (CMP) that crosses the existing 10-in. CIP at Tikishla Street. Further, it required documenting the condition of the existing 10-in. CIP carrier pipe by video inspection and verified that it was clean and free of obstructions that could restrict insertion or slip line of the 1,120 LF of 8-in. HDPE SDR-11 pipe.
SP recently updated its Bluetooth capability and launched an enhanced version of its popular HHP app. Load cells now use wireless technology for exchanging data over short distances to communicate with up to eight devices, carrying the information up to 100m (328 ft.) away. Collected data can be sent onto other recipients in the form of an Excel spreadsheet or PDF report. Users can send reports from the same device that captures data that is already on the user's person—such as a mobile or cell phone.
---