News & Case Studies
Details

Written by

Administrator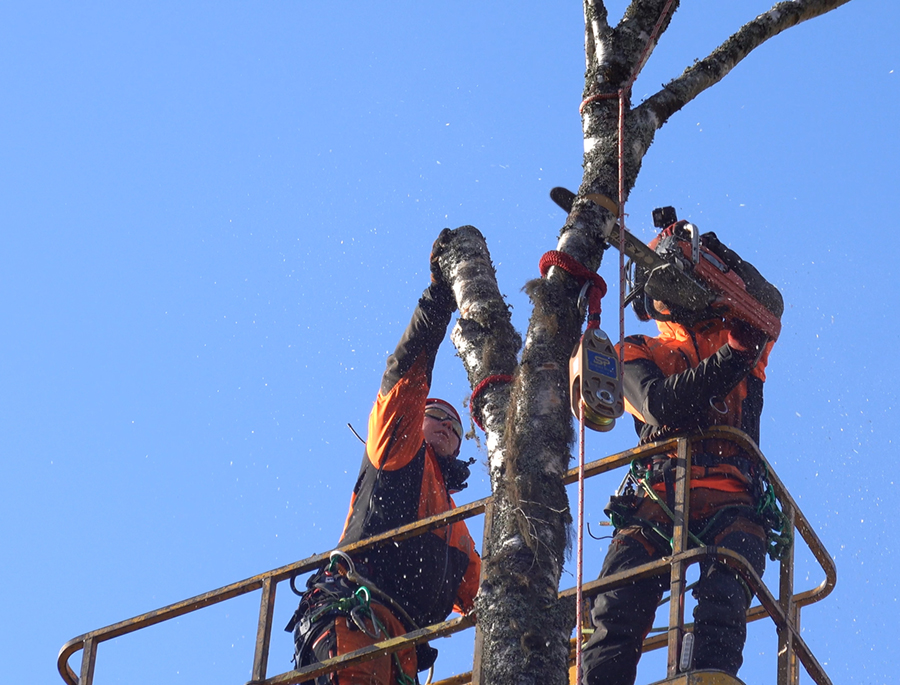 Straightpoint's (SP) Impact Block, which measures the shock load and weight of branches as they are cut during tree felling or maintenance, is being used for education and site work in Finland.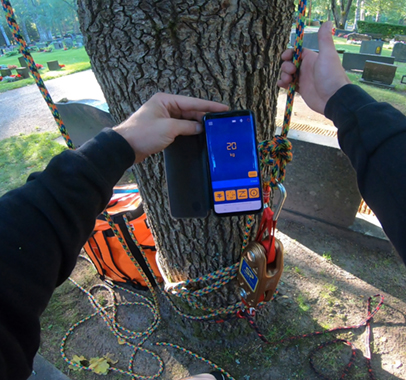 It is another example of the product filling gaps in knowledge about the forces put through rigging equipment and the weight of loads as they are cut away from trees. It has proven as important as a training device as it is a practical onsite tool, once again.
Utilising wireless dynamic load monitoring electronics and strain gauge technology, real time data can be displayed on a handheld controller, tablet or laptop at speeds up to 200Hz. Importantly, this eliminates the estimation work that often goes into arborist applications. Further, the aesthetic curves of the Impact Block combine with strength and durability to ensure a rope-friendly surface.
Mika Vainionpää, a climbing teacher at Finnish arborist school, Sedu (based in Ähtäri), said: "Unlike crane-related or other typical rigging scenarios, in tree applications professionals do not always have an anchor point above the lifting point. It's a type of negative rigging. Every tree is different. There are no labels in a tree that say to the climber how much the rig can take. You have to study and learn where those limits are. Branches are one thing—leaves and smaller branches can limit the force—but logs can be more unpredictable."
Vainionpää, who also owns an arborist company (arborist.fi), recently utilised a 60 kN version to measure how big the heaviest weights are during a normal climb and recorded the weights of the top and base anchors. Impact Block can be installed at the top of a tree or lower in the canopy before starting to cut limbs off. Vainionpää said he predominantly uses 12mm or 14mm Teufelberger Sirius Bull ropes.
He added: "The Impact Block adds weight and rigging to our projects, but that is outweighed by the education it gives us. Trees are very complicated and normal rigging rules don't apply. However, we are at the lower end of our learning curve with this technology and must continue to conduct tests and deliver education before it can make a widespread difference across arboriculture. For that reason, it remains more of a training product than a site-only tool."
Impact Block is an integral product in Vainionpää's armoury, which includes a 27-tonne metre knuckle-boom crane that can be fitted with a grapple saw or bucket; a mobile elevated work platform; stump grinders; and a machine for pruning branches and removal of felled loads.
---
Details

Written by

Administrator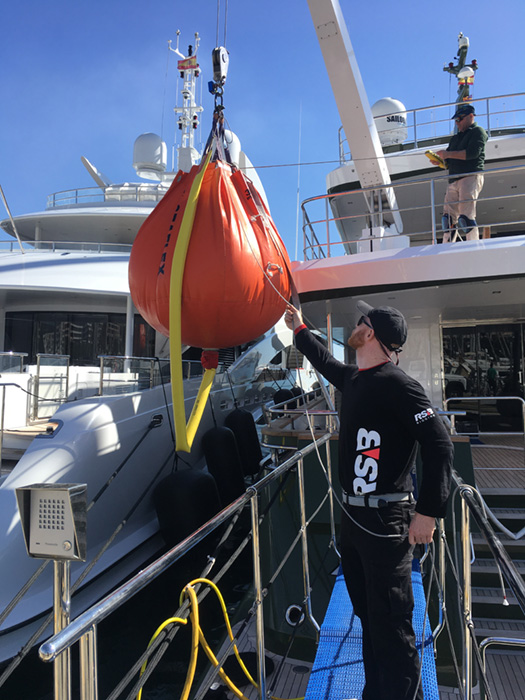 RSB Rigging Solutions (RSB) used a Bluetooth-enabled 6.5t capacity Straightpoint (SP) load shackle for load tests aboard a luxury super-yacht at Maritimo, Palma de Mallorca, Spain.
The specialist supplier of rope and running rigging to the luxury yacht sector used the wireless load shackle and water bags to test and certify the side access rail system and davit crane on the Motor Yacht Halo, a 40m luxury explorer super yacht. The work was carried out in accordance with Lloyd's Register maritime classification.
The Sanguineti Chiavari CE RINA-approved 2,000kg capacity, 360-degree rotating fly bridge deck crane is used for the deployment and recovery of the yacht's smaller onboard "tender" vessel, which is used for excursions, taxi to shore and rescue situations. The Harken R27 access rail systems are installed to the side of the vessel to allow easy and safe access for crew during maintenance.
Anthony Eland, load test manager at RSB, said: "Two tests were performed on the deck crane: a static test at 1.25 times safe working load [2,500kg] and a dynamic test at 1.1 times safe working load [2,200kg]. The access rail system was tested to 600kg at the start, middle and end of each 3m section of track."
Eland explained that the water weight system from Seaflex can be filled to the desired capacity to meet the weight requirements of the item to be tested. When filled with water, he said, 1kg equals 1 litre. "It is the safest and most efficient method of load testing these pieces of lifting equipment," he added. "The [water weight] load bag uses a number of smaller shackles in its construction in order to connect the bag to the masterlink."
He continued: "We use the load shackle for its ease of use as no connecting strops are needed. We frequently work with limited space so every centimetre in height saved is very beneficial; the compact design of the shackle minimises the length of our total test assembly and in some cases, it wouldn't be possible to do the test without it. Also, the wind can cause instability when lifting a load and the compact bow shackle design helps to minimize the pendulum effect created."
Two versions of the wireless load shackle are available: a long range, 2.4Ghz version providing a wireless range of 1,000m or 3,280 ft. to SP's SW-HHP handheld or software options; and, as RSB used, a Bluetooth product that can be connected to any smart phone running the free HHP app on iOS or Android at ranges up to 100m or 328 ft.
Eland said: "[Bluetooth] was one of the selling points of the product. Receiving load test data wirelessly is essential when the load is suspended. Downloading the [HHP] app to our company phones eliminates the need for a separate dedicated receiver."
RSB regularly supplies and facilitates the installation of Harken Access Rail Systems for the suspension of people and crane cables / lifting accessories for the marine industry. In this case, it delivered the testing and inspection package for a regular customer that has subscribed to its biannual certification service.
---
Details

Written by

Administrator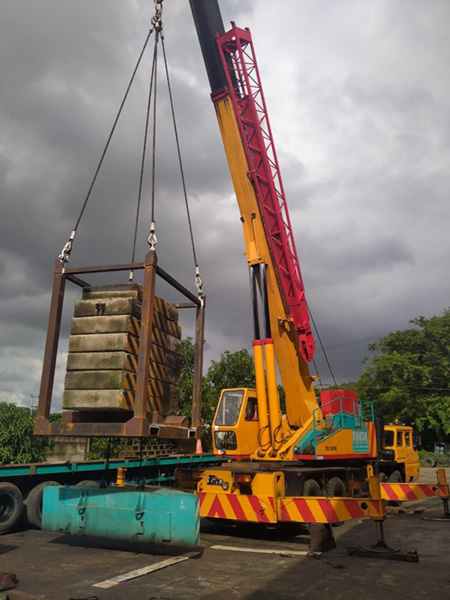 Straightpoint (SP) equipment is suited to use even in the Jakarta, Indonesia monsoon season, as a recent application proved.
Lifting equipment and services provider Wiguna Artha Lestari utilised an SP Radiolink plus load cell and Wireless Hand Held Plus to complete testing of a 15 ton capacity frame using a 50t capacity Tadano TG500E. Although lifting operations ceased during heavy rainfall, IP67 environmental protection meant that the load cell didn't have to be dismantled from the hook once the load was temporarily lowered.
Jakarta can be hit by stormy weather at multiple points during the year but is especially likely to experience wet conditions when monsoons blow in from the south and east in June through September and from the northwest in December through March.
The latest wet-season assignment involved Wiguna using a 55t capacity Radiolink plus, SP's best-selling product, and the handheld reading device to load test a frame beneath the hook of the mobile crane and record measurements against a patchwork of rainclouds.The load cell features a separate internal sealed enclosure providing the electronic components with IP (Ingress Protection) 67 (NEMA 6) even with the battery cover plate missing, making the dynamometer suitable for use in the harshest environments. The long range 2.4GHz version of the Wireless Hand Held Plus, meanwhile, provides a range of 1,000m (3,280 ft.).
Yoshiro Dharmadi, director at Wiguna Artha Lestari, said: "IP67 essentially means that equipment meeting that criteria can be dropped into a body of water up to a meter deep for half an hour. While that is not a practical scenario in terms of our use of the equipment, it gives us peace of mind given the extremes of wet weather that we endure here. We can leave the load cell on the hook and wait for the rain to stop. I can't imagine heavy lifting applications where we'd have to take down the rigging gear in bad weather."
"Further," he said, "The [SP] range offers us—and our clients—great accuracy regardless of whether we are working with light or heavy loads.
Battery power
Dharmadi also pointed to the favourable battery life of the SP range; the Radiolink plus, for example, operates with standard AA batteries that offer 1,200 hours of life. The Radiolink plus (or RLP) is supplied with an update rate of 3Hz and can be easily configured to run at speeds of up to 200Hz making it ideal for dynamic force measurement. Constructed from aerospace-grade aluminium it features an advanced internal design structure, which is behind the ingress protection and, of equal importance, high strength to weight ratio.
Dharmadi added: "We provide lifting equipment for various sectors—oil and gas, construction, mining, ports, heavy industry, marine, etc.—and all present challenging applications that test the durability of our equipment, and that's before Mother Nature has her say. Only approx. 5% of our work involves crane testing and inspection, but we utilise load cells and rigging gear for a variety of applications on a daily basis."
Wiguna stocks eight RLPs, up to 100t capacity, which complement a core business that centres on wire rope, chain, and synthetic slings. Dharmadi said: "Business is better than last year, but competition intensifies year on year here in Jakarta. Since we are focusing on high-end customers, we are serving a niche, specialist marketplace. We are constantly looking to add to our product portfolio to become even more efficient and productive."
---
Details

Written by

Administrator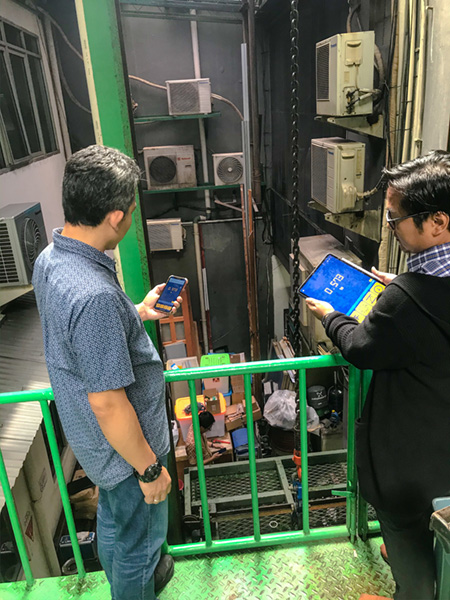 Siaptek Indonesia installed a Bluetooth-enabled Straightpoint (SP) Bluelink load cell on a 3t capacity cargo lift for PT. Geoservices, an Indonesian exploration services company.
The 6.5t (14,300 lb.) capacity Bluelink, a digital dynamometer fitted with Bluetooth technology, was installed by the SP distributor on the lift to avoid overloading when transferring equipment between levels at the PT. Geoservices site.
Notably, during testing, Siaptek demonstrated the product's ability to communicate wirelessly to as many as eight separate iOS or Android devices (smart phones, tablets, etc.) with the HHP App, up to 328 ft. or 100m away. This presents the obvious advantages of being able to provide data to multiple users, all of whom can remain at a safe distance from the location.
The installation contract also included training on the app itself, which features an analogue load indicator on the main screen and a number of languages, including English, Dutch, Spanish, Norwegian, Japanese, and Chinese.
Donny AR Sitepu, technical and operations manager at Siaptek Indonesia, said: "The app will also allow the operator to log data versus time or on events such as over- or under-load, and the adjustable alarm will alert the operator on their smartphone if any overload is occurring. The supervisor at this site now has no need to be constantly at the cargo lift to monitor its safety; they can remain in their office."
Rigged using industry standard shackles, such as the Crosby G2130, the Bluelink was in this case installed with a Crosby (SP's parent company) shackle of the same capacity. The Bluelink has been designed to minimise headroom—it is just 6 in. or 156mm from eye to eye—while, as Sitepu emphasised, its compact, lightweight design does not sacrifice on strength with a safety factor of over 500%.
He added: "We connected the [Bluelink] to three display units to demonstrate the options to our customer. Our broader mission is to continue to promote the concept to existing and prospective customers still utilising outdated mechanical force measurement products. As SP has reported, the technology is particularly suited to professionals only just beginning their migration from traditional solutions, but PT. Geoservices, at the cutting edge of their field, were keen to leverage the benefits for their particular application."
Bluelink is powered by four standard AA alkaline batteries that provide in excess of 500 hours transmission time, and its internal antennae ensures loads to an accuracy of 0.1% FS are transmitted safely.
---
Details

Written by

Administrator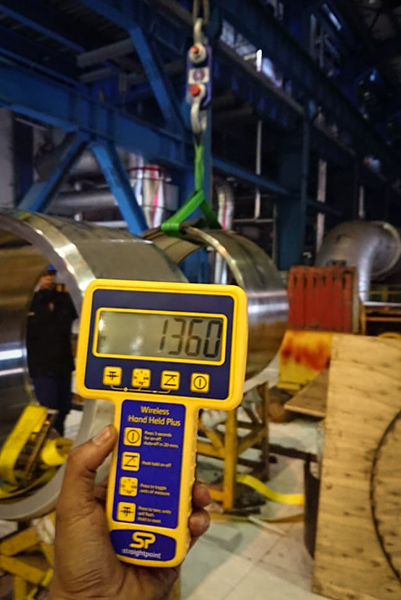 Siaptek Indonesia provided a Straightpoint (SP) load cell, a Crosby shackle, and other rigging equipment to weigh a 1.35t fabrication cylinder at a power plant in Tangerang in the province of Banten recently.
A 25t capacity Radiolink plus load cell was rigged with a Crosby shackle of the same capacity, while 2t capacity webbing slings were double choked around the load to complete the below-the-hook equipment. The load, actually recorded at 1,360kg, was recorded on a Wireless Hand Held Plus, also manufactured by SP. An on-site overhead crane and hoist was utilised to provide the required lifting power.
Siaptek Indonesia received the scope of work from PT. Sinergi Adhi Pratama Abadi, a crane maintenance and structural fabrication company, which was delivering a contract at the Pusat Listrik Tenaga Uap (PLTU) Banten 3 Lontar Operation and Maintenance Services Unit (OMU) 3 x 315-Megawatt power plant. Limited access inside the facility was just one obstacle that the rigging team had to overcome.
Dovi Suprayetno, country manager at Siaptek Indonesia, said: "You need to source the most reliable lifting and rigging equipment when delivering projects to Indonesia Power, indeed anyone in this challenging sector. The [SP and Crosby] combination always proves reliable when delivering accurate information about the load to our varied customer base."
Suprayetno explained that a choker hitch was used to secure the load and provide greater control during the lift. Using two slings in a double configuration, each wrapped around the load and passed back through itself, provided an even greater contact area with the fabrication cylinder prior to its installation.
He added: "It's important to note that because of the force applied to the point of choke, the lifting capacity of the slings is less than it would be if used in vertical. This was just one of the considerations noted in the extensive lift plan that we completed before arriving on the jobsite. Remaining at a safe distance from the load to take readings was another."
SP's (a Crosby Group company) Radiolink plus is the load cell manufacturer's best-selling product. It features a separate internal sealed enclosure providing the load cell's electronic components with IP67 environmental protection even with the battery cover plate missing, making the dynamometer suitable for use in the harshest environments.
The long range 2.4GHz version of the Wireless Hand Held Plus, meanwhile, provides a range of 1,000m (3,280 ft.). Suprayetno pointed out that Bluetooth output can also be utilised, connected to any smart phone running the HHP app (named after the Hand Held Plus) on iOS or Android at ranges up to 100m (328 ft.).
He said: "It is important for end users to know as much as possible about the loads they are lifting and installing. Without accurate, state-of-the-art technology and reliable rigging gear, that is impossible to achieve."
---