News & Case Studies
Details

Written by

Tanya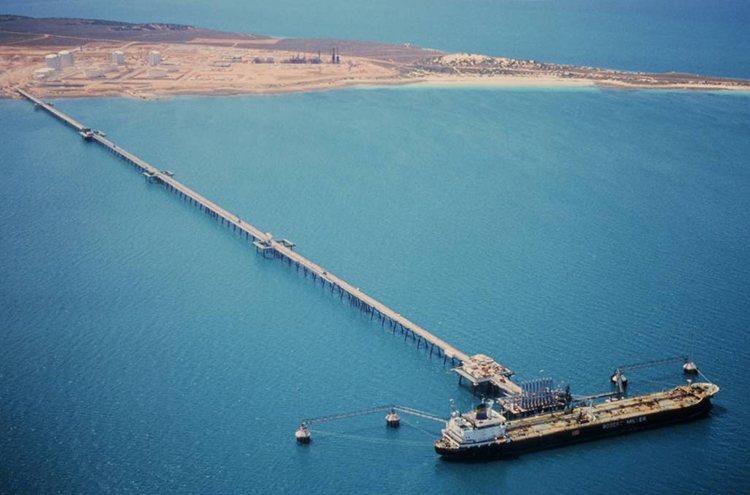 Dynamic Rigging Hire (DRH) supplied a 25t Wireless Loadshackle and a 20t girder trolley, which combined with a 16t air hoist, for remediation work beneath a fuel terminal jetty at Port Bonython in South Australia. The deepwater port is adjacent to Point Lowly in the Upper Spencer Gulf region, the westernmost of two large inlets on the southern coast of Australia.
Port Bonython is a hydrocarbon processing plant and is named after Santos' founding chairman, John Bonython, Opened in 1982, liquefied petroleum gas (LPG) production commenced in 1984 and with it the first export to Japan. The inherent nature of the site presented challenging conditions for DRH, which collaborated with fellow Victoria-based company Hoisting Equipment Specialist (Vic) Pty Ltd (HES) to deliver the three-week hire solution.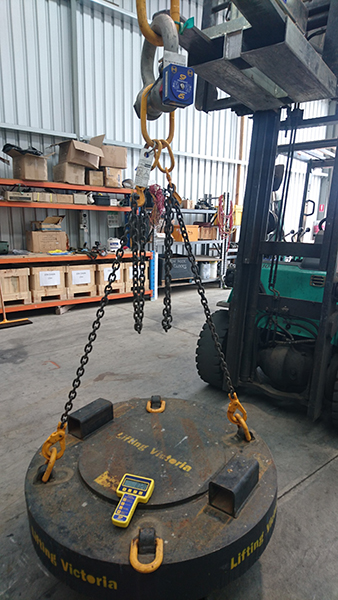 The Wireless Loadshackle is particularly suited to low headroom applications, for example, while additional features include its hard anodised aluminium electronics enclosure and an internal chassis providing IP67 / NEMA6 environmental protection even with the battery cover plate missing. The girder trolley was also supplied with marine conditions in mind. DRH frequently facilitates provision of a wide range of rigging equipment to a diverse client base including crane, construction, engineering, manufacturing, offshore and service projects. In this case, the load shackle and the girder trolley were sent with its freight provider to the nearest distribution centre, from where the undisclosed client collected it and completed transportation to site.
Ross Johnson, general manager at DRH, said: "Integral to our service is delivery of the best solution based on a customer's requirements. We were indebted to Dean Nelson [managing director at HES] and his team, who were able to leverage their position in the marketplace to help us assemble the right package for the Port Bonython corrective work." Nelson is also a director of DRH, Johnson pointed out. The Port Bonython hire project served as an exemplar of DRH's strict policy to verify all force measurement, load monitoring and suspended weighing load cell equipment upon its return from site, before redistribution to other projects.
DRH used a steel test weight and a 3.5t capacity Mitsubishi lift truck to inspect the 25t Wireless Loadshackle. Johnson said: "It's vitally important to ensure the load cell is functioning correctly with no signs of it being overloaded or other visual defects. The load shackle is exceptionally accurate; during the inspection process we had only 1,020kg of weight on a 25t device so the loadings were in the lower range of the load cell."
Details

Written by

Tanya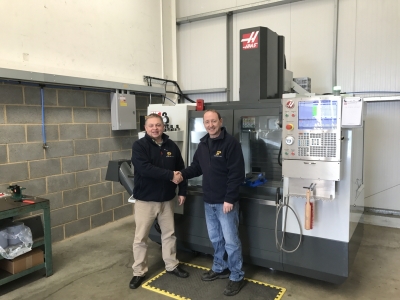 Straightpoint has started installation of new machining equipment having collected the keys to an additional unit on the Dakota Business Park, where it already boasted two buildings that form Havant, Hampshire, UK headquarters. Concurrently, Marcus MacDonald has been recruited into the role of machine shop supervisor.
The new building—Unit 8—is adjacent to existing Straightpoint Units 10 and 9; it will primarily be utilised as a machine shop, where the force measurement, load monitoring and suspended weighing load cell equipment supplier will bring in house the manufacture of non-standard equipment. The expansion follows the arrival of Mike Neal, product sales engineer, who will drive increased sales of custom products.
David Ayling, director at Straightpoint, said: "There's a cohesion to recent developments as we implement a vertical manufacturing strategy centred on our non-standard range. Combining a dedicated resource for sales with a machining expert of Marcus's calibre, who has state-of-the-art equipment at his disposal, sees us take multi-level control of the supply chain. We'll continue to use local machine shops for standard equipment, with whom work can be booked months in advance, but only with an in-house resource can we transform the speed and efficiency with which we deliver custom below-the-hook solutions."
Straightpoint has sourced key equipment for Unit 8 from Haas Automation, an American machine tool builder headquartered in California, which has supplied the centrepiece VF-2 CNC (computer numerical control) milling machine and TL-1 CNC lathe. A Bridgeport manual turret mill, Colchester chipmaster lathe, Sealey band saw and hydraulic press are just some of the additional tools that will complete the comprehensive machine shop.
MacDonald, who brings three decades of relevant experience to the role, most recently overseeing a team of 13 engineers, said: "The position appealed to me because it represents an opportunity to combine my expertise with a return to a core focus on CNC and manual machining, which I am passionate about. We have consulted with Haas and utilised the space available to provide the company with machining capability that will revolutionise supply of non-standard and other SP equipment."
Loadpins, compression load cells and shackles are likely to be among the first custom products to be machined in the new workshop, as the subsea, marine, offshore and other sectors look set to benefit from faster turnaround on orders. MacDonald will both respond to demand generated by Neal and produce stock in line with industry trends.
Alfie Lee, operations director; and Roshan Divakaran, design engineer, have also been integral to the on-boarding of personnel and equipment. The latter has been providing support on CNC software and programming, for example.
Straightpoint plans to recruit an apprentice to the new machine shop, who will be given the opportunity to follow in the footsteps of Ayling and MacDonald. The pair first met at the age of 16 when they were apprentices at Britax Wingard, a Chichester-based motor parts manufacturer. "Opening the door to the next generation as a by-product to our ongoing expansion makes our growth all the more rewarding," Ayling concluded.
Details

Written by

Tanya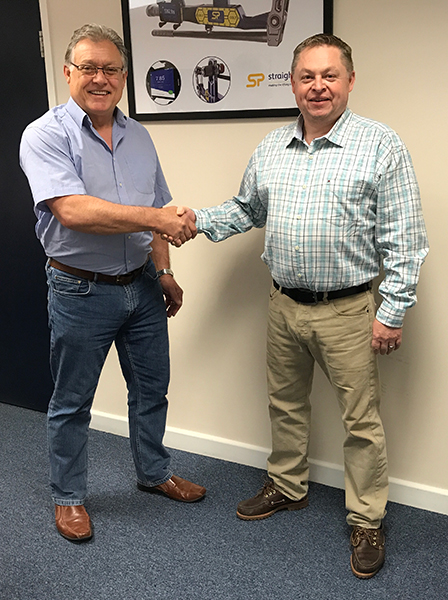 Force measurement, load monitoring and suspended weighing load cell equipment manufacturer Straightpoint has named industry stalwart Mike Neal as project sales engineer. He will utilise over three decades of relevant experience to primarily focus on promoting the company's range of non-standard products.
Neal, who joined the company in mid-April 2017, will aim to further increase the lead conversion rate related to the range by qualifying enquiries and generating proposals in addition to focussing on liaison and follow-ups with existing and prospective customers.
He said: "As a part of my previous roles in sales of standard weighing products there was a frequent requirement to configure special application solutions based on staple weighing components, so the process of producing bespoke quotations is already well understood."
David Ayling, director at Straightpoint, said: "I make no secret of the fact that we want to increase our conversion rate on non-standard products to somewhere close to that of our standard range. Mike brings a wealth of experience and much energy to the role and I am confident he will meet and exceed the short-term and long-term targets we have set."
Neal's previous employers worked in industrial weighing within the pharmaceutical, chemical and food / beverage industries. He said his immediate challenge is to apply his expertise in weighing and other similar technologies as it pertains to these sectors in the lifting equipment marketplace and the SP range of solutions.
He explained: "I'm looking forward to getting up to speed with the hoist and heavy-lift Industries, in particular. As is the case when offering any non-standard product, a comprehensive understanding of the application and requirements of the solution are required, so the quicker I can get to that stage the more effectively I will be able to start working towards our longer-term goal of becoming the go-to company for bespoke solutions as an increasingly informed marketplace seeks our consultation and technologies."
Ayling has set a target percentage of leads to convert, based on a typically systematic strategy and data gathered from the standard product division. Neal welcomed the challenge and believes a new dedicated resource can exceed expectations.
He concluded: "I have been aware of Straightpoint's products for over 15 years and I'm exciting about finally representing them at a stage of my career where a new challenge has really whet my appetite. I look forward to starting the dialogue and delivering non-standard SP products to the multitude of industry sectors in which they can be applied."
Details

Written by

Tanya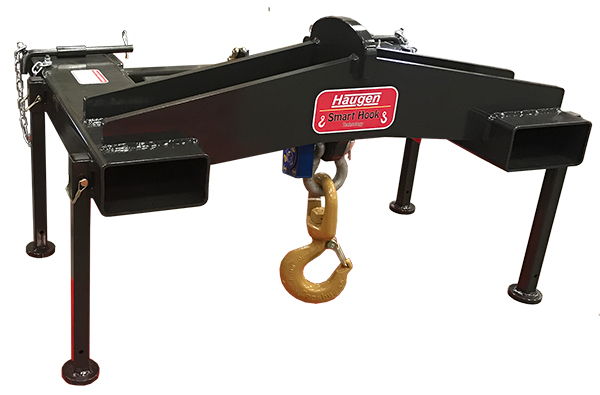 Forklift and telehandler accessories manufacturer Haugen Attachments is offering the innovative Smart Hook, an attachment that incorporates a 7.2-ton (14,000-lb.) capacity Straightpoint load cell.
The 225-lb. Smart Hook can be easily attached to all kinds of telehandlers, giving end users a Crosby swivel hook that incorporates a wireless load shackle positioned at the center of a 42-inch wide and 36-inch long attachment; the attachment holds the lifting hook at 24 inches on center. Four legs act as storage stands to keep the load cell off the ground, which can be removed or left in place during use.
Straightpoint's wireless load shackle is primarily used in low headroom applications. Boasting an anodized, aluminum electronics enclosure, an internal chassis provides IP67 / NEMA6 environmental protection even with the battery cover missing. The Smart Hook concept utilizes the technology to measure loads and ensure telehandlers are not used beyond their rated capacities. Operators typically read data via a device in the cab.
Jeff Haugen, general manager, Haugen Attachments (the company is owned by his mother, Carol Haugen, CEO), said: "The beauty of the system is that there is no installation required, allowing the unit to be moved from one machine to another in seconds. Further, it gives an accurate load measurement without confusing set-up or programming. It is a safe and simple solution."
Haugen explained that the product was conceptualized in response to increased use of telehandlers on U.S. jobsites and the lack of another load measuring device in the marketplace. The company has been manufacturing hooks without load cell technology for many years. The new hook has proved popular with both sale and rental markets; the latter has been keen to capitalize on its interchangeability and divide rental rates over multiple applications.
Haugen said: "Telehandlers have the ability to lift and extend out a load. They have load charts for each position but in most cases the end user does not know the weight of each load they are lifting, which should be confirmed before the operator extends out the boom. The Smart Hook allows the operator to weigh the load and consult their load chart before starting a lift."
Haugen offers the product in different sizes, with the most popular being its 14,000-lb. (7-ton) capacity unit. Much of the telehandler marketplace is covered by the 8,000-lb. to 12,000-lb. capacity equipment range. However, Haugen has the capability to manufacture the Smart Hook up to 30,000-lb. capacity.
David Ayling, director at Straightpoint, said: "The Smart Hook concept leverages the inherent benefits of the wireless load shackle in limited headroom applications. We're always excited to see innovative use of our technologies and the Haugen team has opened up a new marketplace for the product. As industry trends suggest there will be continued increase in telehandler utilization in North America, it's exciting to be involved with a product that enhances safe use of the equipment across varied agriculture and industry sectors."
Operators drive telehandler fork tines onto the Smart Hook; it is secured into position with pins behind each tine with an additional safety chain and hook, Haugen explained.
Details

Written by

Tanya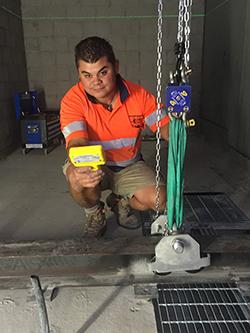 Melbourne, Australian based company Hoisting Equipment Specialist (Vic) Pty Ltd (HES) recently installed two monorail crane systems at an electrical substation before utilising a 3.25t capacity wireless load shackle from Straightpoint to complete commission and handover to the end user.
HES accepted a scope of work from Trio Construct also based in Melbourne, to design, fabricate, install and certify two identical monorail crane systems, each with a rated capacity of 1000kg, measuring 1750mm in length. The pair of cranes, installation of which was completed over a two-day period, are used to lift switchboard equipment into place.
Upon installation, HES employed a Wireless Loadshackle and Handheld Plus from its own stock to record data and document for the operation and maintenance manual that is supplied standard with every crane system.
Nathan Heatley who managed the project for HES said: "We utilised a proprietary surface-mounted test rail that was rigged up using synthetic slings to achieve our rated capacity for the proof load test. The load shackle provided the perfect solution to this limited headroom application."
These purpose-built cranes are manufactured according to Australian Standard AS 2550.3 – 2005. The hoists, meanwhile, are the industry leading OZ Blok brand for which HES is the principal. The OZ Blok hoists where specified by Trio Construct. The OZ Blok S Series for this project is the close-coupled chain block and geared trolley combination. The hoist and trolley systems are certified in accordance with AS 1418.2-1997.
Dean Nelson, Managing Director of HES, said: "By slowly bringing all relevant processes, like load testing and commissioning, in-house we are not only able to offer customers a more competitive price, but we gain greater control over the quality of service and workmanship. Combining HES and Straightpoint equipment, for example, will become more commonplace accordingly."
Every Straightpoint Wireless Loadshackle is proof tested and equipped with a hard anodised aluminium electronics enclosure, within which is a new internal chassis, providing IP67 / NEMA6 environmental protection even with the battery cover plate missing. Boasting a range of 700m / 2,300 ft., the load shackles are supplied with an update rate of 3Hz and can be easily configured to run at what Straightpoint believes is industry-leading speeds of up to 200Hz.
Heatley concluded: "HES and Straightpoint go hand-in-hand because of the respective quality of our product ranges that are known in the industry—in Straightpoint's case, globally. It is generally accepted that it manufactures the best load monitoring equipment, while we also operate at the top end of the marketplace. It makes sense for us to combine engineering expertise with quality of product and service. Further, customers appreciate attention to detail throughout a sales, design, installation, commissioning and after-sales process."