News & Case Studies
Details

Written by

Administrator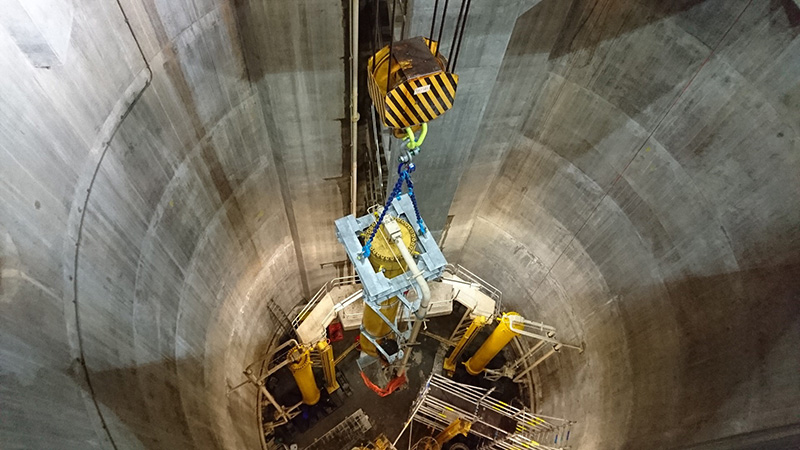 Loadshackle Monitors Sewer Pump Station Cylinder Removal
Dynamic Rigging Hire (DRH) supplied a 25t Wireless Loadshackle from Straightpoint and other rigging gear for removal of a large hydraulic cylinder at a Melbourne Water sewer pump station in Australia recently.
Melbourne Water supplies drinking and recycled water, whilst managing the city's water supply catchments, sewage treatment, rivers, creeks and major drainage systems. It is conducting an ongoing maintenance programme at one of its major pump stations in the western suburbs. Integral to the project was removal of the cylinder for overhaul at an offsite machine workshop.
DRH provided the engineering contractor with all the required rigging equipment needed to lift and rotate the cylinder out of position. Utilising an SP Wireless Loadshackle and Hand Held Plus, it monitored the weight of the cylinder as it was lifted from the floor of a deep shaft in the centre of the pump station.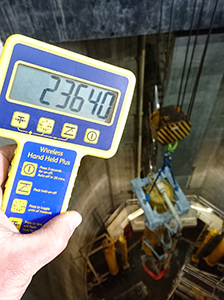 The cylinder weighed approx. 23t, while another two, weighing 13t, will be removed at a later date. Ross Johnson, general manager at DRH, explained that the cylinders are similar to smaller, hydraulic units that one might see under a tip truck or earth moving machine—just much bigger, he said. They open and close the gate (like a valve) in the sewer system.
The contractor utilised a 55t capacity overhead crane that spans the building in addition to a 25t capacity mobile crane; each crane was connected to the load at two pick points. The overhead crane was rigged with grade 100 (grade 10 in UK) chain slings that connected at either side of one end of the cylinder frame as it was lifted vertically. The mobile crane, meanwhile, rigged with the same type of chain and longer, synthetic slings, lifted from the bottom as it was raised beyond the level of the shaft entrance.
DRH supplied a set of Gunnebo grade 100 alloy steel master links for the main hook of the overhead crane, rigged into a 55t shackle and then the 25t load shackle with the two-leg chain sling.
Johnson said: "We were chosen as a specialist supplier of the below-the-hook equipment, including a force measurement solution that could confirm the weight of the load so we wouldn't exceed the capacity of the rigging gear, cranes and / or transportation. The Wireless Loadshackle was therefore intrinsic to the custom package we assembled for the engineering contractor responsible for safe and efficient completion of the lift."
The Wireless Loadshackle is particularly suited to low headroom applications. Additional features include its hard anodised aluminium electronics enclosure and an internal chassis providing IP67 / NEMA6 environmental protection even with the battery cover plate missing.
DRH provides a comprehensive range of rigging, hoisting and load measurement equipment across Australia from Melbourne headquarters. It frequently facilitates provision of a wide range of kit to a diverse client base including crane, construction, engineering, manufacturing, offshore and service projects.
---
Details

Written by

Tanya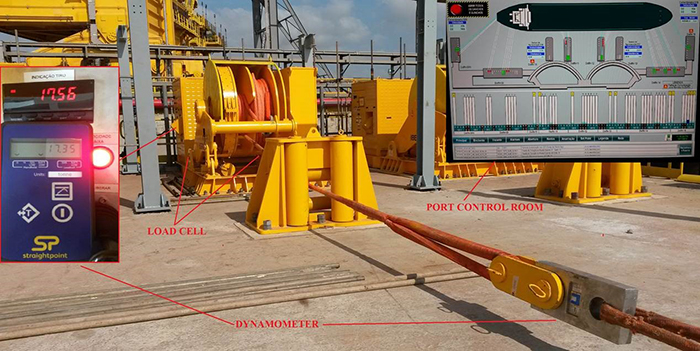 Straightpoint Load Cells Test Mooring Equipment at Huge Port Project
Straightpoint force measurement technology has been used to test mooring equipment at Pier IV of the monumental Ponta da Madeira Maritime Terminal (TMPM), in Maranhão, Brazil. The port is part of the S11D mining project that has been designed to accommodate Valemax ships, a fleet of large ore carriers that carry up to 400,000 metric tons and are 362m long by 65m wide.
Vigo, Spain-based Ibercisa Deck Machinery was contracted by the S11D project, located in São Luís on Brazil's northern coastline, to install 26 identical 100t capacity mooring winches and 50 150t capacity fairleads, for the new pier that will be the point of departure for vessels from the Carajás mine, bound for Asia, Oceania and Europe.
Ibercisa utilised 52 custom loadpins (two for each winch) with 4-20mA analogue outputs for PLC integration, designed for use in applications where an end of line load cell cannot be used and an integrated solution is required; and a 150t capacity Radiolink plus, commonly applied in marine, offshore, oil and gas applications.
All winches were calibrated at the factory and again at the port, while the Radiolink plus was utilised to calibrate the loadpins when mounted onto the winches and then to test the machines. The fairleads are essentially rings that guide ropes, keeping them clear of obstructions and preventing them from cutting or chafing.
Manuel Ricardo Romero Vega, project manager at Ibercisa, said: "Because of the strong tidal currents and lack of a breakwater, the pier has land-based cables that help to moor ships to the berths. Given the importance therefore of the winches and fairleads, TMPM represents a landmark project for Ibercisa."
David Ayling, director at Straightpoint, said: "This project will be memorable for a number of reasons. The first point of contact was at a trade show where we were exhibiting with our distributor, Rigmarine. It was rewarding to enter dialogue with Ibercisa face-to-face and explore force measurement solutions for their challenging scope of work at TMPM."
He added: "Delivery of the loadpins and Radiolink plus marked completion of our first order from them and we hope it represents the start of a long-term relationship. We relished the challenge of custom manufacturing 52 loadpins, which are essentially round shearpin load cells enabling load measurement in mechanical joints, to the specifications of the winches Ibercisa was to install at the port."
Vega said: "Straightpoint manufactured an excellent custom solution and, following initial discussions, we were confident they would suit our requirements for this demanding project. The loadpins and dynamometer [Radiolink plus] performed under pressure and the manufacturer was able to deliver the custom units to site to a short lead time."
The expansion of TMPM is the final stage of the logistics phase of the S11D project and incorporates both onshore and offshore expansion. The centrepiece of the offshore development is Pier IV, also called the northern berth, equipped with a ship loader that replicates the southern berth's existing design.
Details

Written by

Tanya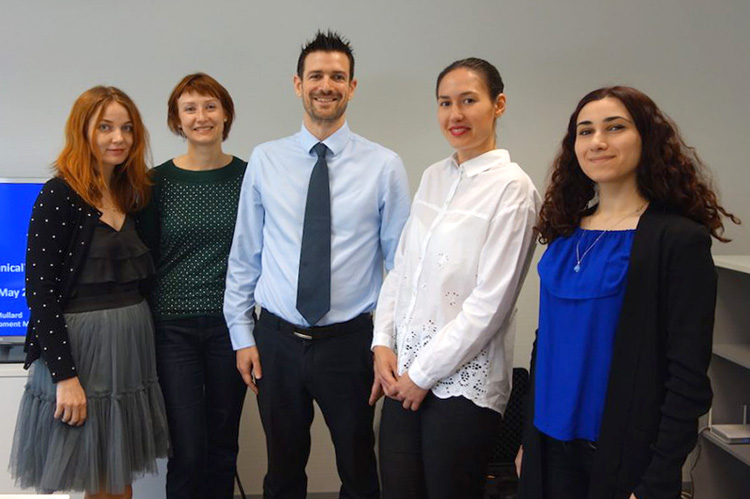 Straightpoint has named a distributor in Russia, as Euro-Lift, based in Tolyatti near Samara on the Volga River, joins the company's expanding dealer network.
Integral to Hampshire, UK-headquartered Straightpoint's growth strategy is partnerships with lifting-centric businesses across the world. A commonality of these distributors is their portfolios of equipment from leading manufacturers of hoists, rigging gear and below-the-hook components.
Euro-Lift will add Straightpoint's range of force measurement, load monitoring and suspended weighing load cell equipment to its range of quality lifting and rigging hardware that includes shackles, chain, wire rope, clamps and other related equipment, which it supplies to oil and gas, power generation, machinery, metallurgy and construction professionals from its base in the south west of the country.
David Mullard, business development manager at Straightpoint, who recently returned from Tolyatti, said: "Euro-Lift represents a great fit with SP; they are an organised and dynamic team with a clear, long-term growth strategy. The company is committed to quality products and trusted brands. Importantly, they are also an established company with a core focus on lifting safety."
Top of the agenda during the recent visit was training as Euro-Lift took delivery of a small stock of demonstration products to introduce the technology to customers. Mullard alluded to the importance of giving new distributors and, in turn, end users the ability to get a sense of quality through hands-on interaction with equipment.
He said: "Euro-Lift's general manager [Garik Mardoyan] understands the market, the customers and the competitive landscape. The team knows who to reach, how to engage in dialogue with them, and can support that activity with tailored literature in the local language. A local partner like this provides elevated service levels in tune with market trends that satisfies customers and grows a business—that approach is intrinsic to Straightpoint stratagem."
Mullard added: "True to their name, Euro-Lift is a Russian business with a strong European focus and an international outlook. The company has invested in the best IT systems to underpin quality manufacture and order fulfilment. From quotation to receipt of PO, factory floor manufacture and dispatch, everything is traceable and well organised."
He anticipates that Straightpoint's most popular product, the Radiolink plus load cell, will be well received by Russian industries, but added that there is "great potential" for the wireless compression load cells for centre of gravity calculation of heavy loads, and the new digital product for measuring tension on static lines—the Clamp On Line Tensiometer (or COLT).
In conclusion, Mullard said: "In the medium term and once we have spent time developing and promoting SP in the region, I believe Euro-Lift will be in a strong position to stock product locally, available immediately. They have also expressed an interest in calibration and service of Straightpoint products, which is an ambition that we support as we look to ensure they reach their full potential."
Details

Written by

Tanya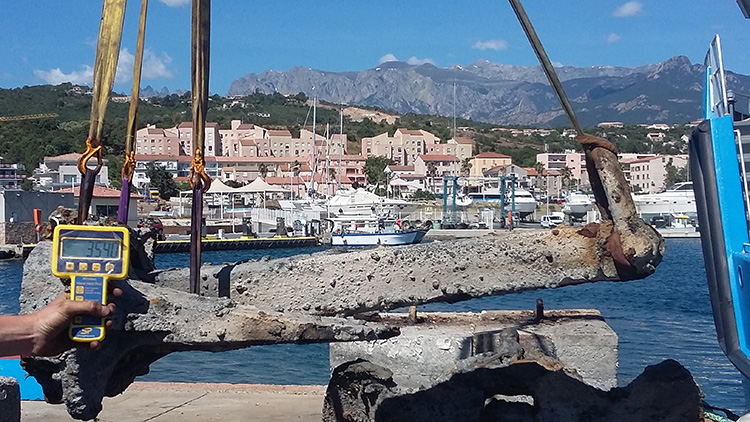 French maritime engineering specialist Iroise Mer, based in Brest on the country's northwestern coast, used a 50t Straightpoint Radiolink plus (RLP) load cell during a refit of a tanker mooring system located 500m off the Corsica coast, recently.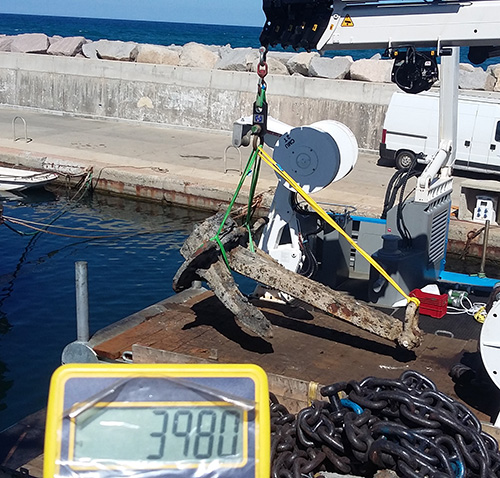 Iroise Mer accepted a scope of work to update the site, comprising four different mooring lines, complete with anchors, chains and concrete deadweights. All existing components had to be removed and new ones installed. The RLP was used to measure pre-tension up to 30t to check new anchors were properly installed into the seabed.
The RLP was positioned between the anchor line (or chain) and the towing cable on a vessel, attached with two Green Pin shackles. Straightpoint does have a product for measuring tension on lines, the Running Line Dynamometer (or TIMH), specifically built with dockside, marine, offshore, towage and salvage applications in mind.
However, as David Mullard, SP business development manager, explained, "the TIMH wouldn't have been suitable because anchor chain was being used rather than wire rope. Wire rope can bend, allowing it to pass through the sheaves of the TIMH so that a tension measurement can be calculated. The large dimension chain wouldn't have allowed the same thing to happen," he said.
Pierre Recoules, project manager at Iroise Mer, who was aboard the nearby boat, took Readings on a Handheld Plus. He explained that safety was improved, as there was no need to put personnel in the towing line where the load cell was attached.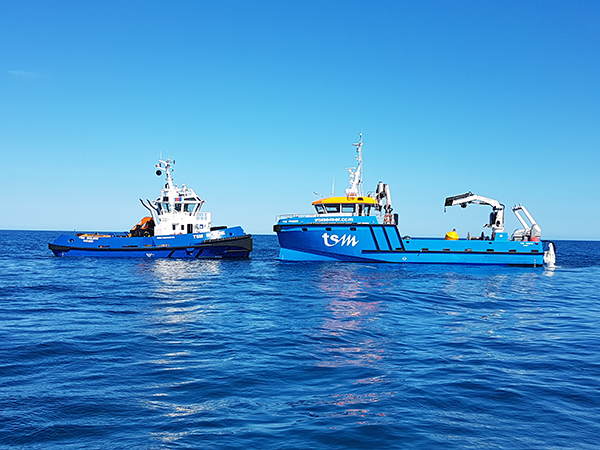 He said: "The buoy is the extremity of the mooring line, where the tanker will be connected. The tug was then connected to the buoy for pre-tensioning. We encounter this kind of work only once or twice a year and when the need arises, utilising a load cell will add efficiency and safety to any scenario where we need to calculate force on lines, anchors, cables or other maritime equipment."
Mullard added: "The application shows how the RLP is well suited to any form of weighing, tension measuring and monitoring applications, combining simple operation and strong wireless connection. Waterproofing wasn't an issue as the RLP stayed clear of the water but it could have been left permanently rigged with no problems."
The new anchors and chains were manufactured in France before being shipped to Corsica, a mountainous French island that is actually close to the west coast of Italy. The jobsite was off the coast of Solenzara on the island's east.
Iroise Mer, founded in 2002, has been part of the Thomas Services Maritimes (TSM) group since 2013. Iroise has a fleet of six vessels, ranging from 10m to 41m in length, all of which boast cranes, winches and shallow drafts, suiting them to lifting and towing projects. TSM has a fleet of 20 additional vessels, predominantly tug boats for harbour towing operations.
Two vessels, TSM Molène and TSM Penzer, were used for the Corsica project, which are 21m and 27m in length respectively. Tension was applied via the vessels' thrusters. Recoules led a 10-person team, who completed the work inside a calendar month.
Straightpoint serves the French marketplace through its local distributor Traction Levage (
http://www.traclev.com
), which has six facilities across the country.
Details

Written by

Tanya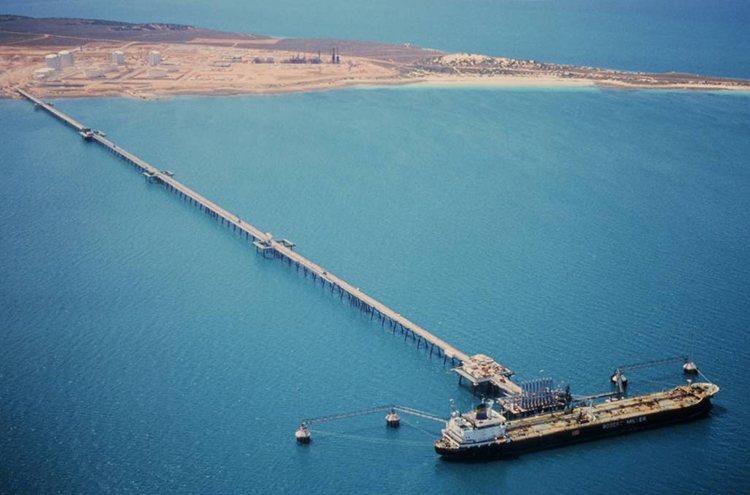 Dynamic Rigging Hire (DRH) supplied a 25t Wireless Loadshackle and a 20t girder trolley, which combined with a 16t air hoist, for remediation work beneath a fuel terminal jetty at Port Bonython in South Australia. The deepwater port is adjacent to Point Lowly in the Upper Spencer Gulf region, the westernmost of two large inlets on the southern coast of Australia.
Port Bonython is a hydrocarbon processing plant and is named after Santos' founding chairman, John Bonython, Opened in 1982, liquefied petroleum gas (LPG) production commenced in 1984 and with it the first export to Japan. The inherent nature of the site presented challenging conditions for DRH, which collaborated with fellow Victoria-based company Hoisting Equipment Specialist (Vic) Pty Ltd (HES) to deliver the three-week hire solution.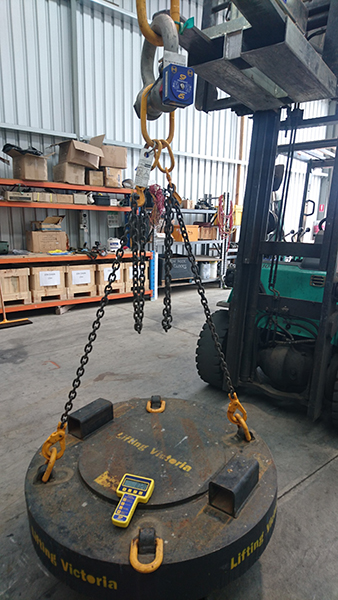 The Wireless Loadshackle is particularly suited to low headroom applications, for example, while additional features include its hard anodised aluminium electronics enclosure and an internal chassis providing IP67 / NEMA6 environmental protection even with the battery cover plate missing. The girder trolley was also supplied with marine conditions in mind. DRH frequently facilitates provision of a wide range of rigging equipment to a diverse client base including crane, construction, engineering, manufacturing, offshore and service projects. In this case, the load shackle and the girder trolley were sent with its freight provider to the nearest distribution centre, from where the undisclosed client collected it and completed transportation to site.
Ross Johnson, general manager at DRH, said: "Integral to our service is delivery of the best solution based on a customer's requirements. We were indebted to Dean Nelson [managing director at HES] and his team, who were able to leverage their position in the marketplace to help us assemble the right package for the Port Bonython corrective work." Nelson is also a director of DRH, Johnson pointed out. The Port Bonython hire project served as an exemplar of DRH's strict policy to verify all force measurement, load monitoring and suspended weighing load cell equipment upon its return from site, before redistribution to other projects.
DRH used a steel test weight and a 3.5t capacity Mitsubishi lift truck to inspect the 25t Wireless Loadshackle. Johnson said: "It's vitally important to ensure the load cell is functioning correctly with no signs of it being overloaded or other visual defects. The load shackle is exceptionally accurate; during the inspection process we had only 1,020kg of weight on a 25t device so the loadings were in the lower range of the load cell."