News & Case Studies
Details

Written by

Administrator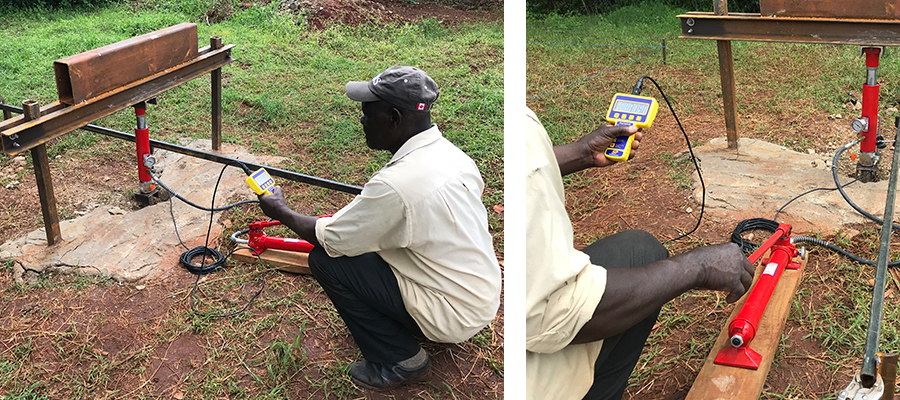 A non-profit organisation that works with rural communities in Kenya is using a 25t capacity compression load cell, donated by Straightpoint (SP), to construct footbridges and river crossings.
The load cell, which was provided with a wired Handheld plus unit to capture data, is being used by Bridging the Gap Africa to confirm capacities of helical piles, a key component of bridge foundations. The piles protect structures and reduce the risk of them being compromised due to undermining of the abutments during high river flow events.
Matthew Bowser, country manager Kenya at Bridging the Gap Africa, said: "We are currently in the product development phase for our helical piles and are trying several different variations of the piles to see what design provides an optimum combination for performance and ease of fabrication / installation. The load cell is key at this stage as it is enabling us to verify capacities of the different variation of helical piles."
Over a period of 20 years, the charity has installed 63 bridges, but it has only recently moved to technological force measurement. Bowser said: "Testing the piles allows the design to be optimised by determining the actual capacities as opposed to using conservative design values from standardised tables. In a recent test of three helical piles, the centre one was tested for compression while the two outside piles acted as tension members and provided support for a jacking beam. The hydraulic jack and the load cell were used to apply and measure the load respectively."
He added: "The jack is fitted with a pressure gauge so the load cell was also being used during these initial tests to develop a calibration curve, which can be used to convert gauge pressure to applied load. Once our test trials are done, if we see that the pressure gauge is functioning properly, then we will use the gauge alone for future tests and will only use the load cell on a periodic basis to re-verify the calibration of the pressure gauge."
Phil Roch, marketing executive at SP, said: "The [load cell] donation is symptomatic of the empathic and caring ethos within SP's company culture. Further, it goes to show the diversity of our range. SP load cells are currently being used within 14 major industries, with more being defined continuously. Even within those markets there are a myriad of intrinsically important stages that require load monitoring technology to ensure a safe and successful operation."
Bridging the Gap Africa uses Kenyan skilled labour in a small town called Kitale to pre-fabricate components for the bridges such as towers, suspenders, and anchor connections. It then transports everything to site and hires the local community for installation and assembly. The charity builds suspended and suspension bridges, both of which are cable-supported structures. Wire rope cables are seated on steel towers and terminated at reinforced concrete anchors. The towers are supported by reinforced concrete foundations; the helical piles will be used to provide a deep foundation for the tower foundations.
Bowser added: "The load cell is brilliant. It is easy to use and extremely reliable. We would recommend this product to anyone that needs to know the load."
Photo above: The hydraulic jack and load cell are used to apply and measure the load respectively
---
Details

Written by

Administrator

Straightpoint (SP) has been shortlisted in the innovation category at this year's Heavy Lift Awards, to be presented by Heavy Lift & Project Forwarding International (HLPFI) magazine on 15 October at the Hilton Old Town in Antwerp, Belgium.
SP's Bluetooth-enabled load cell range and accompanying app have been highlighted as the products that separated the manufacturer from other entrants. SP is in illustrious company, with special transport equipment manufacturer, Goldhofer and heavy lift business, Sarens joining it at the final stages of judging.
Phil Roch, marketing executive at SP, said: "It gives us a huge sense of pride to not only be shortlisted by a renowned title but to be alongside two of the biggest names in the heavy-lift sector. Whoever turns out to be the deserved winner on the night, we've been presented with an opportunity to showcase our company and penchant for innovation to a prestigious audience. HLPFI's readership seeks to reduce risk in the projects they work on and we're happy to align our force measurement technologies with that endeavour."
SP recently updated its Bluetooth capability and launched an enhanced version of its popular HHP app. Load cells now use wireless technology for exchanging data over short distances to communicate with up to eight devices, carrying the information up to 100m (328 ft.) away. Collected data can be sent onto other recipients in the form of an Excel spreadsheet or PDF report. Award judges will note the product's ability to send reports from the same device that captures data that is already on the user's person—such as a mobile or cell phone.
Roch said: "With a highly active and progressive R&D [research and development] department, SP and [owner] Crosby are always striving to enhance the features of our existing product range, incorporate new technologies, and release brand new innovations. Our company's mantra is all about helping to make the industries that consume our products safer by providing knowledge about the load. The Bluetooth range and app epitomise that ethos."
He continued: "Recognition from HLPFI is further endorsement of our commitment to the global heavy lift and project logistics sector in particular. It's one of the most informative and visually appealing industry magazines we consume and advertise within, with a massive readership base, many of which are important decision makers within their companies. Between now and the gala awards evening in October, we look forward to working with the title to showcase ongoing SP innovation and case studies via its editorial pages."
Award categories are varied, including Airfreight Solution of the Year, Excellence in Engineering, and Shipping Line of the Year. For a full list of finalists, click here: https://www.heavyliftawards.com/heavyliftawards2019/en/page/shortlist-2019
---
Details

Written by

Administrator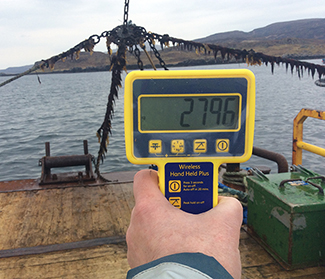 Grieg Seafood Shetland Ltd. has added to its Straightpoint (SP) load cell fleet with a 12t capacity Radiolink plus, which is being used to measure the weight of salmon nets at a warehouse on the Shetland Islands, Scotland prior to dispatch.
Grieg already utilises SP load cells and wireless handheld readers in varied lifting applications across its sea farm sites, hatcheries and process plants, at the aforementioned site at the Greenhead base, in addition to Skye (also Scotland), Norway, and Canada. The most recently acquired load cell will principally work beneath the hook of a mounted hydraulic operated crane (MHOC) on a fixed pedestal—a 10t capacity PK 23500.
However, another crane, a PK 42502, is fitted to a Scania R500 Class 1 lorry that also picks up from the facility, while any of the company's fleet of workboats can dock alongside the net store and crew attach the load cell to deck cranes if they don't already have one onboard. The vessel Commander, for example, is fitted with a PK 50002 and always carries an SP load cell in its inventory.
Mark Davies, health and safety trainer at Grieg, said: "The net store is a large warehouse on an industrial base, where our nets are checked, repaired, stored and weighed before dispatch. This weight is marked on a label, so our truck driver and boat crew are aware of the weight they will be lifting and handling. We weigh full nets [at Greenhead] but also measure them in bites or sections when changing or removing them at sea."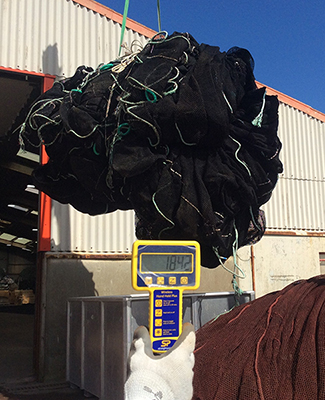 He added: "We only use SP load cells, currently employed on 12 sea-sites and approx. 10 onshore bases and storage facilities. We have to ensure our operations conform with LOLER [Lifting Operations and Lifting Equipment Regulations 1998]. The aquaculture industry is required to conduct lift plans and measure loads in relation to nets, anchors, fish feed, boats, pipes, and gas quads to name just a handful of loads we commonly encounter."
Beyond a 20-plus fleet of cranes Grieg (UK) operates capstan winches, forklifts, telehandlers, and pallet stackers. A veteran of the industry, and commercial diver, Davies delivers a variety of courses including those on banksmen, life jackets, and fall arrest equipment. He would like to see load cells become ubiquitous in the aquaculture and all marine marketplaces, including with telehandler and forklift operations.
The Radiolink plus is SP's best-selling product, designed to be rigged with Crosby standard shackles. The wireless tension load cell is capable of weighing and dynamic load monitoring in capacities from 1t to 500t, from stock. It is available in a long range, 2.4GHz version, providing 700m or 2,300 ft. range to the manufacturer's SW-HHP handheld or wireless software; or in Bluetooth that can be connected to any smart phone running SP's free HHP app on iOS or Android, at ranges up to 100m or 328ft. Zone 0, 1 and 2 ATEX and IECEx versions are available.
Davies said: "The Radiolink has added safety and efficiency to our operations. The handheld device means we can take accurate, real-time readings at a safe distance and document them for whatever our requirements are at that time. It might be that we need to cross-check with a lift plan the weight of a salmon cage grid buoy anchored to the seabed—vital information given our cranes' varied capacities depending on the radius at which they have to work."
---
Details

Written by

Administrator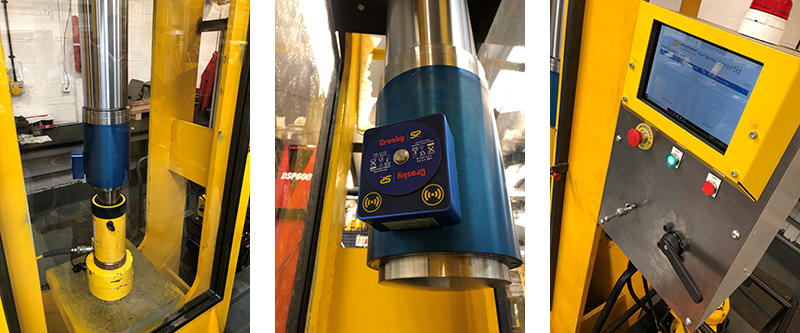 A 300t capacity Straightpoint (SP) compression load cell is recording data on Worlifts' newest Samson COMP-300T-DTR machine that tests hydraulic cylinders and jacks.
Worlifts provides a range of services related to the supply, hire, maintenance, test and repair of high-pressure hydraulic tools and other lifting and rigging equipment. It has a current fleet of testing machines but recently overhauled its Bromsgrove, Worcestershire, UK facility to better utilise its centrepiece, 500t capacity unit, which tests both the company's own equipment from the hire fleet plus customers' jacks and cylinders.
Paul Smith, sales director at Worlifts, said: "We decided that we needed to modernise and upgrade our testing facilities to allow us to carry out testing more efficiently and to a larger capacity—all in one test machine. The focal point of this initiative was to increase our capacity to 500t statically and incorporate the load cell for dynamic testing. Previously, we used two machines and reaction beams so we have significantly enhanced the operation with the upgrade."
Smith explained that the load cell, which is screwed into position, is easily removed for high-capacity, static tests or others where such technology isn't required. Additionally, Worlifts plans to implement a quick-release mechanism in the near future that will enhance its use even further. The load cell can also play an integral role in completion of independent compression tests to fabricated components and steel fixtures.
Smith said: "We have already noted the positive impact the upgrade has had on the operation and we anticipate continued utilisation. There are many reasons why hydraulic cylinders and jacks might need to be tested including annual examination, repair, specifications, certification, etc. That status quo will remain but we have greatly enhanced—technologically and mechanically—the way we are able to respond to that varied demand."
SP's compression load cells boast a number of standout features, including manufacture from high-grade stainless steel, internal antennae wireless range of 700m (or 2,300 ft.), and operation with standard AA batteries. The range is easily connected via a USB dongle to SP's iOS and Android app or to its SW-HHP wireless handheld display. In Worlifts' case, readings are taken on a tablet that is panel-mounted on the machine. It uses SP's state-of-the-art software to capture those readings and produce reports as required based on preference or customer demand.
---
Details

Written by

Administrator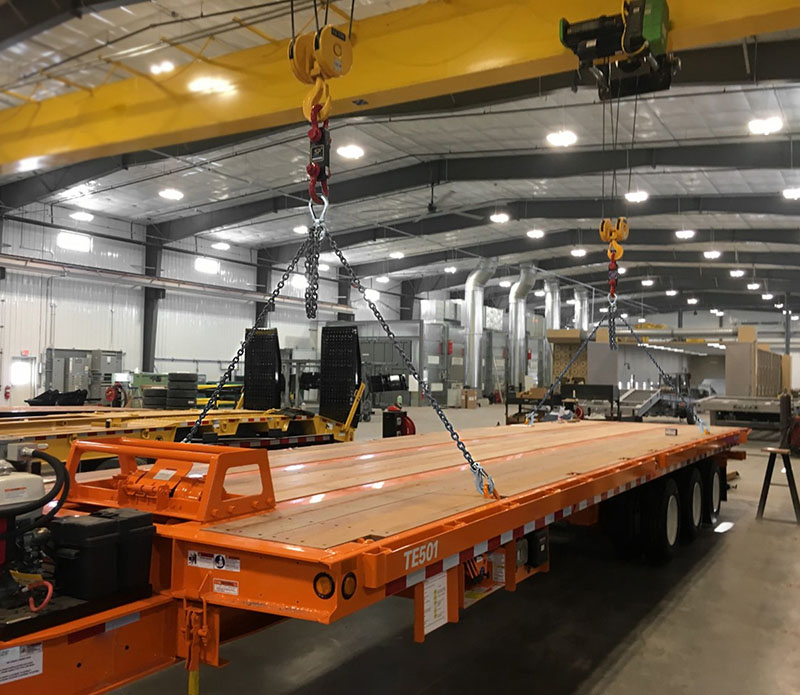 Trail-Eze Inc., a Mitchell, South Dakota-based manufacturer of heavy equipment trailers, has put two 13-ton capacity Straightpoint (SP) Radiolink plus load cells at the heart of material handling operations at its new, state-of-the-art facility.
Trail-Eze specializes in production of sliding axle, hydraulic tail, and detach trailers to assist customers in efficiently and safely moving equipment on the road. The third generation, family-owned business recently opened the new site at headquarters, which is now one of three central South Dakota facilities—in Mitchell, Corsica, and Platte—where it fabricates trailers from start to finish.
Nate Tapio, operations manager at Trail-Eze, said: "Opening the new facility marks the culmination of years of research and development into the latest painting and finishing technology. The site allows us to consolidate the final stages of our production under one roof. The dynamometers are integral to a technologically-advanced operating environment; the software is easily customized to our needs, the products are user-friendly, and they save us time on every trailer."
The new, 41,000 sq. ft. building has been custom-designed for the final stages of trailer manufacture; blasting, painting, wood decking, and final inspection are principle tasks. Two 7.5-ton capacity overhead cranes with a 92-ft. span cover most of the 100 ft.-wide, free span building, while a single 15-ton, double-hoist crane has a span of 60 ft. The remote-controlled cranes, fitted with Stahl CraneSystems hoists, were fabricated by Global Crane and installed by Orion Rigging. They lift loads in a variety of sizes and weights, which are now accurately monitored by SP's equipment.
Tapio said: "We actually discovered the SP solutions through our local lifting and rigging equipment supplier, Dakota Riggers. They knew we were seeking a method to generate an accurate weight of pieces and whole trailers we produce; this is important for our manufacturing processes and our customers."
He added: "This is the first time we have utilized any of their products but we've been impressed. Previously our methods were inconsistent and time-consuming. Now, we can quickly and accurately get a weight on every trailer."
The Radiolink plus is SP's best-selling dynamometer, designed to be rigged with Crosby standard shackles. The wireless tension load cell is capable of weighing and dynamic load monitoring in capacities from 1t to 500t, from stock. It is available in a long range, 2.4GHz version, providing 700m or 2,300 ft. range to the manufacturer's SW-HHP handheld or wireless software, or in Bluetooth that can be connected to any smart phone running SP's free HHP app on iOS or Android at ranges up to 100m or 328ft.
---