News & Case Studies
Details

Written by

Administrator
SP Appoints New Marketing Executive
Straightpoint (SP) has named Phil Roch marketing executive, as the load cell manufacturer looks to leverage his extensive expertise in technical content, videography and events.
Roch, who has an entertainment technology degree, brings a wealth of experience to the company, most recently as marketing and technical content producer in the security technology sector. He has enhanced previous employers' visibility through written materials, a variety of videos, and events of all types, including those that engaged audiences in the aviation and naval sectors. SP is noted for its growing presence in the aforementioned sectors among a multitude of others.
Roch said: "SP is already an effective communicator with a proven track record of successfully engaging its many markets across the world. However, it identified an opportunity to expand the marketing team and add breadth to the volume of content and the platforms on which it is shared, whilst retaining certain hallmarks in quality and tone."
Early written projects are likely to include content for the constantly evolving website and documentation to enhance the sales team's endeavours. With the majority of online content being consumed by video—a trend that is set to continue—Roch will also overhaul the way SP currently communicates via the popular medium.
He said: "SP has already had some success through video and my aim is to build on that initial presence. Over 80% of online traffic currently is video, which demonstrates the potential. Audiences can expect to see more promotional, elemental and instructional videos, in addition to talking head-style pieces and interviews with the company's leading figures."
Trade media has already reported extensively on SP's intentions to exhibit at a record number of events in 2018. While Roch will support this promotional activity, he is also expected to use the firm's Havant, Hampshire headquarters as a platform to showcase product and expertise to selected target audiences.
He explained: "One of the most effective ways of building trust in a manufacturer and increasing awareness about its product range is to invite people to visit a facility and see the operation first hand. We can supplement such visits with tailored presentations and other content to ensure individuals or delegations leave with a mindful of knowledge and key takeaways."
Roch hopes to harness the power of a world-class workspace that was an appeal to him when he considered the position. He said: "My first impressions of all departments of the company, from the new machine shop to the offices next-door, were that it is an extremely well organised operation. Upon joining the company and meeting the team, it's further apparent that SP has a super-engaged workforce, passionate about the products and its customers. There's a terrific atmosphere [here] and I'm excited about showcasing that to a greater number of people over the coming months."
David Ayling, director at SP, said: "We see ourselves as pioneers in our sector and a key component of retaining thought leadership status is communicating on a regular and multifaceted basis with existing contacts in addition to prospective partners and customers. It's going to be interesting to follow Phil's content and marketing pathways to that end."
Roch, who joins Tanya Gregory in the marketing team, can be contacted at This email address is being protected from spambots. You need JavaScript enabled to view it.
---
Details

Written by

Administrator
SP Adds Distance Measurement Tool to Product Range
Construction and other professionals can now measure force, load and distance with Straightpoint (SP) products, as the Hampshire, UK-based manufacturer launches the Wireless Linear Displacement Transducer (WLDT).
SP already boasts a comprehensive range of force measurement and load cell products, which is now complemented by a new tool, available in stroke lengths from 25mm (1 in.) to 200mm (8 in.) that can accurately measure displacement or movement in a variety of applications presented by the construction, civil engineering, aerospace and other sectors.
David Ayling, director at SP, said: "Like many products in our range, the WLDT hits the market in response to demand. There are many instances where an end user is measuring force or load and has a desire to measure distance as well. They might want to know how high something has been jacked up or to what extent a building has shifted, for example."
The WLDT is a robust, absolutely linear position / displacement transducer and is inherently frictionless, presenting a mean time between failures (MTBF) in excess of 100 million cycles when properly used. An eye at each end of the transducer enables the sensor to be quickly and accurately positioned in place and connected to SP's Multiple Wireless Load Cell Controller (SW-MWLC) software package. It is also supplied with SP's SA700C wireless transmitter.
Ayling highlighted two product features, beyond its appeal as a wireless versus cabled solution: first, its plug-and-play capability; and, second, its compatibility with SP's renowned software, suiting it to civil engineers; positional control applications; research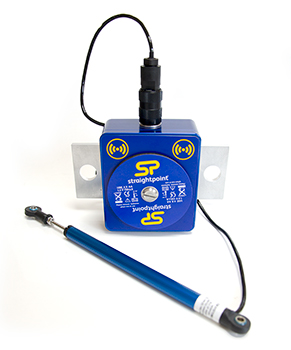 and development testing; lifting or spreader beam testing; aerospace system integration; and hydraulic or jacking work.
He said: "There are other options for professionals looking to apply distance measurement technology, but most will require sourcing of a separate transmitter, calibration and other labour just to set them up. Like previous SP products, the WLDT is ready to go. Further, consider the extent of the data that can be captured and logged; users can chart load versus displacement and present information in graphs and other infographics."
As industry has already noted, SP's software package is a versatile, user friendly, wireless load cell control, display and data-logging tool designed for use on the Windows PC platforms, Vista, Win 7, 8 and 10. It allows simultaneous, wireless communication between SP products and a Windows PC. A resizable window displays a table of up to 100 wireless load cell channels of live data.
Ayling concluded: "Perhaps a user will start with a requirement to move something a specific distance—say, when jacking a bridge—and arrive at the WLDT as a solution. Based on the extent of enquiries we received, we have built up stock levels in anticipation of global demand for the latest addition to the SP portfolio."
---
Details

Written by

Administrator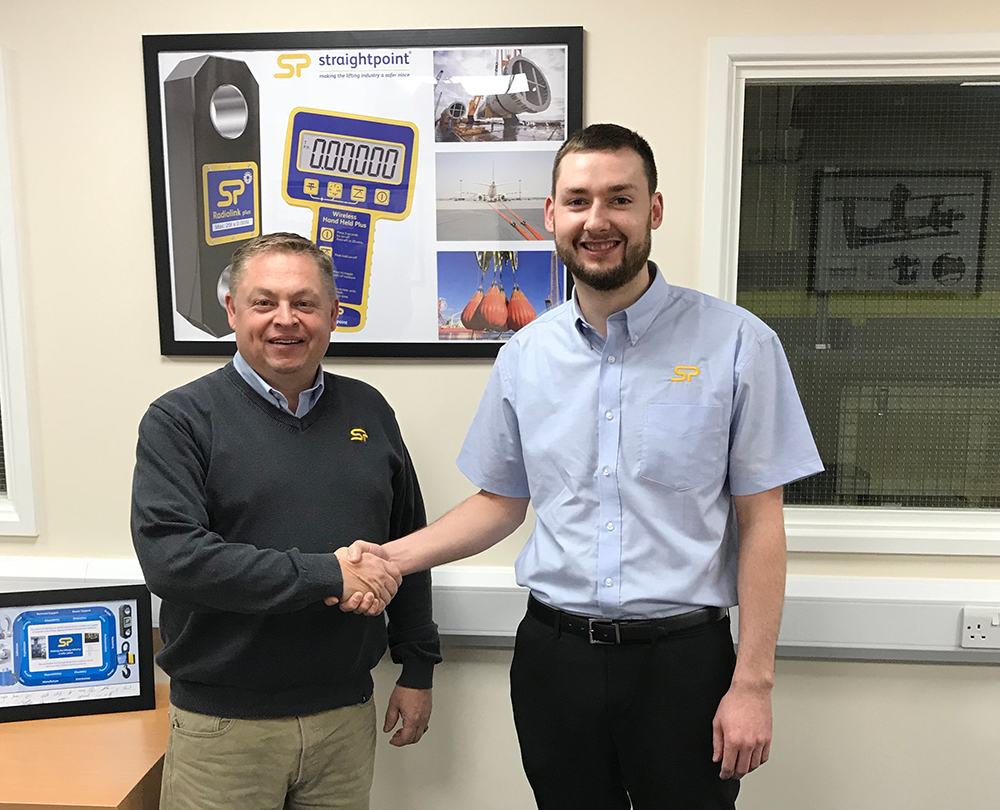 SP Names Scotland-Based Technical Sales Engineer
Straightpoint (SP) has recruited load cell expert Kyle Milne from Scotload; he joins as technical sales engineer based in Aberdeen, Scotland. Milne brings a wealth of relevant experience, having joined the lifting industry as an apprentice almost a decade ago.
Milne, who started his new role on 4 December, will be responsible for selling SP's extensive range of equipment to professionals in the oil and gas, renewables, construction, break bulk, shipping, marine and other industries.
David Ayling, director at SP, said: "Upon hearing of Kyle's availability, I was keen to explore the possibility of him leading our endeavours to raise our profile, and market share, in the important Aberdeen marketplace. I was already familiar with Kyle, having spent time with him at numerous business events over the years, and have been a long-time admirer of his passion for his customers and this industry. He was receptive to my approach and we're both equally excited about the mutual opportunity that's presented itself."
Milne said: "I have been well aware of the SP range for a long time and know the products to be well renowned in industry. However, what became further apparent only upon visiting the headquarters and meeting more representatives was the team spirit and passion behind the operation. It's a people centric environment and everyone was happy to be in the workplace, which was refreshing."
He added: "It was also clearer how the ownership and management structure at the business allows SP to respond to trends and industry demand. Where product enhancement is concerned, it is advantageous to have a culture where game-changing innovations can be brought to market in a timely fashion."
A consequence of this is SP's increasingly diverse range of equipment that Milne is enthused about representing in his market. He pointed to the newly launched Wireless Linear Displacement Transducer (WLDT), which accurately measures displacement or movement; and the Clamp On Line Tensionmeter (or COLT), used for measuring tension on static lines, as two examples.
Milne added: "I was impressed by SP's in-house manufacturing and machining capability to which these innovations can be attributed. We can deliver custom solutions, like load pins, on a tight deadline. I am confident that I can leverage existing expertise on force measurement technology to successfully promote the full range of SP products."
Warming market conditions in Aberdeen also encourages Milne. He said: "We can forget about the oil price returning to $100-a-barrel any time soon, but we're seeing all the indicators of improving conditions, including major projects coming online, redundancy rates slowing and businesses recruiting. Next year looks altogether brighter."
---
Details

Written by

Administrator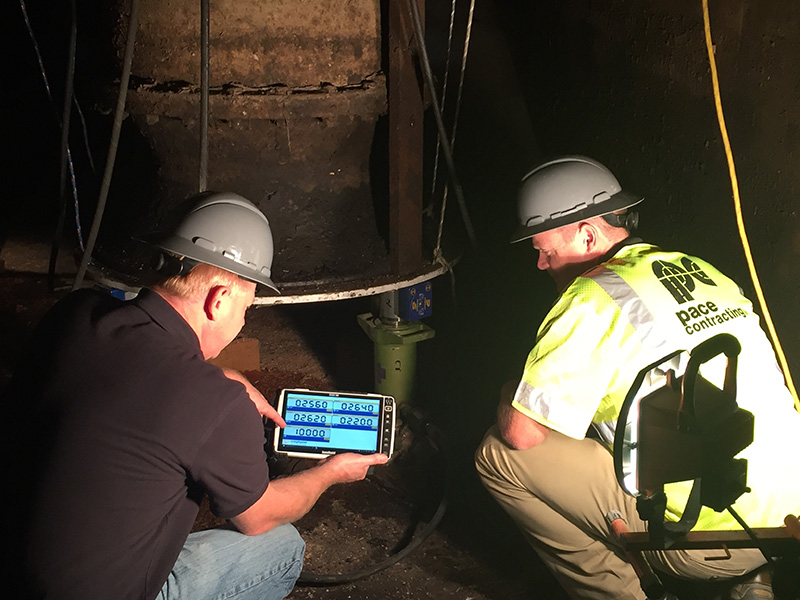 LGH Supplies SP Load Cells for Turbine Pump Project
Construction company Pace Contracting recently completed removal and installation of three vertical turbine pumps, used in emergency flooding situations in downtown Louisville, Kentucky. Integral to the project were four 50-ton capacity Straightpoint (SP) wireless compression load cells supplied by Lifting Gear Hire (LGH).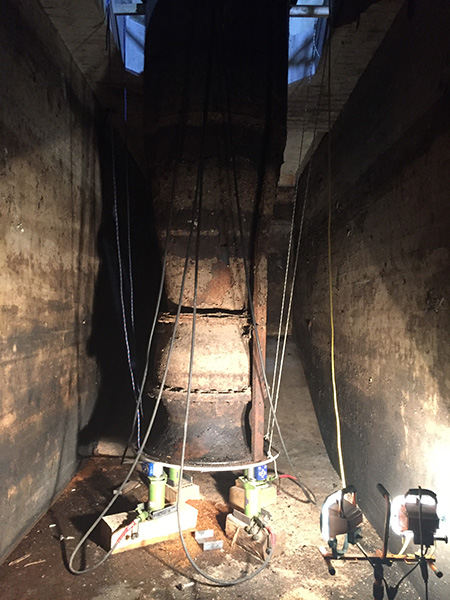 Pace accepted a scope of work from the Metropolitan St. Louis Sewer District (MSD), which partners with 59 municipalities (co-permittees) to comply with storm-water permit requirements for the St. Louis Metropolitan Small Municipal Separate Storm Sewer System. MSD charged Pace with jacking and remounting new replacement flood pumps, having removed the old units.
LGH provided from its hire fleet the load cells along with SP software (SW-MWLC) and a rugged tablet. Pace also utilized a 10t capacity air hoist from LGH and a 12-ton hoist on a gantry crane that was permanently installed in the building above the pumps. The pump columns were designed to be installed in five sections, with a total weight of 28,350 lbs., which exceeded the capacity of the 12-ton crane.
Michael Bryant, project manager at Pace Contracting, said: "Therefore, we had to utilize the hydraulic rams on the bottom of the pump to support the weight of four sections while the crane installed the fifth and final section on the main floor. Once that piece was installed the lower four sections were raised up, using the hydraulic rams, so the pump could be bolted together. The load cells were very useful because they helped us keep the center of gravity for the lower section of the pump centered, preventing it from tipping over."
Dan Tobin, heavy rigging and lifting OSR at LGH, explained that two major complications on the project were caused by this offset center of gravity and the fact that the physical line of sight for the last 12 in. to 18 in. of the jacking process was lost once the pump assemblies were in place.
The offset center of gravity on the 3.5-ft. diameter structures was due to a discharge elbow midway up the suction tube assembly. As explained, the solution was to employ the load cells atop four LGH hydraulic rams, which sat on timber blocks, to weigh the 35-ft. suction tube and pump as it was assembled.
"We used the tare weight mode and set the weight sensitivity scale down to 20 lbs. per jack point; we also programmed the alarm mode for additional safety," Tobin said.
Pace safely jacked the last part of the entire assembly by using SP's 2D center of gravity function to align the flange holes to the roof studs, despite only 0.5 in. of tolerance. Tobin said he was familiar with the concept following consultation with Wayne Wille, technical sales manager at SP, who introduced him to the ability of the product to display live, clear readings, featuring 2D center of gravity, on a handheld device.
He added: "I immediately saw the potential for new and existing LGH rental customers and this application served as a case study that we'll use to further demonstrate that capability."
Both operator and crew were safely out of harm's way to complete all three jacking jobs. "The complete solution was covered by a three-week rental and saved over a week in additional labor costs," Tobin said.
Bryant concluded: "We were satisfied with the solution presented by LGH; the SP equipment was easy to use and truly plug-and-play. We were grateful for the technology and expertise, given inherent complications with working around the two-story building in a downtown environment, whilst working 50 ft. below ground level."
---
Details

Written by

Administrator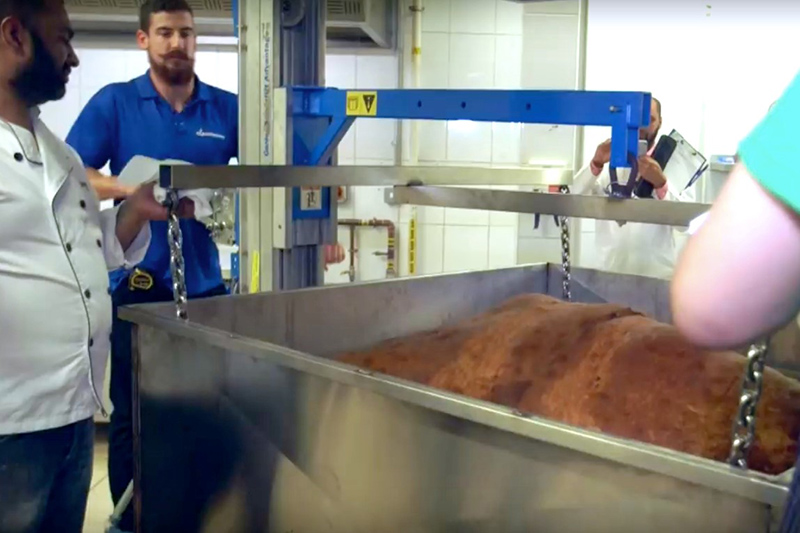 Concord Lifting and SP Combine to Lift, Weigh Record Samosa
Lifting equipment, including a custom below-the-hook rig and load cell, was integral to a successful Guinness World Record attempt by humanitarian charity Muslim Aid, which claimed the title for the largest samosa, weighing in at 153.1kg.
The attempt took place in the summer (August) at a mosque in East London, UK and official adjudicator Pravin Patel was on hand to judge the culinary feat. While the attempt presented a number of obvious challenges, Muslim Aid also had to find a solution for lifting the giant samosa for cooking and provide an accurate means of measurement.
It looked to Concord Lifting Equipment, which supplied a Genie Superlift Advantage, boasting load capacities to 454kg and lifting height to 7.49m. The manually operated material lift is compact and portable, allowing it to be rolled through the mosque doors in an upright position. The system is durable, yet requires no tooling for setup.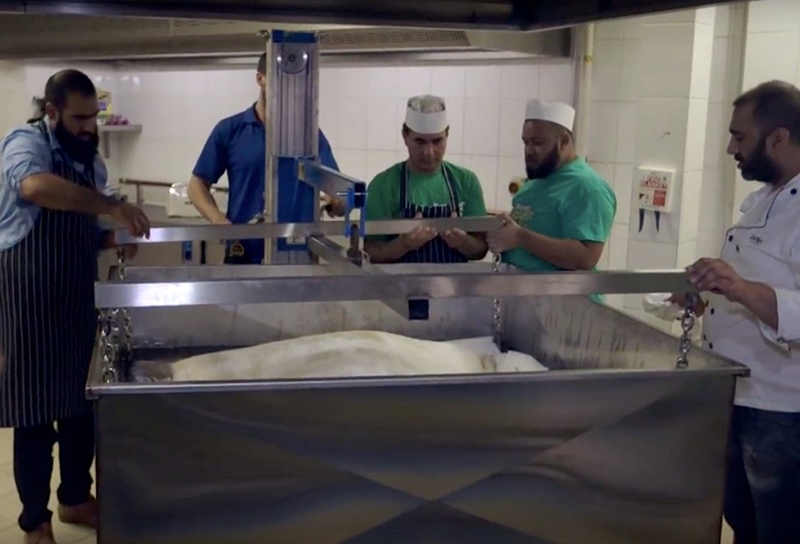 The Superlift combined with a custom fabricated, aluminium lifting frame that housed the samosa for lowering it into hot oil for cooking. The cooking team also had to source a custom deep fat fryer for the attempt as the massive pastry would have been too heavy to fit in a regular, commercially available one. A total of 12 volunteers from Muslim Aid took 15 hours from start to finish to create the super-sized dish.
They broke a record previously set by Bradford College, which cooked up a samosa weighing 110.8kg back in 2012. To record the winning measurement, Concord sourced a Miniweigher plus crane scale from Straightpoint (SP), suited to the application due to its high accuracy, compact size and extreme portability.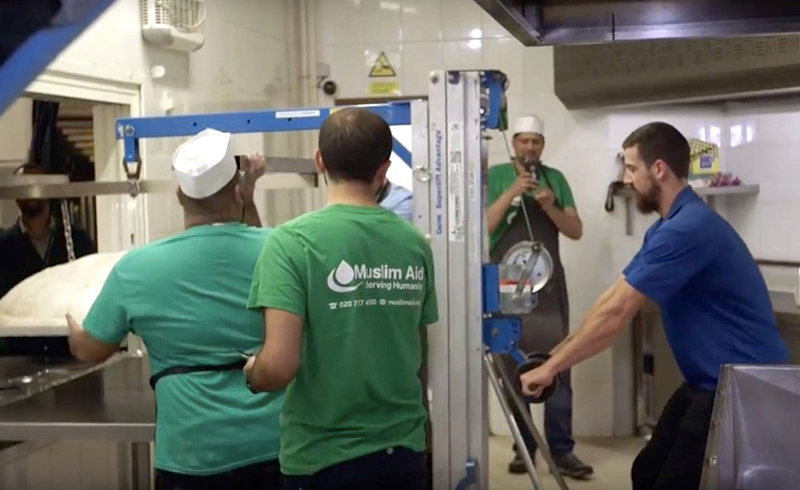 David Mullard, business development manager at SP, said: "Concord approached us about a product that would weigh the samosa on their machine, asking specifically for something about 250kg in capacity to a high level of accuracy—.1 of a kilogram. A Loadlink or Radiolink are more typically suited to higher capacities or bigger machines, so the smaller, more precise option was chosen."
The Miniweigher plus features full function push button controls for tare, choice of units (lbs, kg, kN and tonnes), peak hold, preset tare, audible set-point alarm and an overload counter. Advanced microprocessor-based electronics provide it with high-speed read rates, extreme resistance to industrial level noise and unprecedented stability.
"We wanted to make a larger-than-ever version of this popular food to demonstrate visually how people of the Muslim faith work tirelessly throughout the year, and particularly during Eid, doing charitable acts to support the unfortunate in the community around them and further afield," said Muslim Aid's Zac Hussain.
The samosa consisted of 100kg of potatoes, 25kg of onion, 15kg of peas, plus 44kg of flour and traditional Indian spices.
---