News & Case Studies
Details

Written by

Administrator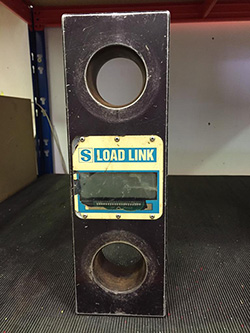 Polish marine electronics integration specialist Navinord has installed a state-of-the-art software package that includes four Straightpoint (SP) load cells on a 440t capacity floating crane, which is currently based near the Third Millennium John Paul II Bridge spanning the Martwa Wisła River in Gdansk, Poland.
Its new owner renovated the crane, originally named "Consulado De Bilbao Dos" when it was built in Bilbao, Spain in 1971, last year. It is now bi-located at Marine Projects Ltd.'s shipyards in Gdansk and approx. 20km further north in Gdynia. The crane is currently known as "Conrad Consul", taking half of its name from Marine Projects' daughter company Conrad S.A., which specialises in the production and delivery of complete luxury sail and motor yachts.
Consul boasts two pairs of hooks, two of 100t capacity at the front and two bigger 200t capacity units behind them. However, its overall capacity is only 440t as, while four hooks can be utilised for a single lift, not all of them can lift to their full capacity at the same time. On each hook is an SP 25t capacity Radiolink plus load cell, each of which was installed during the major refurbishment of the crane last summer.
Navinord's load monitoring system—LMSmk1—is capable of gathering data from up to 16 strain gauges, explained Piotr Cywiński, marine electronics specialist at Navinord, also headquartered near Gdansk.
In addition to the four SP units, two other devices feedback on boom line forces. All devices feed data to a master computer that can be read remotely, over the internet, and / or in Consul's cab. The system also provides error notifications; generation of information graphs covering designated time periods; and customisable interface colours.
There are many other features of the crane itself besides, said Cywiński. Consul is equipped with navigation and communication devices, primarily for use in marine salvage, ship emergency response service (SERS), and wreck removal applications. Meanwhile, CCTV facilitates lifts out of the line of sight when it is necessary to work, say, inside a cargo haul or when another vessel might be obscuring the operator's vision.
Consul is powered by two Voith Schneider propellers that provide propulsion and steering in one unit, while a new generator, power converters, chain blocks, lifting ropes, glass wheelhouse, and steering consoles were among other new installations.
There are two other, similar floating cranes in the region—the 330t capacity Maja and 100t capacity Conrad Goliath (the latter also belongs to Marine Projects)—but Consul is the largest. While it is primarily engaged in lifting activities in Gdansk and Gdynia, it is also capable of open sea voyages, making ports elsewhere in Poland and Lithuania accessible.
---
Details

Written by

Administrator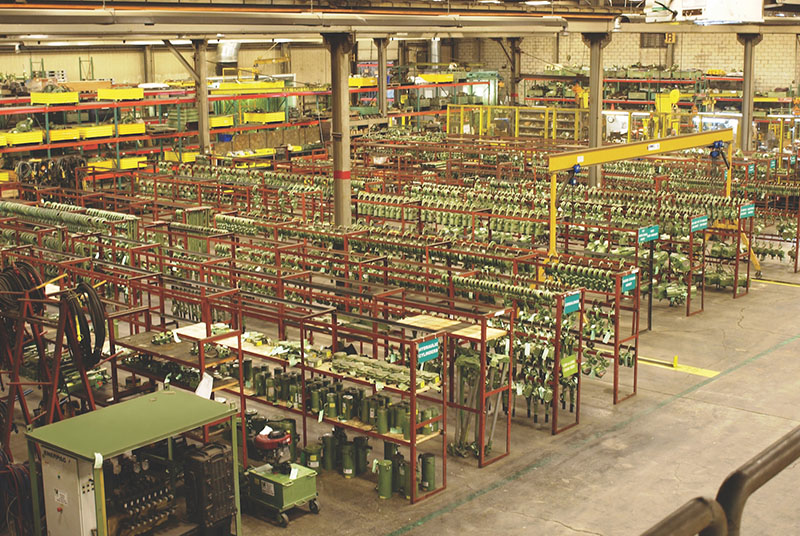 U.S. lifting equipment rental specialist Lifting Gear Hire (LGH) has initiated a major overhaul of its load cell fleet and placed a landmark order for manufacturer Straightpoint's (SP) Radiolink plus units up to 220,000 lbs. in capacity.
The order, the value of which is not disclosed, will be delivered in a piecemeal fashion over a two-to-three-year period and will result in 23 LGH rental facilities in the U.S. and Canada stocking exclusively SP product. The Radiolink plus, which is the UK manufacturer's top selling load cell, is capable of both weighing and dynamic load monitoring and is suited to a myriad of applications.
LGH will take a variety of models, including standard long-range (2,300 ft. or 700m) wireless versions and a number of Bluetooth units, predominantly for internal use. SP only recently updated its Bluetooth capability and launched an enhanced version of its popular app. The upgrade from Bluetooth 4.1 to 4.2 facilitated two standout improvements over the original version, namely increased range and the volume of smart devices that can be connected to a load cell.
Tony Fiscelli, president at LGH, said: "We always look for the best and most reliable product manufacturers; we feel SP falls directly in line with those high standards. Put simply, we feel they are the leader in the business sector they perform in. We look at both our vendors and customers as true partners. We value and cherish the relationships at all levels of our supply chain."
The switch to SP follows LGH's use of its wireless compression load cells, which offer the same range and cable-less benefits as the aforementioned Radiolink plus products. Additionally, LGH operations in mainland Europe and the UK have recently committed to SP's range of force measurement products and reported on their robustness and suitability to rental applications.
Dan Pittman, business sales manager at LGH, acknowledged that constant evolution of the SP range was a key factor in partnering with the manufacturer. David Ayling, director at SP, said: "Recognition of our commitment to innovation and customer-driven improvement from a rental powerhouse such as LGH is testament to our ongoing success in providing load cells that make end user applications safer, more efficient, and as accurate and technologically advanced as possible."
Pittman pointed to favorable market conditions as the first shipments arrive on U.S. soil. He said: "Business is good and the economy is growing. The forecast for the next several years gives us much cause for optimism. Heavy commercial and industrial construction are certainly marketplaces to note, and U.S. infrastructure projects will continue to require accurate information about the varied loads they lift on a daily basis."
SP will continue to supply load cells through its existing and extensive North American distribution network.
Pictured: The order will result in 23 LGH rental facilities in the U.S. and Canada stocking exclusively SP load cells. This is LGH's Bridgeview, IL rental center.
---
Details

Written by

Administrator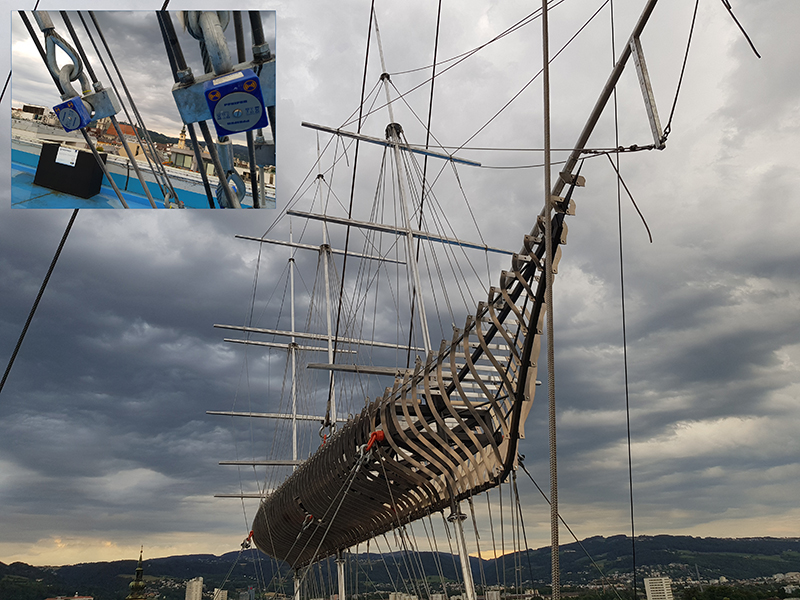 Pictured: Connection points (orange in colour in the photos) on the ship form the main rigging areas for the complex suspension project. Six 12t capacity and six 25t capacity load shackles were supplied by SP distributor Pfeifer. The load shackles were rigged strategically to communicate data via SP's software package.
A series of 12t and 25t capacity wireless Straightpoint (SP) load shackles are monitoring loads on wire ropes supporting a 2t steel ship, suspended above the city of Linz in Austria, to symbolise the water-themed Höhenrausch cultural project, which runs from May to October this year.
Six 12t capacity and six 25t capacity load shackles were supplied by SP distributor Pfeifer, which partnered with a local engineering company to create the spectacle atop a parking area in the country's culture-centric region. The ship is 21m long, 18m wide and "flies" at around 81m, suspended in part by a wooden tower that was originally erected in 2009 for this exhibition.
Pfeifer, a specialist in the provision of ropes for construction, entertainment, and other projects, said: "The load shackles constantly monitor and provide information about the loads. Safety is of paramount importance because the ship is suspended above an area where pedestrians view the exhibit. It was a landmark, custom project, befitting of the cultural significance of the event."
The hull of the ship was lifted by mobile crane in one piece; the three masts were raised individually and then attached to the structure. Connection points (orange in colour in the photos) on the ship form the main rigging areas for the complex suspension project. The load shackles were rigged strategically to communicate data via SP's Multiple Wireless Load Cell Controller (SW-MWLC) software package, designed for use on a multitude of platforms.
David Mullard, business development manager at SP, explained that the operator reads the data on a laptop in a central control station. "SW-MWLC software is used to monitor the load shackles for overloads in the rigging wires for safety reasons as visitors are able to walk directly underneath the flying boat," he said. "The load isn't necessarily dynamic but with wind shear the loads would certainly change. Unlike many scenarios, here the load shackles are monitoring the in-situ rigging tensions during the exhibition rather than for the lifting operation itself."
Mullard highlighted key features of SP's wireless load shackles including their suitability to limited headroom applications. Each load shackle is proof tested and equipped with a hard anodised aluminium electronics enclosure containing a new internal chassis providing IP67 / NEMA6 environmental protection even with the battery cover plate missing. End users benefit from a range of 700m or 2,300 ft, he added.
---
Details

Written by

Administrator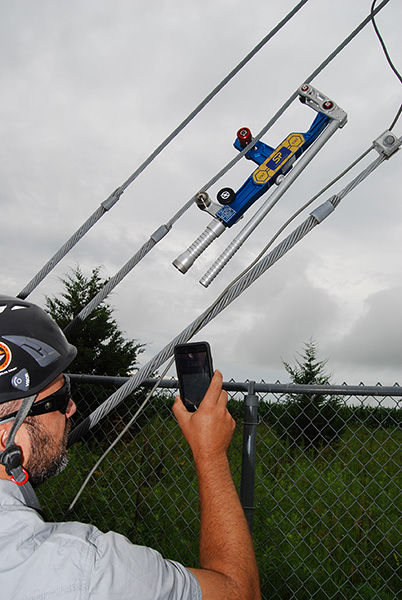 Tower erection, maintenance, and service professionals have welcomed the release of an updated version of Straightpoint's (SP) popular product for measuring tension on static lines—the Clamp On Line Tensionmeter (or COLT). Updates to the accompanying Bluetooth load-monitoring app are among a host of new features.
The COLT measures tension on wire rope up to 11,000 lbf (lb. force) / 5,000 kgf (kg force) and up to 1 in. / 25mm diameter. It clamps onto pre-tensioned wire ropes, eliminating the need for additional sheaves or tooling, as is the case with alternative solutions. An integral Bluetooth module, meanwhile, transmits tension data wirelessly to any smart device running the Android or iOS app that also contains an infinite wire rope library. Tension in wire ropes can be measured and logged within a few seconds.
Given the nature of work in this sector, where wind and other elements are of critical concern, a notable feature of the updated COLT is its ability to automatically fetch local weather conditions (temperature, wind speed, and wind direction), which is added to the data in the logging report, available on a cell phone or smart device. This is in addition to the app already grabbing GPS coordinates.
In fact, said David Ayling, director at SP, this is the new version's standout enhancement. He explained: "Professionals in this challenging market need to be acutely aware of all hazards that might impact their work; it is a very dynamic environment. Foundations, corrosion, structural overloading, climb path obstructions, weather conditions, and much more must be monitored, logged, and accounted for. The technologically advanced COLT helps in some of these important areas and adds traceability, which is tantamount to safety."
Ayling also pointed to a mechanical improvement to the product; enhancements to the sheave offer users even greater performance, repeatability, and accuracy, he said. Additional features are electronic and include a color-coded, wire rope database, coded to aid navigation; the ability to save a logging file as .pdf or .csv; simulate mode added to allow training and experimentation whilst in the app; a counter facility added for customers using the calibration verification rod or continuously variable transmission; and an additional datalogging facility that averages out a number of readings.
Wayne Wille, national business development manager at SP, said: "These are excellent enhancements to an already great product. They are features that our customers have asked for—and we've delivered."
The COLT has already excelled in the field including applications involving tower and stack guy wires; pretensioned cable barriers; zip lines, bridges; elevators; winch rope; overhead electric transit wires; fall arrest systems; aircraft cables; and utilities projects. As expected, it has been most widely utilized in North American markets but is consumed in other geographies and is available through SP's global dealer network.
---
Details

Written by

Administrator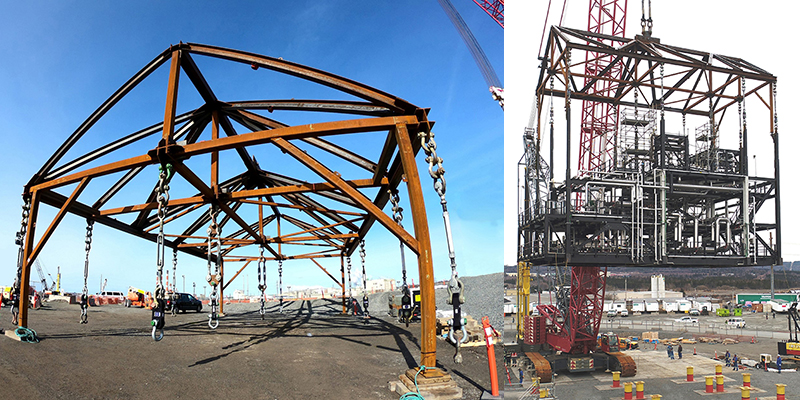 A dozen wireless Straightpoint (SP) load cells were added to a custom-built lifting frame that utilized 12 pick points to raise a pair of non-identical refinery modules at a major brownfield project at Saint John in New Brunswick, Canada recently.
The 100-tonne capacity Radiolink plus dynamometers were provided by Stoney Creek, Ontario-based Equipment Corps Inc., which delivered the load monitoring solution to Irving Equipment, headquartered in Saint John. The latter also provided the Demag CC2800 crawler crane, equipped with a superlift. The equipment combined to complete a key phase of the oil refinery project, where a new processing unit was being installed.
Once Irving had designed and fabricated the customized lifting frame, based on the refinery's specifications, it needed a method of monitoring the loads so they could be certain that the forces generated during the lift did not exceed the design criteria; the modules had extremely tight deflection tolerances that had to be adhered to. Further, explained Irving's Ryan Long, the height of rigging had to be kept to a minimum due to the weight of the lifts and to avoid the need for a larger crane. The frame was designed to pin directly to the hook of the Demag.
Long added: "The module was designed by the time we were introduced to the lift so deciding where the pick points should be located was a challenge. We needed to find a way to safely lift the modules, whilst conforming to the pick points that were available, which turned out to be three rows of four, including a center row, which made traditional frames and spreader beams prohibitive. Both [modules] had identical lifting points but different weights and centers of gravity. Each pick point was directly above a steel supporting column in the module and the structural design limitations of those columns differed."
Under the frame were a total of 82 55-ton shackles, 14 Crosby 2.75" turnbuckles, and four equalizer plates, in addition to the load cells. Long explained that a turnbuckle is a piece of rigging gear traditionally used in tensioning applications. They are adjustable in length by means of turning a center body around opposing screws. They are most commonly associated with utility pole guy-wires, he added.
Luke Habza, of Equipment Corps, added: "After taking a light pull with the crane, the team was first able to determine if the load ratios were approximately correct on each pick point. After adjustments were made to the turnbuckles based on the real-time readout on the tablet [utilizing SP's SW-MWLC high-speed wireless data-logging software] the lift director was able to signal the crane to take incrementally larger loads until the module was airborne and the load of each pick point was known with confidence."
Each module had been transported from a barge by Irving using 36 axle lines of self-propelled modular transporters (SPMT). Equipment Corps then placed them onto supporting stools whilst the site made final preparations. The modules were transported approximately 2.5km on land and barged another 20km prior to being landed on those stools. Irving used a team of six people for the transportation and four people to execute the lift.
---