News & Case Studies
Details

Written by

Administrator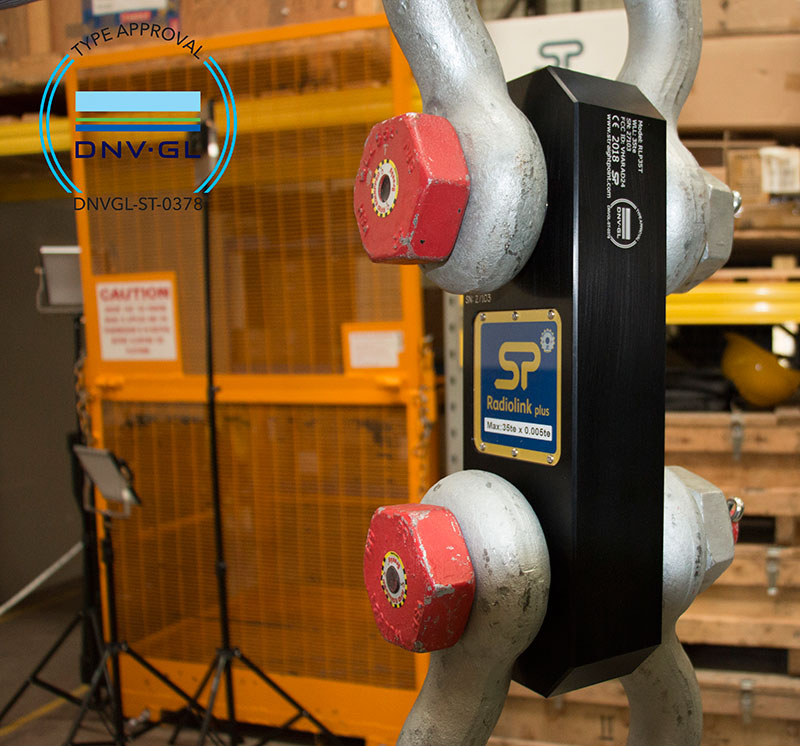 Straightpoint (SP) has received a DNV GL Type Approval Certificate, acknowledging that its equipment meets the rigorous standards of the global quality assurance and risk management company for their use offshore.
The certificate was issued in mid-March and confirms that SP's Loadlink plus, Radiolink plus and Wirelink plus products comply with DNVGL-ST-0378, the standard for offshore and platform lifting appliances. Offshore purchasing decision makers can have even greater confidence therefore in the load cells' performance on all vessels classed by DNV.
David Ayling, director at SP, said: "We already had 100% faith in our products' ability to perform even in the world's most demanding industries; that's been proven time and again. However, what DNV [approval] does is verify to end users that our entire operation, from the smelting of the aluminium we use to application of product on site, meets the requirements of an organisation that serves to safeguard life, property, and the environment."
SP has been striving towards DNV approval for 18 months, following the results of a questionnaire put to key partners that revealed overwhelming support for proceeding with the application. Additionally, other below-the-hook equipment suppliers—notably, spreader beam manufacturer Modulift—had also endorsed its value in competitive tenders and other situations.
The approval complements SP's comprehensive range of ATEX and IECEx products, which meet Zone 0, 1 and 2 hazardous area classification. Ayling noted that in many cases both DNV and explosion proof status will both be applicable, especially in the oil and gas market, which is a major consumer of SP's force measurement technologies. Through Kyle Milne, technical sales engineer, and Aaron Orsak, regional business development manager, based in offshore hotbeds in Aberdeen and Houston respectively, SP is well placed to leverage such accreditations.
Ayling said: "Kyle and Aaron are reporting back positively from their geographies and we're now even better equipped to take the opportunities increased offshore activity might create. As BP, Shell, Chevron, ExxonMobil, and others proceed with projects, it's reassuring to have a product range that, first, meets their operational criteria and, second, pre-qualifies against any likely tender specifications."
SP will raise the profile of its DNV approval at a number of trade events throughout the year, starting with the Norwegian Society of Lifting Technology (NSLT) and Offshore Mechanical Handling Equipment Committee (OMHEC)'s 23rd International Offshore Cranes & Lifting Conference, which takes place in Milne's hometown next month (April). There, new display banners and literature will be part of a product centric exhibit showcasing a myriad of relevant technologies, including the Loadlink plus, Radiolink plus and Wirelink plus.
---
Details

Written by

Administrator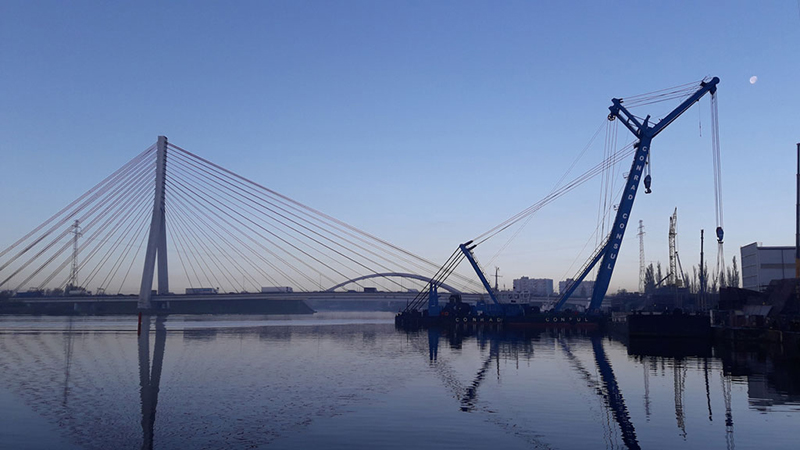 Polish marine electronics integration specialist Navinord has installed a state-of-the-art software package that includes four Straightpoint (SP) load cells on a 440t capacity floating crane, which is currently based near the Third Millennium John Paul II Bridge spanning the Martwa Wisła River in Gdansk, Poland.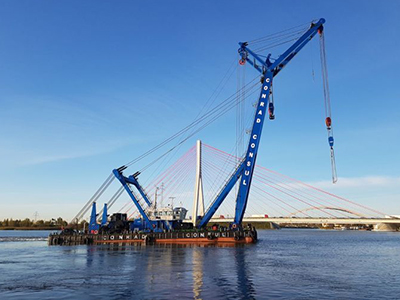 Its new owner renovated the crane, originally named "Consulado De Bilbao Dos" when it was built in Bilbao, Spain in 1971, last year. It is now bi-located at Marine Projects Ltd.'s shipyards in Gdansk and approx. 20km further north in Gdynia. The crane is currently known as "Conrad Consul", taking half of its name from Marine Projects' daughter company Conrad S.A., which specialises in the production and delivery of complete luxury sail and motor yachts.
Consul boasts two pairs of hooks, two of 100t capacity at the front and two bigger 200t capacity units behind them. However, its overall capacity is only 440t as, while four hooks can be utilised for a single lift, not all of them can lift to their full capacity at the same time. On each hook is an SP 25t capacity Radiolink plus load cell, each of which was installed during the major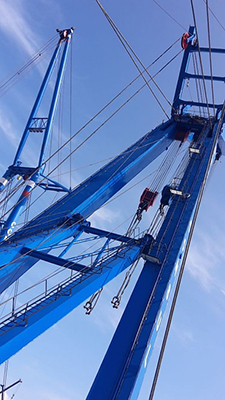 refurbishment of the crane last summer.
Navinord's load monitoring system—LMSmk1—is capable of gathering data from up to 16 strain gauges, explained Piotr Cywiński, marine electronics specialist at Navinord, also headquartered near Gdansk.
In addition to the four SP units, two other devices feedback on boom line forces. All devices feed data to a master computer that can be read remotely, over the internet, and / or in Consul's cab. The system also provides error notifications; generation of information graphs covering designated time periods; and customisable interface colours.
There are many other features of the crane itself besides, said Cywiński. Consul is equipped with navigation and communication devices, primarily for use in marine salvage, ship emergency response service (SERS), and wreck removal applications. Meanwhile, CCTV facilitates lifts out of the line of sight when it is necessary to work, say, inside a cargo haul or when another vessel might be obscuring the operator's vision.
Consul is powered by two Voith Schneider propellers that provide propulsion and steering in one unit, while a new generator, power converters, chain blocks, lifting ropes, glass wheelhouse, and steering consoles were among other new installations.
There are two other, similar floating cranes in the region—the 330t capacity Maja and 100t capacity Conrad Goliath (the latter also belongs to Marine Projects)—but Consul is the largest. While it is primarily engaged in lifting activities in Gdansk and Gdynia, it is also capable of open sea voyages, making ports elsewhere in Poland and Lithuania accessible.
---
Details

Written by

Administrator
Straightpoint (SP) will launch CableSafe, designed for measuring synthetic rope tension, at the National Association of Tower Erectors (NATE) annual event, Unite, which takes place at the Gaylord Opryland Resort & Convention Center, Nashville, Tennessee on 19-22 February.
SP debuted at the annual conference and exhibition last February, where it staged the successful launch of its Clamp On Line Tensionmeter (or COLT), used for measuring tension on static wire rope lines. CableSafe represents continued evolution of a range of equipment targeted at the broadcast and telecommunications tower erection, service, and maintenance industry.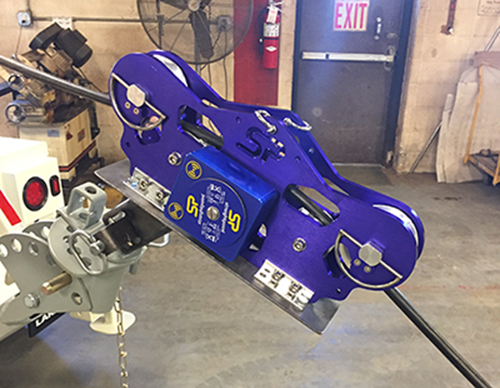 Over the last 12 months, the COLT's gaining popularity between plumb and tension professionals has been matched by an increase in demand for a smaller product for measuring tension on synthetic ropes and cable. NATE attendees will be principally interested in the CableSafe's ability to measure loads introduced into a tower, which vary with different gross loads and tag forces.
Brian Bicknese, vice president of field services at telecommunications infrastructure company Vertical Limit, said: "The line pull forces must be engineered to ensure the structural capacity of the tower is not compromised. Monitoring these loads ensures the forces introduced do not exceed certain limits, which serves as an additional safety measure in real world scenarios that may vary from rigging plans."
Wayne Wille, technical sales manager at SP, added that, in these applications, customers would typically use either 0.5 in. (13mm) or 5/8 in. (16mm) synthetic rope with the CableSafe capacity set to 1 ton.
Visitors to SP's booth (419) at NATE will learn how the product can be connected to the manufacturer's new Bluetooth app for smart devices; has two user friendly release pins for rope installation; and offers an outdoor rating of IP67 / NEMA6. The product is also suited to use with winch pulls and trailers; pulling fiber optic leader cable; water gates for dams; cranes; offshore rescue and retrieval; and, significantly, capstan load monitoring.
Capstans, utilizing a revolving cylinder for winding a rope, are used in construction and other industries to hoist and pull loads. In these applications, CableSafe monitors line pull tension to ensure cables are not over-stretched, which can result in reduced transmission capability, fire hazards, removal of damaged cable, and increased liability for contractors, as well as monitoring line pull for safe working load limits.
David Ayling, director at SP, said: "When working between floors or around tight corners in a building, it's difficult to know how much force is safe to apply to a cable; it might become snagged, for example. Further, many contractors now require proof that force did not exceed the cable's limit during installation. We have developed a solution that communicates the forces applied so adjustments can be made before damage occurs and, upon completion of the installation, a report can be supplied proving that the cable was not put under undue stress."
While CableSafe and COLT will be showcased at NATE, the former is actually more closely related to SP's other tensionmeter, the Running Line Dynamometer (or TIMH), which is designed with dockside, marine, offshore, towage and salvage applications in mind. Ayling recently confirmed that a number of enhancements have been made to the TIMH.
SP has increased the capacity of the standard range from 80t to 150t (higher capacities can still be manufactured upon request). The larger unit can accommodate 2 to 3.5 in. (52 to 89mm) wire rope, up from 1.5/8 to 2 in. (40 to 52mm). Meanwhile, the electronics have been improved so the TIMH now measures pay in / out directions and speed, in addition to tension and lineout.
---
Details

Written by

Administrator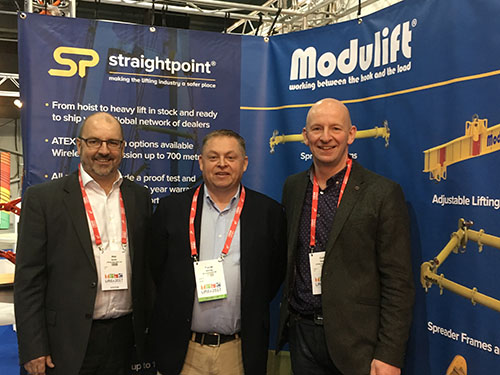 Lifting Gear Hire (LGH) has added to its fleet of load cells with a landmark order for Straightpoint (SP) Radiolink plus units, ranging in capacity from 5t to 500t. LGH will now be able to offer the highest capacity Radiolink plus load cells available for rent in Europe with a pair of 500t products.
Agreed at last year's LiftEx trade show in Telford, UK, the order also comprises pairs of load cells in 100t, 200t, and 300t capacities. Delivery of the wireless tension load cells swells LGH's fleet of force measurement technologies to over 200 units. The Radiolink plus, capable of both weighing and dynamic load monitoring, is SP's most popular product.
Phil Smith, commercial manager at LGH, said: "We prefer to deal with specialist companies and given our long-standing knowledge of the SP range, we didn't see any reason to look beyond what is a proven product. We conducted a complete review of historical data, including won and lost quotes, which enabled us to arrive at what we believe is our optimised range."
LGH has also invested heavily in a range of Green Pin wide body shackles to accessorise the new SP units. Smith added: "We actually ended up with wide body shackles throughout. Whilst this is a preference for our customers on the larger sizes—we already elected to commence the improved range of shackles at 55t capacity—we thought it beneficial to achieve consistency."
The wide body versions use a specific pin diameter that is different to the standard pins SP typically use for calibration. David Mullard, business development manager at SP, explained that to resolve this and to ensure optimum accuracy, it has adapted its calibration rig fittings so load cells can be calibrated with the same pin diameter used in the shackles. "This way we ensure that calibration conditions are as close as possible to real-world use with the safety and accuracy benefits associated with that," he said.
LGH has reacted to demand to stock the largest Radiolink plus load cells on the European rental market. Smith said: "We've received regular enquiries for this capacity load cell over the past six months, so rather than re-hire, we've committed to making the investment. Despite being a highly specialised company focusing on lifting equipment rental, we're always looking for niche products that give us an edge over competition and the 500t load cells meet that criteria."
Mullard will lead training at LGH branches that will stock the new load cells. He said the specifics of those sessions will include wireless centre of gravity software, particularly useful for planning heavy lifts and to obtain the exact centre of gravity location of an item as part of a lift plan; the Clamp On Line Tensionmeter (or COLT), for measuring tension on static lines; and the new ATEX / IECEX-approved range of load cells for use in hazardous areas.
Smith concluded: "Training on safe use, features, and benefits of the equipment is a vital component in successfully launching any new products. We hope to create the need for further units, but our next phase will most likely see some activity in the compression range."
Photo: LGH's Phil Smith (left), commercial manager, and Colin Naylor (right), managing director, either side of David Ayling, managing director, Straightpoint, at LiftEx 2017
---
Details

Written by

Administrator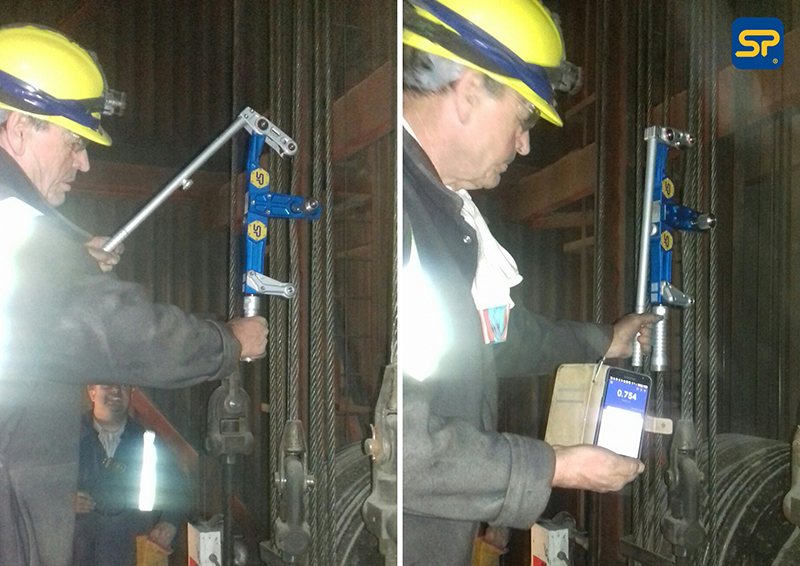 Photo: The COLT is clamped to one of eight 19mm diameter ropes, newly installed on the steel facility's elevator.
Tensology has used Straightpoint's (SP) Clamp On Line Tensionmeter (COLT) to measure tension on eight 19mm diameter ropes that lift a hulking 50t capacity elevator at a major UK steel facility.
Tensology used the COLT, which measures tension up to 11,000 lbf (lb. force) / 5,000 kgf (kg force) and up to 1 in. / 25mm diameter, to verify that each of the eight newly installed ropes were under the same tension. Any variance would have created a safety issue when the elevator was returned to work delivering materials to different levels of the steel-making factory.
The COLT was clamped onto the pre-tensioned wire ropes and the tension was directly displayed. Tensology would previously have used a statimeter to complete the task.
Barrie Mordue, director at Tensology, a provider of specialist services related to wire ropes, said: "The facility issued a contract to replace the system of ropes that was part of a complicated reeving system, including counterweights and other components. The statimeter has been used for such applications for many years but it doesn't provide a direct reading; users have to refer to a calibration graph. And it's a two-person job to install it each time."
Mordue singled out a state-of-the-art Bluetooth load monitoring app among the COLT's standout features. The Bluetooth module transmitted tension data wirelessly to Tensology's smart device running the app (available on Android or iOS), which also contains an infinite wire rope library. Tension in each rope was measured and logged within a few seconds.
He added: "The principle of the equipment is the same as more traditional methods but it is more user-friendly and efficient. The product makes contact with the wire rope at three points. Force is then applied to the rope at the centre connection point while an auto-locking, magnetic handle mechanism secures it in place. Tension data is available in real time."
The COLT boasts an integral quick adjustment mechanism, meaning it can be used to measure wire rope diameters from 3/16 in. to 1 in. or 5mm to 25mm. It also features a computer numerical control (CNC) machined aluminium construction with high precision roller bearing pivot; high leverage tensioning arm; and IP67 / NEMA6 waterproofing rating.
Other applications to which it is suited include tower and stack guy wires; pretensioned cable barriers; bridges; winch rope; overhead electric transit wires; fall arrest systems; aircraft cables; and utilities equipment.
---