News & Case Studies
Details

Written by

Administrator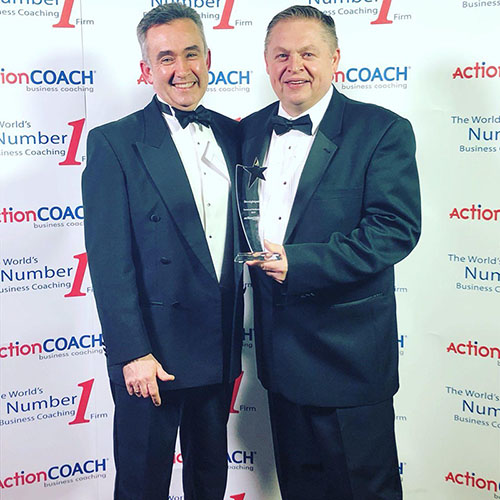 Straightpoint (SP) received the Sustained Business Performance 2017 award at Action Coach's regional annual awards ceremony, which took place at the Royal Maritime Club in Portsmouth, UK earlier this month (February).
Action Coach, which helps entrepreneurs and owners overcome the challenges in maintaining a company, works with the load cell manufacturer on matters related to business strategy. This is the second time SP has claimed such an award, having won Business of the Year in 2014. David Ayling, managing director, was on hand to collect the prize.
Gary Mullins, master coach at Action Coach, who works with SP's team at its Havant, Hampshire-based headquarters, said: "Importantly, this accolade is recognition not just for a successful 2017 but for sustained growth. Against the criteria by which we judge businesses for this award, they were ahead of our other clients."
Mullins pointed to highlights that stood out SP in a competitive category, including delivery of consistent growth in sales and profit; successful performance over a number of years; the establishment of an organisation in the U.S.; investment in business assets, space, and personnel; and a commitment to the coaching processes and strategy."
Ayling said: "Gary and his team have helped us put together and implement a strategic council, which is essentially a rolling five-year plan for the business. Whilst the award was attributed to our performance in the previous calendar year, it is actually recognition for our achievements over a period of time and commitment to that plan moving forward. Gary and I share a belief in the importance of a business plan and this award is testament to our tendency to deliver against one."
Action Coach gathered approximately 60 representatives of businesses of varying sizes from Southampton to Bognor Regis, up to the Surrey border. Awards for Business of the Year (won by 2MV Logistics, a local freight transport company), Business Growth (£), Business Growth (%), and positive results against the Engage and Grow programme, were also given out on the night.
Mullins said: "Both within our community and the general business environment in the area, [SP] are a standout example. Moreover, they are constantly strengthening their position in the load cell marketplace. It's exciting to have a perspective as new product launches drive growth and build more value for their clients. Recent successes demonstrate how hard work and commitment pay off."
He added: "David [Ayling] has personally developed as a true leader, building his team to really look after his customers. He should be recognised for his own personal development and dedication to learning."
Ayling concluded: "I was in attendance to claim the award but I did so on behalf of the whole SP team, both here in the UK and in North America. Without their commitment to the cause and the plans we work with Gary to implement, we wouldn't receive such recognition, nor would the company be enjoying such an aggressive phase of growth."
---
Details

Written by

Administrator

A new Bluetooth app for smart devices, named after Straightpoint's (SP) Handheld plus display unit, is now available for download and easy connection to the manufacturer's recently launched range of load cells that boast the same technology. The innovative pairing is set to revolutionise the way data is captured and supplied in below-the-hook and other force measurement applications.
The HHP app, available on iOS and Android platforms, uses Bluetooth (wireless technology for exchanging data over short distances) to collect information from a single load cell up to 50m away. Further, the app can package up the data collected and send it onto a recipient in the form of an Excel spreadsheet.
The free-of-charge app adds convenience and cost efficiency to the vast majority of applications involving SP equipment where a single force measuring device is used in close proximity to a reader and / or data-logging system. Until now, wireless readings were only possible on the handheld system, while the company's multiple wireless load cell controller (SW-MWLC) software was required to convert data into another format.
Those existing products remain integral to the SP offering; the Handheld plus has a range of up to 700m (2,300 ft.) and the SW-MWLC package displays and logs data from up to 100 SP wireless load cells simultaneously. This is cutting-edge technology in its own right but is suited to more demanding, specialist applications for which the app is not designed. Capacity isn't a dictating factor to its use, although the heavier the load the more likely it is that multiple load cells will be used and the operator will be at a greater distance from it.
David Ayling, director at SP, said: "We've been experimenting with Bluetooth technology for some time—it's been used with our Clamp On Line Tensionmeter (or COLT)—but that research was part of a journey towards the landmark launch of the new load cells and accompanying app. Distributors and partners have lauded its ability to send reports from the same device that captures the data and noted the inherent convenience of having the app on a smart device that is on their person."
The HHP app is user friendly but can be downloaded in simulation mode so users can practice before utilising it in a real-life application. It is compatible with any SP product that fits the usage criteria, which can be selected via a straightforward menu. Units of measurement and calibration settings are among other variables that can be specified with equal simplicity.
Ayling concluded: "The launch of the Bluetooth range chimes with a gravitational pull towards IoT [Internet of Things] and could be game-changing in that we're not aware of any other solutions on the market that harness the benefits of this technology through a mobile app. Once again we've demonstrated our pioneering intent and we're keen to monitor uptake through download numbers in the coming weeks."
---
Details

Written by

Administrator
Seattle, Washington-based Arxcis Inc., a crane inspection and operator safety training company, uses a 25-ton capacity wireless shackle load cell (or loadshackle) from Straightpoint (SP) to keep personnel at a safe distance during load testing.
Arxcis is accredited to carry out such tests on a variety of on and offshore equipment, including floating cranes and derricks; vessels; material handling products; and loose rigging gear, including wire rope and other below-the-hook equipment. Its customers are principally concerned with meeting the requirements of the Occupational Safety and Health Administration (OSHA).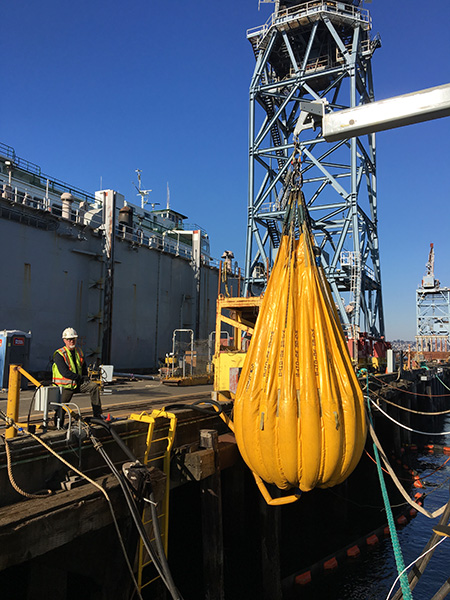 Jeff Williams, co-owner, president and chief inspector at Arxcis, said: "We also have certifications to inspect cranes and other equipment used in longshoring; shipyards and ship breaking; and the construction industry. We use the SP loadshackle mainly in the load testing portion of our operations, whether doing a static test or weighing the test weights themselves."
Williams, who has been inspecting cranes and below-the-hook equipment for 22 years, explained that the wireless capability of the load shackle—data is transmitted wirelessly utilising the latest in IEEE 802.15.4 (2.4 GHz) technology—is essential to keeping personnel safe.
"When load testing some marine cranes we will load the crane to 125% of the rated load for that radius and, if there's a catastrophic event, one doesn't want to be in close proximity of the hook," he said.
A number of recent case studies represented typical Arxcis applications. In a bollard pull test at Platypus Marine, of Port Angeles, W.A., for example, the loadshackle was attached to the vessel by two straps and then a long line was sent out from the stern and attached to a fixed point. The vessel then ramped up to full power and the poundage was read and recorded every 30 seconds for 15 minutes.
In another application for the University of Washington, aboard the Thomas G. Thompson research vessel, the loadshackle was attached to the top of a movable A-frame gantry; a water bag was then filled to the predetermined weight. "In this case," he said, "the bag was filled to 14,000 lbs. and then the frame was cycled through its full range. After the dynamic test the frame was then filled to 20,000 lbs."
Aboard the same vessel, the loadshackle was integral to safe completion of a static load test of a hydro boom that extended out from the starboard (right) side of the boat to lower scientific equipment into the water.
If required, SP's wireless data logging software allows for simultaneous control, display and real time data logging of up to 100 SP telemetry load cells. Logged data is captured in a .csv file format and opens in MS Excel providing easy visual presentation, analysis of logged data, and simple test certificate generation.
Williams concluded: "The SP equipment has been flawless; the durability, accuracy and transmission range of the load cell is stellar."
---
Details

Written by

Administrator

SP Launches Multi Operation Survey System
Load cell manufacturer Straightpoint (SP) has teamed up with measurement equipment specialist Tarka-Systems B.V. to add to its extensive range a product that can be left at a jobsite for a period of time and capture data from up to six monitoring devices.
The Multi Operation Survey System (MOSS) features six, 4-20 milliamp (mA) inputs that collect information when multiple types of data are required, captured by load cells, thermometers, anemometers and other technologies. The MOSS, boasting USB data storage capability, is typically applied where data needs to be gathered over a period of time, say, when conditions are likely or known to change.
Originally designed for the marine industry, where wind speed and sea state might be among variables, the product is provided in an IP67-rated, portable case, mounted on which are the connectors (also IP67 rated) that can be used while the case is closed, offering protection from the elements—even snow and ice. The MOSS has also been successful in construction and infrastructure applications where other demands are placed upon it.
David Ayling, director at SP, said: "It is both compatible with our range of force measurement products and suited to use in many of the environments where SP equipment is already commonplace. The SP brand is synonymous with technologically advanced, durable equipment and we look forward to opening new markets for Tarka's innovative solution."
The MOSS's case provides readout, presentation and storage of multiple sensor signals and houses the system's key components, including screen with user control buttons and battery supply with status display. The battery lasts for up to 24 hours but an additional power pack extends this to up to five days for applications where monitoring is required over longer time periods.
Henry Wijgerse, owner of Tarka-Systems B.V., explained that the product was to some extent conceptualised during his time at Maritime Research Institute Netherlands (MARIN), which is principally engaged in nautical research.
He said: "I spent over a decade working on oil rigs and ships, and detected a need to provide the market with the technologies that we were using to capture and then provide it with data. However, MARIN wasn't interested in product centric initiatives—it was a research organisation—hence the formation of Tarka in 2011."
Wijgerse added: "[Two years later] a customer from the salvage sector wanted a solution for gathering data about a stranded ship, including the draft, angle of wreck, water depth, and how deep the vessel was in the sand, so they could calculate the towing force required to complete a rescue. It wasn't called the MOSS at the time, but our solution was the blueprint from which future innovations have been based."
Ayling concluded: "Since we've introduced Mike Neal [product sales engineer] and Marcus MacDonald [machine shop supervisor] to the company, we've generated an increasing number of enquiries for custom products with autonomous logging, but it might not be practical to leave a laptop, for example, exposed to the elements. The MOSS fills that gap in our offering."
Custom versions are available upon request.
---
Details

Written by

Administrator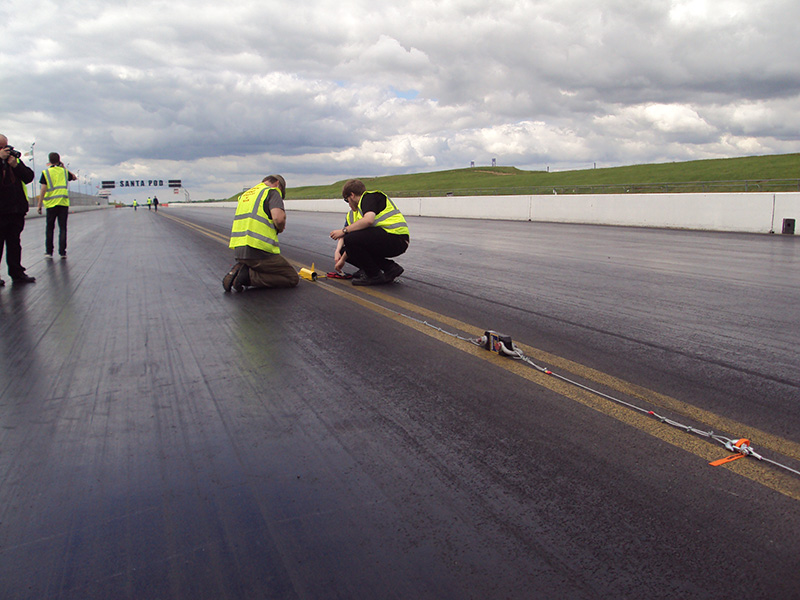 SP Load Cell Helps School STEM Club Attempt to Break Sound Barrier
Straightpoint (SP) has donated a 5t capacity Radiolink plus wireless load cell, which is being used as a key component in a Nottinghamshire, UK school STEM club's outlandish, but entirely plausible, attempt to send a rocket car through the sound barrier next year.
The science, technology, engineering and mathematics group at The Joseph Whitaker School meet for three hours every night. And the dedication to extra curricular studies is paying off. Sending a car hurtling along a wire rope, it already has a Guinness World Record—set at 533.1mph—but has realistic ambitions to smash the sound barrier, which is approximately 765mph, in 2018.
The young engineers rig a 5t electric winch to a 3t Land Rover that is, in turn, rigged to the load cell and onto the main cable where the rocket motor in the car is launched; the cable runs 700m to the school minibus. The team also employs SP's wireless data logging software on a laptop for dynamic force measurement. This allows them to log data at 200Hz from the Radiolink, providing a clear picture of the current stress in the guide cable and any stresses on the cable during launch.
Phil Worsley, teacher of technology at The Joseph Whitaker School, said: "We started off with 1.5mm steel guide cables and the rocket cars would 'waggle' along the loose cable. We then employed winches, starting with hand units and then up to 1t electric models. Once we were able to measure the force in the cable, thanks to Straightpoint, we could then launch on a known value—and reproduce it with confidence."
He added: "The cable tension has always been a grey area and the only evidence of the rocket car going awry, is the 'pig-tailing' we find after the event. The load cell allows us to measure tensions and stay within the safe working load limits of the wire rope while optimising conditions for the rocket car in our record attempt. We treat safety as our number one focus and the load cell is integral to that."
In the limelight
Straightpoint is not the only company to take note of the impressive track record of Worsley's 'after-school club'. Santa Pod Raceway is looking into an alternative for the guide wire tensioning points, while Rolls-Royce is providing materials science education and access to titanium for wheels. Easy Composites, Swansea University, Bloodhound, and the Discovery Channel are others to support, supply and / or cover the ongoing, landmark project.
Worsley said: "Breaking the sound barrier does not constitute a record, but imagine the headline—'school children break sound barrier!' And we're not stopping there; how much further could we go? Could we emulate the magnificent Bloodhound car, at 1,000mph?"
The sound barrier attempt is slated for summer 2018, where the latest version of the car will likely go faster than it has travelled before. The rocket cars are powered by ammonium perchlorate, a frequently used oxidizer in most modern composite rocket propellant formulations.
Worsley said: "We have so far officially achieved 628mph. This is not the maximum speed that this car can go, as just as the car passed the time trap it abruptly broke up and turned over. We have completely redesigned it to have a lower and longer rear stabiliser with a much stronger chassis design. The cable guide system has also had a huge upgrade; we will be using a 6mm guide cable and loading it with the optimal tension to reduce any whip that might be occurring."
The first car (Mach 1) was 740mm long, 100mm high and the main chassis was only 60mm in width. The rear wheels were 280mm apart to reduce the possibility of the car overturning. The weight of the car was approximately 1100g without the rocket motor, which weighs 868g, giving a total weight of 1,968g. The second edition (Mach 2 or 'Big Mac') is the same length and width but due to the double rocket capacity, is 130mm high. It weighs approximately 1,300g, while the rocket weight will be up to a maximum of 2 x 868g, giving a maximum full load of just over 3kg (3,036g).
Worsley concluded: "We could not be where we are now without this load cell and Straightpoint's generosity. STEM is difficult to learn from a book. It has to be experienced through some medium that allows students to see, hear and feel something and have ownership over changes that they create. STEM is best understood through discovery learning."
---