News & Case Studies
Details

Written by

Administrator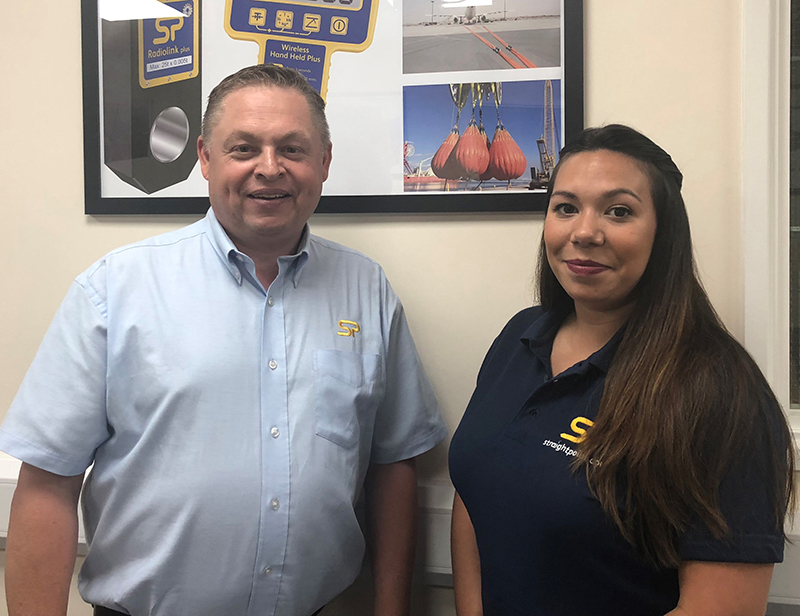 Straightpoint (SP) has appointed Kizzie Cordwell to the role of inside sales, as the load cell manufacturer continues to grow its team at Havant headquarters in the UK.
Cordwell brings a wealth of experience to the position, having previously worked in sales and customer service roles. Most recently, she worked in the construction sector selling heavy-duty machinery such as diggers and wheeled loaders.
Cordwell said: "The position was recommended to me by a current employee at the company, so I was aware of the ethos of the business, which seemed to fit well with my own approach to working practices and ambitions. I enjoyed my previous role but the timing of the opening at SP was good and I'm excited to be given the opportunity."
David Ayling, director at Straightpoint, said: "As I've said before, we always look for certain DNA traits when searching for personnel to join our team. We had 18 strong applications for the recently vacated position and Kizzie was the standout candidate; we're all excited about working with her in the immediate and long-term future."
In her previous position, in addition to the aforementioned core areas of responsibility, Cordwell was also charged with overseeing workshop workloads and was the designated person for troubleshooting in a number of departments. In a multifaceted role, she also oversaw production of marketing materials, media releases, and managed social media. It is a diverse skillset she's looking forward to leveraging at SP.
She explained: "Essentially, my new role involves working with customers, primarily on the telephone and over email, to generate quotes and maximise the sales of the business. However, I am confident that the position will diversify over time and there will be great opportunities for career development. In my early days here I've detected a relaxed culture where staff are encouraged to express themselves and put their ideas forward for discussion."
Cordwell continued: "SP is a growing business but it's clear they haven't lost that all-important personal touch and they clearly care about their customers. It's evident already that David and the team work hard to preserve a supportive culture and everyone has been very welcoming. I'm picking up the systems and am gradually learning the vast array of products we can provide. Of course the task of learning them all is slightly daunting but I intend to tackle that challenge head-on."
Ayling concluded: "It's easy to forget the extent of the diversification of the SP range, which now serves so many niche industries and applications, but all our innovation and expansion stems from the same core set of values and Kizzie has already shown a great aptitude to that culture so the learning curve will be that much smoother."
---
Details

Written by

Administrator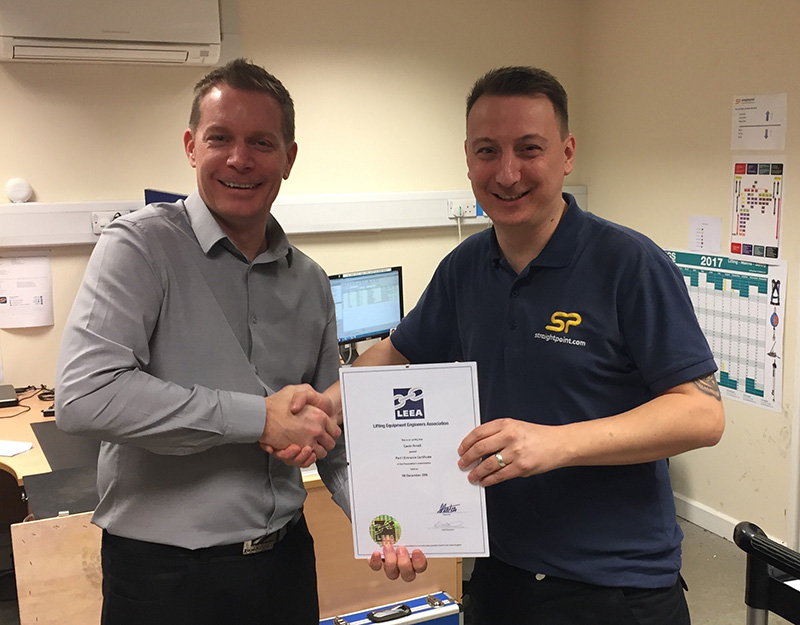 Straightpoint (SP) has been granted full membership in LEEA, reaffirming its status as a lifting equipment business versus a load cell manufacturer that has diversified into the sector.
The Lifting Equipment Engineers Association is the world's leading representative body for all those involved in the industry. To become a full member, a company must be engaged for profit in the verification of lifting equipment and, in the opinion of the directors, is competent and can give an adequate service.
David Ayling, director at SP, said: "We see ourselves as a lifting equipment company first, not just a load cell business, thus, it was natural for us to covet full LEEA membership. Its tagline is 'lifting standards worldwide', while we define our purpose as 'making the lifting industry a safer place', so without placing undue emphasis on the synergy, we are kindred spirits."
SP was previously a development member, which is a precursor to full membership but one that is not transcended as a formality. Companies must pass a rigorous audit and meet the highest standards of the association, the respected and authoritative representative body for members who work in every aspect of the industry, from design, manufacture, refurbishment and repair, through to the hire, maintenance and use of lifting equipment.
Further, full members must have a company-approved examiner, which at SP is Gavin Arnell, product technician, who has taken both the association's P1E Foundation Course and Lifting Equipment General (LEG) Advanced Programme. The former includes 28 modules covering a range of subjects from standards and codes of practice to wire rope and types of cranes; it is a prerequisite for studying at advanced level. The advanced course offers hands-on practical training to complement essential theory sessions. Content is based on lifting accessories and includes thorough examination procedures and criteria for continued periods of service.
Alfie Lee, operations director at SP, said: "We are grateful for the guidance, support, and thoroughness of our contact at LEEA, Bernie Winter [technical officer], who took us through the process. We look forward to hosting Bernie and other representatives of the association as they conduct subsequent audits and hold us to their industry benchmark standards."
Ayling concluded: "Alfie and Gavin have played key roles in achieving this widely sought after status within LEEA, but it is recognition that the entire SP operation adheres to its protocols and we look forward to leveraging the commercial and other opportunities full membership creates in the myriad of marketplaces that apply lifting equipment."
---
Details

Written by

Administrator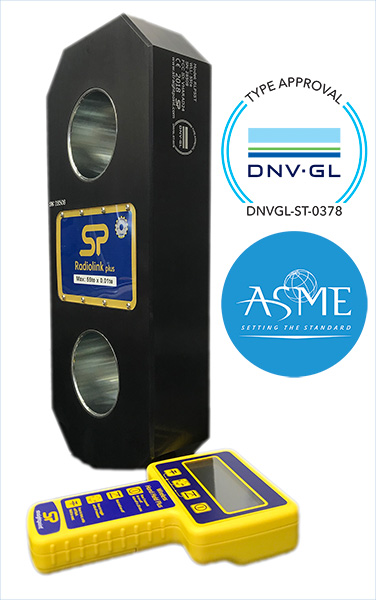 Straightpoint (SP) has made a series of enhancements to its range of loadlink products that includes matching the capacity of its previous 5t and 50t capacity units to industry standard shackle sizes of 6.5t and 55t respectively.
SP manufactures the Loadlink plus digital tension load cell, or dynamometer, but the word 'loadlink' is used generically, also in reference to the company's best-selling Radiolink plus and Wirelink plus products. David Ayling, director at SP, explained that the terminology is widely applied throughout the lifting and other industries to describe tensile links that are rigged using shackles.
He added: "The previous sizes were based on an incremental capacity scale that was adopted by the company even years before my arrival. We stuck with what the customers were already familiar with for good reason and at great success; however, we were increasingly quizzed on why the range didn't align with, say, the Crosby, Green Pin, or GN Rope lines of shackles."
Ayling acknowledged that a further catalyst for change was the DNV GL Type Approval Certification process; as a result of which the three aforementioned products now comply with DNVGL-ST-0378, the standard for offshore and platform lifting appliances. An 18-month programme involved the entire SP community, from in-house engineers to end users, and a proposed move to conformity with industry standard shackle sizes, albeit unrelated to DNV, was given overwhelming backing by relevant stakeholders.
In addition, SP has also increased the capacity of the loadlink range to 500t (up from 300t), while the lowest unit remains 1t. It is recommended that users only apply the products down to 3% of their working load limit (WLL), so a 100t capacity Radiolink plus, for example, can be safely applied to a 3t load test.
A final improvement has been made to smaller loadlink models to improve their waterproof sealing, giving offshore and other purchasing decision makers even greater confidence in the load cells' performance. Ayling explained that the cavity in which the chassis and front plate fits into was the focal point of this particular enhancement.
He concluded: "Matching up with the industry's shackles and adding even more differentiating factors to the loadlink range was a rewarding but painstaking process. Replacing the 5t and 50t units involved a complete redesign of the products, FEA [finite element analysis], extensive testing, and more before we could put this popular evolution to market."
---
Details

Written by

Administrator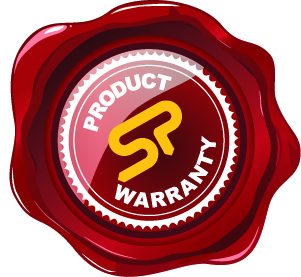 Straightpoint (SP) is offering a two-year warranty as standard on its full range of load cells and other force measurement equipment, effective 1 April 2018.
SP customers could previously extend their warranty from one to two years if they completed a registration form upon purchase of a product, but the 24-month term is now honoured as standard across the catalogue of products, from the best-selling Radiolink plus load cell to its latest innovation, CableSafe, designed for measuring synthetic rope tension.
David Ayling, director at SP, said: "It represents continuation of a chapter of value-adding enhancements we have made recently. We have combined quality of product with evolution and diversification of the range over a period of time, but extending the warranty aligns with recent certifications and accreditations that further cement our status in the marketplace."
Ayling referred to the newly acquired DNV GL Type Approval Certificate, acknowledging that its equipment meets the rigorous standards of the global quality assurance and risk management company for their use offshore; approved exporter status from Her Majesty's Revenue and Customs (HMRC); and expanded ATEX / IECEx approval, as other examples of fortifying the range and its supply with endorsements from recognised authorities and bodies.
He added: "At the top end of any market, the best equipment is supported with accreditations and certifications that make buying decisions even easier. Many of our customers, distributors, and end users of SP equipment already know about our load cells' ability to work, say, offshore for much longer than two years—they don't need DNV or a warranty certificate to tell them—but it can only add further confidence and perhaps peace of mind to prospective clients or those who haven't worked with our apparatus in the past."
Meanwhile, SP's 2018 trade show marathon continues this month (April), with exhibition stands at the Mast and Tower Safety Group's second annual conference in Leeds, UK on the 11th, before the Norwegian Society of Lifting Technology and the Offshore Mechanical Handling Equipment Committee host the International Offshore Cranes & Lifting Conference in Aberdeen, Scotland from the 24th to 27th. Three events follow in May.
Ayling concluded: "Exhibitions provide context [for the new warranty period]. We try to keep our stands as product centric as possible, so attendees can get hands-on with our kit, but as dialogue advances with serious buying decision makers it's edifying to be able to reference expanded warranty and other supporting benefits to choosing our technologies."
Details

Written by

Administrator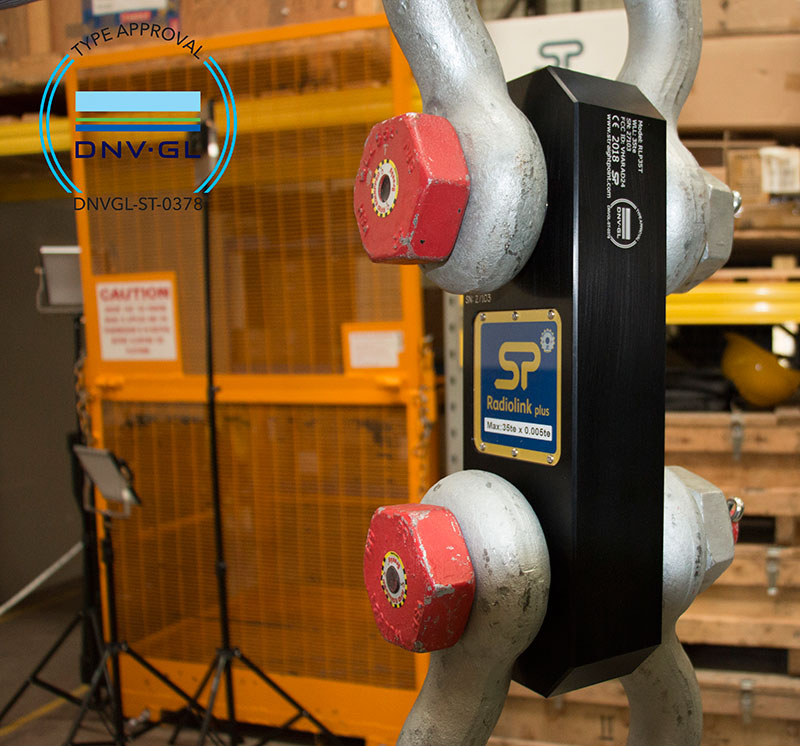 Straightpoint (SP) has received a DNV GL Type Approval Certificate, acknowledging that its equipment meets the rigorous standards of the global quality assurance and risk management company for their use offshore.
The certificate was issued in mid-March and confirms that SP's Loadlink plus, Radiolink plus and Wirelink plus products comply with DNVGL-ST-0378, the standard for offshore and platform lifting appliances. Offshore purchasing decision makers can have even greater confidence therefore in the load cells' performance on all vessels classed by DNV.
David Ayling, director at SP, said: "We already had 100% faith in our products' ability to perform even in the world's most demanding industries; that's been proven time and again. However, what DNV [approval] does is verify to end users that our entire operation, from the smelting of the aluminium we use to application of product on site, meets the requirements of an organisation that serves to safeguard life, property, and the environment."
SP has been striving towards DNV approval for 18 months, following the results of a questionnaire put to key partners that revealed overwhelming support for proceeding with the application. Additionally, other below-the-hook equipment suppliers—notably, spreader beam manufacturer Modulift—had also endorsed its value in competitive tenders and other situations.
The approval complements SP's comprehensive range of ATEX and IECEx products, which meet Zone 0, 1 and 2 hazardous area classification. Ayling noted that in many cases both DNV and explosion proof status will both be applicable, especially in the oil and gas market, which is a major consumer of SP's force measurement technologies. Through Kyle Milne, technical sales engineer, and Aaron Orsak, regional business development manager, based in offshore hotbeds in Aberdeen and Houston respectively, SP is well placed to leverage such accreditations.
Ayling said: "Kyle and Aaron are reporting back positively from their geographies and we're now even better equipped to take the opportunities increased offshore activity might create. As BP, Shell, Chevron, ExxonMobil, and others proceed with projects, it's reassuring to have a product range that, first, meets their operational criteria and, second, pre-qualifies against any likely tender specifications."
SP will raise the profile of its DNV approval at a number of trade events throughout the year, starting with the Norwegian Society of Lifting Technology (NSLT) and Offshore Mechanical Handling Equipment Committee (OMHEC)'s 23rd International Offshore Cranes & Lifting Conference, which takes place in Milne's hometown next month (April). There, new display banners and literature will be part of a product centric exhibit showcasing a myriad of relevant technologies, including the Loadlink plus, Radiolink plus and Wirelink plus.
---