News & Case Studies
Details

Written by

Administrator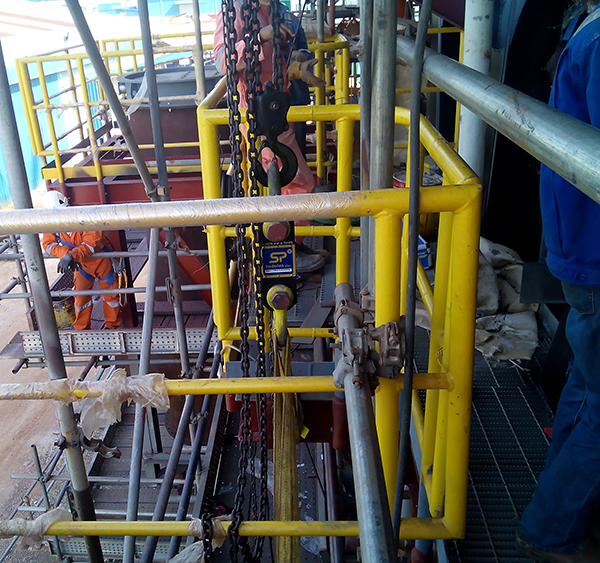 PT. Dalaz Teknik Utama used a 12t capacity Radiolink plus Straightpoint (SP) load cell and a Crosby shackle of the same capacity to complete a series of tests during fabrication of a power generator module at a Wasco Energy fabrication yard in Indonesia.
PT. Dalaz Teknik Utama overcame limited access and a tight time schedule to complete over 200 force measurement tasks primarily related to lifting equipment, padeyes and monorails. The mechanical handling test and certification-based scope of work was delivered to the project as a floating production storage and offloading (FPSO) unit is prepared for work in the North Sea's Kraken Oil Field.
Each component of the main engine had to be weighed, including the turbo-charger (3,575kg), air cooler (610kg), cylinder head (1,250kg), piston (255kg) and camshaft gear wheel (685kg). The wide-ranging project also included painting of monorails, padeyes and the engine room gantry crane, while all lifting equipment had to be marked with the safe working load (SWL).
PT. Dalaz Teknik Utama, which delivered thorough reports to the customer using SP's latest technology, is a specialist provider of inspection and certification services, chiefly to the oil and gas market. Founded in 2014, it primarily focusses on lifting activities and non-destructive testing. Force measurement technologies are a key component of day-to-day activities.
Dovi Suprayetno, country manager at Siaptek Indonesia, an SP distributor, said: "The demands placed upon a testing company by the oil and gas sector are widespread. Not only do we have to deliver our work in a hazardous environment, but we're often put under increased pressure by access offshore, confined spaces and generally fitting in with the scheduling of a fast-moving sector."
Suprayetno explained that SP, a Crosby company, is pioneering continued progression away from mechanical dial scales and the latest ATEX / IECEx products are perfectly suited to applications in the oil and gas market. The Radiolink plus, he said, boasts a separate internal sealed enclosure providing the load cell's electronic components with IP67 environmental protection even with the battery cover plate missing, making the dynamometer suitable for use in the harshest environments. It is SP's best-selling product. In this case, measurements were taken on a wireless Hand Held plus.
---
Details

Written by

Administrator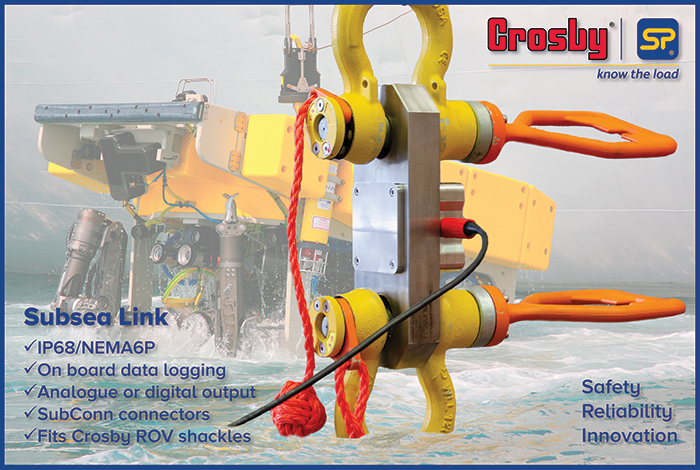 Force measurement equipment manufacturer Straightpoint (SP), a Crosby Group company, has launched the Subsea Link, a standard product for applications up to 2,000m (6,562 feet) beneath the water's surface. The product can be rigged with Crosby's remotely operated underwater vehicle (ROV) shackles (tested to the same depths) and the company's Trawlex shackle range, amongst others.
The IP68 / NEMA 6P-rated Subsea Link also boasts components from SubConn, a specialist manufacturer of pluggable electrical connectors to the demanding underwater industry. SP staged a soft launch of the product at this month's (October) Offshore Energy Exhibition and Conference (OEEC) in Amsterdam, where attendees noted its potential in subsea and submersible projects where accurate load monitoring is required. However, the advantages of a standard product where a fully engineered solution has been the only option to date will endear the concept to a much wider audience.
David Ayling, global business development director for load monitoring solutions, said: "There will be existing distributors and end users of SP equipment that will encircle the product but we anticipate interest from specialist equipment and service providers who might not have already considered the benefits of such a solution, based on the technological advancement that we have been able to pioneer in the offshore and subsea sectors." He added: "Until now, oceanography and navigation project decision makers, or aquaculture professionals, might have had to engage in lengthy dialogue with a load monitoring specialist to acquire an engineered solution that might arrive on site many weeks down the road. With the Subsea Link, they can effectively source an ROV load shackle as they would any other standard product in our portfolio." Renewable energy and offshore personnel will be among those to note the Subsea Link's construction from 17-4PH stainless steel and resistance to saltwater, temperature variations and the incredible water pressure experienced at such sea depths. As stated, it can be handled and rigged via an ROV where a location may be inaccessible or it deemed cost-prohibitive to use divers.
Several output options are available: mV/V to the SP Handheld plus, 4-20mA or 0-10v analog to a PLC or data-logger; and the multi operation survey system (MOSS), RS485 or an integral data-logger, powered by an internal battery all located with the load cell itself. SP worked closely with the local Portsmouth University, where a testing laboratory supports diving and underwater engineering courses. Ayling said: "The benefits were twofold in that we were able to utilise the world-class, underwater testing facilities, which principally replicated the extreme water pressures at depth; and students could engage with a real-life product that will add safety and efficiency to the operations that they may one day be responsible for." SP's Subsea Link is available with immediate effect.
---
Details

Written by

Administrator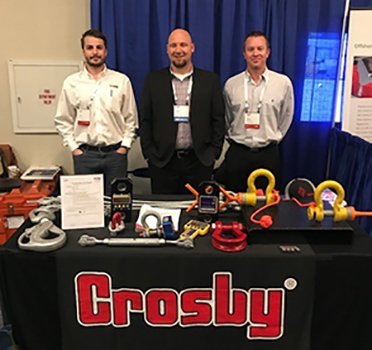 Force measurement equipment manufacturer Straightpoint (SP), part of The Crosby Group, was among presenters at the API Offshore Safe Lifting Conference & Expo, which took place last month (September) in Houston, Texas.
The event, held at the Westin Houston Memorial City, welcomed decision makers from the U.S. offshore oil and natural gas industry, in addition to representatives of regulatory agencies and thought leaders from the energy marketplace. Aaron Orsak, business development manager at SP, delivered a multifaceted paper titled, "Advancements in Load Monitoring", which explored the progression away from mechanical dial scales and shone a spotlight on ATEX / IECEx products. He explained that ATEX and IECEx cover the use of equipment in explosive or potentially explosive atmospheres; the former is a European directive while IECEx is applicable in the Americas and globally.
Orsak said: "My intent was to walk the audience through a journey from the early days of analog pressure load indicating systems to cutting-edge, wireless technology and, importantly, explain how its application can benefit their use of lifting equipment in today's market. We looked at our products—the Loadlink plus and Radiolink plus, for example—but it wasn't a commercial presentation and we wanted to represent the technology beyond our own brand."
The conference—endorsed by leading organizations such as the Center for Offshore Safety, International Association of Drilling Contractors, National Ocean Industries Association, and Offshore Operators Committee—attracted a high-level, authoritative delegation that was concerned specifically with lifting as it relates to offshore activity.
Orsak said: "Other offshore conferences offer a scattered approach to operations, but this event is hyper-focused on making offshore lifting operations safer. That makes it an important concept with which to associate our products and thought leadership content. We want to engage upper management, engineers, project managers, and site lifting coordinators—all of whom were in attendance."
SP also displayed its wares at Crosby's product exhibit, where Orsak was on hand to take questions and showcase the equipment alluded to in his presentation, which he believes was listened to by up to 150 delegates. The two-pronged approach gave SP unprecedented exposure at an event where it had only previously been represented by regional distributors and dealers.
Orsak added: "It is a small product fair consisting of 20-25 exhibitors but attendance is focused and strong. I had several [visitors] stop by after my presentation to ask about different applications or to clarify the specifications and features of the products we offer. Some were surprised by the capabilities of the wireless range, battery life, and ATEX / IECEx-approved load cells. We'll certain return to the event; maybe next time we'll use a greater volume of case studies to demonstrate more lifting-related applications in this demanding sector."
API, a national trade association representing all facets of the natural gas and oil industry, powered the conference and expo.
---
Details

Written by

Administrator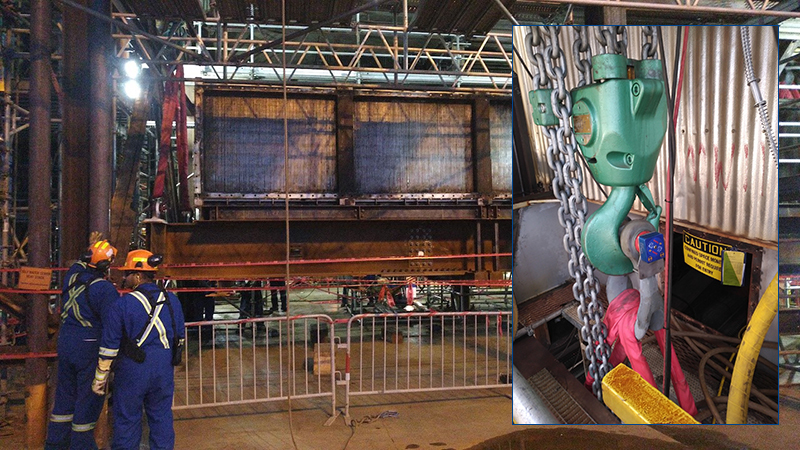 Ontario-based Equipment Corps Inc. used four customized Straightpoint wireless load shackles and four JD Neuhaus air hoists to install two new exchangers at the Syncrude Refinery in Fort McMurray, Alberta, Canada during an overhaul at the site. The bobbins on the 125t capacity load cells were modified to accept the lower hook of the 60t capacity hoists.
The Syncrude Falcon Turnaround project centered on a coker and associated process units. A large contingent of craft personnel was sourced to execute a project of approximately 1.4 million work hours. Equipment Corps accepted a scope of work from Edmonton Exchanger & Refinery Services, which provides on-site plant maintenance services for the petrochemical industry, refineries and fertilizer plants.
The company was tasked with lowering existing units and raising two new exchangers approximately 30 ft. (9.1m). The new exchangers measured 10 ft. (3m) wide and 30 ft. (9.1m) to 40 ft. (12.2m) long. The old units, of similar dimensions, weighed 127,850 lbs. (58t), while the replacements were 166,000 lbs. (75t). Two hoists and two shackles were utilized to lower / lift each exchanger. The hoists, load cells and other rigging gear was delivered to site in mid-August and works were completed on schedule by the end of last month (September).
Dave Kisel, director of sales at Equipment Corps, said: "Two approaches were being investigated when we were contacted; the other was a winch configuration. The air hoist option was deemed the best once the complete scope and design was understood. In addition, it was considered critical that the load capacities needed to be known exactly, which dictated the use of load monitoring technology."
Kisel explained that each pair of load cells was connected to a Toughbook Notepad, utilizing the wireless connectivity. Real time feedback provided the operator with vital information relating to the lift and also confirmed to the engineers that the estimated capacity of the exchangers was correct.
Two of the air hoists were sourced from Equipment Corps' stock with an additional two being ordered to meet the demands of the project; all four load shackles were ordered specifically for the task in hand. The company was also contracted to provide onsite technical support for the duration of the heavy lift component related to the critical path equipment that was being lowered and replaced. Other rigging was supplied by the client, which consisted of slings / lugs and additional shackles.
Kisel, who was onsite day and night since early September, was the initial point of contact for the client and served as project leader, principally concerned with sourcing, detailing and ensuring equipment was suitable for the demands of the project.
He said: "I worked with our vendors, including Straightpoint, to ensure equipment met or exceeded expectations, which included modifications to meet the requirements of the lift. I was involved in coordinating a functionality test at our Stoney Creek location prior to the lift, hosted by Equipment Corps, and attended by the client and their representatives. I was also involved in all conference calls regarding the lower / lift procedure and ultimately was contracted as part of the critical path team that executed the work."
---
Details

Written by

Administrator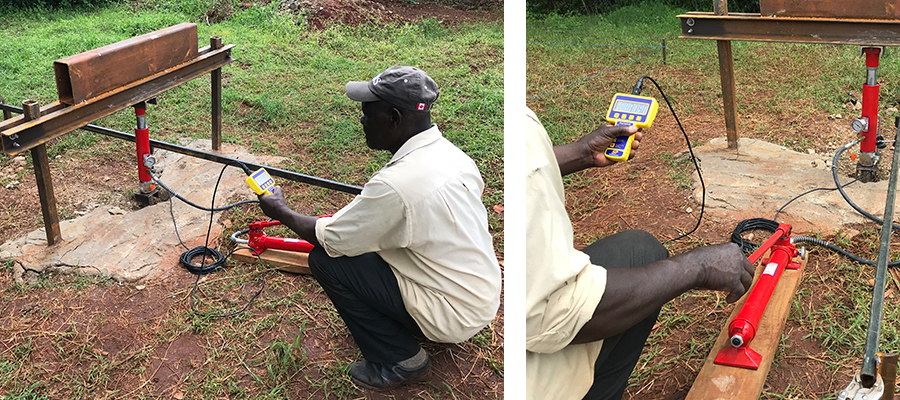 A non-profit organisation that works with rural communities in Kenya is using a 25t capacity compression load cell, donated by Straightpoint (SP), to construct footbridges and river crossings.
The load cell, which was provided with a wired Handheld plus unit to capture data, is being used by Bridging the Gap Africa to confirm capacities of helical piles, a key component of bridge foundations. The piles protect structures and reduce the risk of them being compromised due to undermining of the abutments during high river flow events.
Matthew Bowser, country manager Kenya at Bridging the Gap Africa, said: "We are currently in the product development phase for our helical piles and are trying several different variations of the piles to see what design provides an optimum combination for performance and ease of fabrication / installation. The load cell is key at this stage as it is enabling us to verify capacities of the different variation of helical piles."
Over a period of 20 years, the charity has installed 63 bridges, but it has only recently moved to technological force measurement. Bowser said: "Testing the piles allows the design to be optimised by determining the actual capacities as opposed to using conservative design values from standardised tables. In a recent test of three helical piles, the centre one was tested for compression while the two outside piles acted as tension members and provided support for a jacking beam. The hydraulic jack and the load cell were used to apply and measure the load respectively."
He added: "The jack is fitted with a pressure gauge so the load cell was also being used during these initial tests to develop a calibration curve, which can be used to convert gauge pressure to applied load. Once our test trials are done, if we see that the pressure gauge is functioning properly, then we will use the gauge alone for future tests and will only use the load cell on a periodic basis to re-verify the calibration of the pressure gauge."
Phil Roch, marketing executive at SP, said: "The [load cell] donation is symptomatic of the empathic and caring ethos within SP's company culture. Further, it goes to show the diversity of our range. SP load cells are currently being used within 14 major industries, with more being defined continuously. Even within those markets there are a myriad of intrinsically important stages that require load monitoring technology to ensure a safe and successful operation."
Bridging the Gap Africa uses Kenyan skilled labour in a small town called Kitale to pre-fabricate components for the bridges such as towers, suspenders, and anchor connections. It then transports everything to site and hires the local community for installation and assembly. The charity builds suspended and suspension bridges, both of which are cable-supported structures. Wire rope cables are seated on steel towers and terminated at reinforced concrete anchors. The towers are supported by reinforced concrete foundations; the helical piles will be used to provide a deep foundation for the tower foundations.
Bowser added: "The load cell is brilliant. It is easy to use and extremely reliable. We would recommend this product to anyone that needs to know the load."
Photo above: The hydraulic jack and load cell are used to apply and measure the load respectively
---